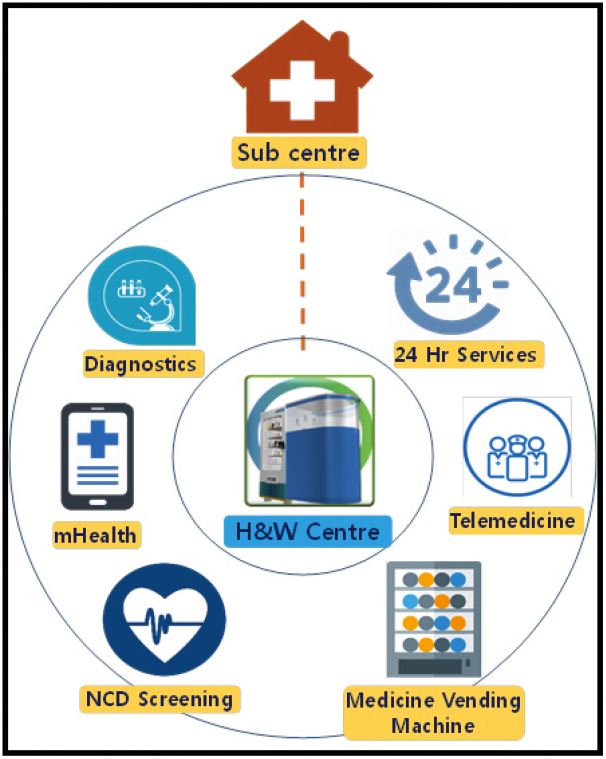 A healthy infrastructure is a key determinant of health and wellbeing of an individual. The use of technology has transformed things in modern period to the extent that it is called as era of information and technology. The power of information has been realised so effectively that if it reaches timely to the patient and service provider, both can act efficiently and more vigilantly. The health infrastructure now-a-days depends largely on technology for diagnosis, treatment and care. The technology has spread its roots to break the geographical barriers created by man like rural and urban. Learning shows that in three tier health system at primary, secondary and tertiary level, the primary health needs more focus and investment to reduce burden on next level of health institutions. Also, when we talk about primary health, we are more concerned with the preventive and primitive aspect and basic clinical services to maintain good health.
Primary health management, begins from Sub Centre (SC) level, is the first check post of health seeker. The health seeking behaviour can be substantially improved if SCs are more empowered to provide primary treatment. To achieve this objective, the Lords Education and Health Society (LEHS) through its flagship programme WISH has made a remarkable initiative of transforming Sub Centres into Health and Wellness Centres, which also is in line with one of the thrust areas of National Health Policy 2017 (NHP 2017). NHP 2017 defines Health and Wellness Centre as the facilities which start providing the larger package of comprehensive primary health care. The way it is envisaged by LEHS/ WISH is diagrammatically shown in the picture, where key elements of healthy service delivery are brought under one umbrella.
National Health Mission too has planned to strengthen sub centres as Health & Wellness Centers (H&WCs) for implementing public health programmes better and to enable comprehensive primary health care service delivery, including disease prevention and health promotion. The policy expresses the specific need of providing healthcare in the farflung corners of the country through upgraded sub centers by converting them into Health & Wellness Centres. The initiative of LEHS/WISH will paved the way to transform 1,50,000 health sub centres of the country into a true Health and Wellness Centres.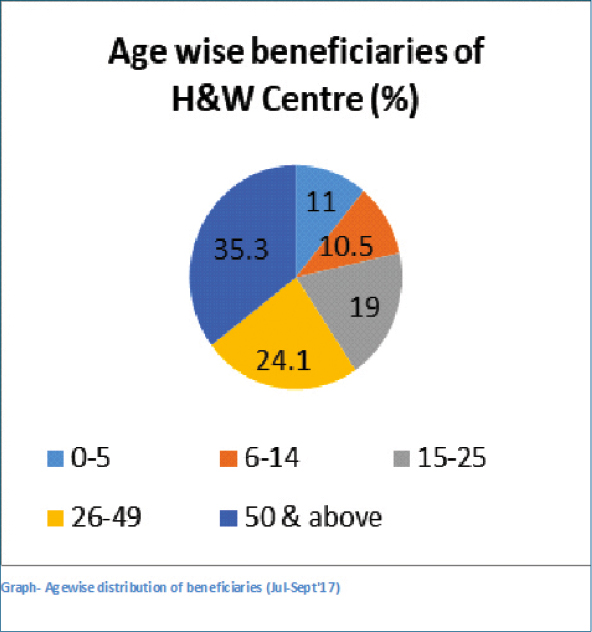 Responding primary health care needs through sub centres
The sub centre is the peripheral outpost and the first hope of healthcare for the remote population. It fulfills the basic primary and quality health care needs of the families surviving in difficult circumstances in the remote areas. The centres are usually manned by an Auxiliary Nurse Midwife (ANM) whose focus is on primitive and preventive healthcare services, and to act as a referral to the Primary Healthcare Center (PHC) for curative services. But the optimum utilisation of SCs in meeting out their key objective to strengthen primary health is hindered due to factors like poor infrastructure, weak monitoring and supportive supervision, lack of manpower, and geographical barriers. The under utilisation of SCs has also affected the health seeking behaviour of rural population negatively. They either refrains from seeking healthcare services, or resort to alternate solutions which includes unskilled practitioners (quacks, etc.) and when treatments fail, they travel to cities and private healthcare facilities for better quality of care, which leads to over-burdened hospitals, and unaffordable out-of pocket expenses.
Thus, the need to reinvigorate the sub-centres is evident and it can be done by transforming them into well-equipped centres and upscaling as per Indian Public Health Standards (IPHS). SCs as Health & Wellness Centers can provide basic medical services to a cluster of population of 5,000 to 15,000 people in rural, sub-urban and urban setup. These establishments will act as a provider of holistic healthcare services package in a single visit and help in taking care of 80% of the healthcare needs with zero cost to the patient and with holistic package of services. Based on this vision, WISH has designed a state-of-the-art solution for addressing the primary healthcare needs in such areas of the country. WISH has already been pioneering in showcasing Health & Wellness Centres in Rajasthan.
The sub centre is the peripheral outpost and the first hope of health care for the remote population. It fulfills the basic primary and quality health care needs of the families surviving in difficult circumstances in the remote areas. The centres are usually manned by an Auxiliary Nurse Midwife (ANM) whose focus is on primitive and preventive health care services.
Briefing the Concept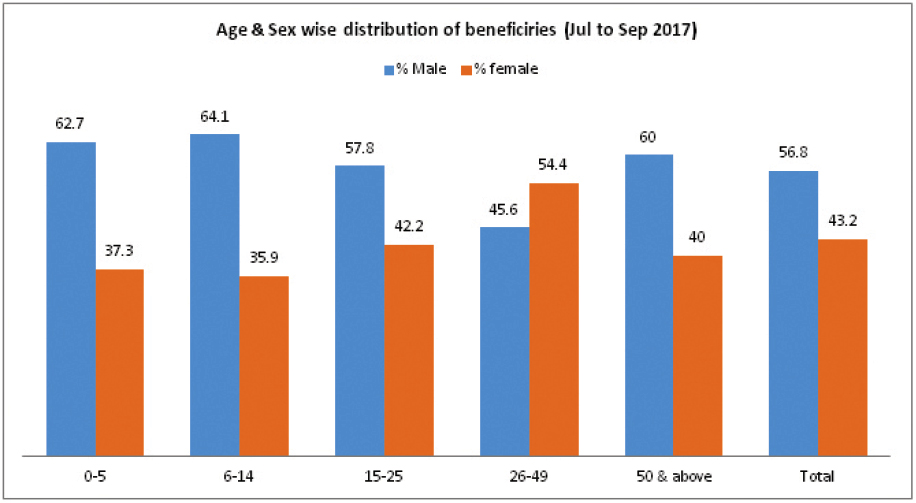 The WISH concept of Health & Wellness Centre is based on IPHS. In operative terms, it means that the Health & Wellness Centre should address the preventive, primitive, curative and rehabilitative healthcare needs of the population in its catchment area. The use of technology and innovation are the game changer of rural primary health of Indiathrough Sub-Center.
List of Services to be provided at Health & Wellness Centre
Pregnancy care and maternal health services
Neonatal and infant health services
Child health
Chronic communicable diseases
Non-communicable diseases
Management of mental illness
Dental care
Eye care
Geriatric care Emergency medicine
The Experience and Learning
LEHS/WISH has started H&W Centre at Subcentre Kundali Nadi of Bhadoti PHC at Sawaimadhopur and Subcentre Bhajneri at Dugari PHC of Bundi district. These two SCs were selected after analysing the OPD installations on the key parameters like physical condition of SC, feasibility of high speed internet connection, patient load, investment requirement etc. The identified SCs buildings were strengthened to ensure safety of Swasthya ATM. The competent GNM was recruited to manage the H&W centre. In emergency the GNM also support ANM in community mobilisation and service delivery activities.
The analysed data of 609 clients at two H&W Centres during the period (July to Sept 2017) shows that about 57% male and 43% females have been benefited so far. One of the highlight of the analysis is that about 30% of the beneficiaries are of age 60 years and above. About 30% of these beneficiaries belong to 70 – 90 years. It proves the significance of H&W Centre in not only strengthening primary health care but also the geriatric care because access to healthcare is a challenge for elderly population, particularly in rural areas.

A Typical Model (Rajasthan)
Health & Wellness Centre Patient Registration Doctor Consultation Doctor Consultation Medicine Dispensing.
Proposed Outcomes
Improved availability and accessibility
Improved health-seeking behaviour
Improved community outreach
Reduced out-of-pocket expenses
Increased knowledge and awareness
Improved referral and reduced burden on PHCs/CHCs
Well-aligned to the National Health Policy – NHP 2017
Health & Wellness Centre – Basic
Round the clock provision of primary healthcare services;
Availability of a doctor through telemedicine, 1 ANM and 1 GNM to provide healthcare services;
Provision of essential drugs through medicine vending machines;
Basic Diagnostic care;
NCD Screening (Diabetes, Hypertension, Cancer etc.) using innovative screening devices;
Electronic Health Records (EHR) enabling evidence based decision making;
WISH to provide technical support for knowledge management and monitoring and uation;
Implementation support to transform 5 sub-centres each in 8 EAG states over a period of 4 years;
Features of Health & Wellness Centre Model:
1. 9:00 AM " 5:00 PM services:
2. Human Resource (as per the IPHS-2011 norms " Type 3 SC):
Two ANMs
One Multipurpose Health Worker (MPW)
3. Drugs, equipment, consumables as per the standard IPHS guidelines
4. Additional unique feature of Swasthya ATM:
Tele-consultation by the medical doctor
Basic diagnostics
Automated medicine vending
Digital prescription (with doctor digital signature and his/her registration number)
5. Provision of Electronic Health Records (EHR) enabling evidence based decision making;
Referral mechanism (use of 104/108 services)
Apart from basic diagnostics, 15 tests can be ensured using PHC or nearby CHCs Lab technician; ANM/GNM can collect the samples and send to PHC for the tests
Use of Point of Care innovative devices for NCD Screening (Diabetes, Hypertension, Cancer)
Health & Wellness Centre " Advanced
Nutrition Supplementation and Diet Counselling for adolescent girls and pregnant females;
Mental Health Counselling for pregnant females;
Disability Care for Visually impaired, mobility impaired people in rural areas;
Geriatric Care;
m-ECG, m-Partograph etc.
Follow and connect with us on