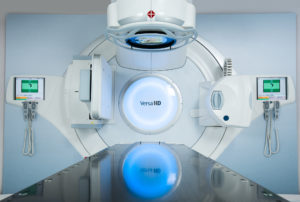 The radiation oncology department of Venkateshwar Hospital has recently acquired a state-of-the-art linear accelerator (Versa HD from Elekta) capable of delivering all possible modern radiotherapy treatments to cancer patients.

The sophisticated imported equipment, which delivers high-energy X-ray beams to target cancerous tumours, enables Intensity Modulated Radiotherapy (IMRT), Image Guided Radiotherapy (IGRT), Volumetric Modulated Radiotherapy (VMAT), Stereotactic Radiosurgery (SRS) and Stereotactic body Radiotherapy (SBRT), a hospital statement said.
Venkateshwar Hospital ensures the strictest possible adherence to the international norms through stringent quality checks on the machine, through the I-Matrixx based quality assurance programme to ensure patient safety. The investment in such equipment, along with the well trained oncology department and technical staff makes the hospital a comprehensive centre for cancer care, said Dr Kuldeep Sharma, Consultant Radiation Oncologist, Venkateshwar Hospital, New Delhi.
The unique aspects of the machine include reduction in radiation delivery time, facilitated by high-dose output. It is helpful in the case of pediatric and geriatric patients, those who have movement disorders and those who are claustrophobic.

It enables targetted treatment that helps in better delivery of radiation at the tumour site, rather than the whole body, minimising unnecessary radiation exposure, the hospital added.
Follow and connect with us on Facebook, Twitter, LinkedIn, Elets video