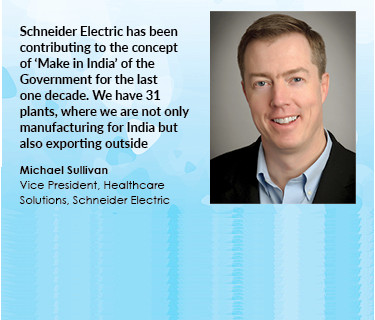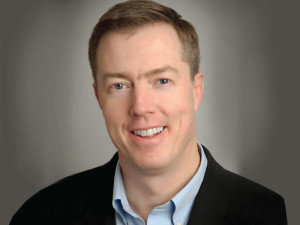 Smart cities will have smart healthcare system, and to make healthcare system smart, we have to have smart hospitals, says Michael Sullivan, Vice President, Healthcare Solutions, Schneider Electric, in an interview with Souvik Goswami of Elets News Network (ENN)
Give an overview of the health vertical in Schneider Electric, especially keeping in mind the Indian healthcare scenario.
Schneider Electric is providing intelligent integrated infrastructure to enable hospitals enhance their
financial efficiency, patience experience and patience safety. Investment flow coming from private firms into the health sector and attracting medical tourism- these are the current trends in Indian market. We have to understand that even this market is growing, we have to be prepared in terms of maintaining standards and the attractiveness
of what is being offered to grow that market.
Schneider Electric has been contributing to the concept of Make in India of the Government for the last one decade. We have 29 plants, where we are not only manufacturing for India but also exporting outside.
What according to you can be the potential regions in India, where medical tourism can be promoted and nurtured?
The tourism specific regions can be made as an attractive medical tourism destination. For example, I can mention Gujarat, Kerala and Southern states, Delhi, Rajasthan and Goa. These are coming up as an effective medical tourism destination. A lot of hospitals are being built in these regions mainly for two reasons – good infrastructure and
tourism attraction.
How Schneider Electric develops solutions keeping in mind the needs of the customers in India and worldwide.?
The majority of the new private hospitals and some of the bigger and advanced government hospitals in India are not much different compared to the global scenario. We have to keep in mind the Indian scenario while providing solutions. In Schneider Electric, health vertical has been given immense importance and it is part of the 7 strategic verticals where investment has been done. Its a 30 billion Euro company. We have set up a network of solution architects and dedicated key account managers, who are co-creating solutions with the customers, hospitals. These kinds of teams tries to understand the core processes and challenges of the hospitals in creating solutions and then all these are discussed in our global structured lab then. There we are able to test, validate and document those solutions and then those are shared worldwide with the global community. The innovations are happening with the customers- Indian customers, customers in Gulf, Australian customers etc.
What are the focus areas for Schneider Electrics healthcare vertical in India?
Both the government and private hospitals are important for us. The energy efficient buildings can be the priority for the government hospitals. Private hospitals can be focused more on energy efficiency, as well as patient satisfaction and experience. That is why both the government and private hospitals are important for us as we provide both kinds of solutions. Nowadays, most of the hospitals are moving towards the technology driven process much like hotels where customer satisfaction carries importance.
What are the best global practices that can be incorporated in India scenario?
The hospital rooms are generally 60-70 per cent occupied on average in a year. So, the 25-30 percent of the rooms, which are not occupied, energy is being wasted. Either lights are on or some way other, energy being completely wasted in these unoccupied rooms. To get rid of this problem, we have come up with a solution by getting connected through the protocol HL seven through Hospital Admission Discharge Transfer System to detect when someone is coming in or when he is being transferred. It is connected through Building Management System. And by this, lights of a particular hospital room can be controlled. This is related to energy efficiency.
On the other hand, we have created a mobile app that can be used more by private hospitals which focus more on patient delight. A patient, who is coming for a day surgery, he/she can carry his own device and our application can help him/her to control the light in his room. With camera, he/she can also see which guests are in lobby to meet him or her, noise level can be checked and LED lighting of the room can be controlled. And it can be done just
through a mobile app and simple use of technology. This can help reduce the stress of patient and also can enhance patients experience. But to make this happen, we have to be engaged with a particular hospital from its early days. Hospitals need to have a technological specialist like Schneider Electric in the preconcept phase of building a hospital to develop an intelligent integrated hospital.
The Government of India has embarked upon ambitious Smart City programme. What according to you will be the importance of Smart Health in Smart Cities?
Smart cities will have smart healthcare system. To have smart healthcare ecosystem, we need to have smart hospitals. Schneider is making investments to develop smart hospitals world over, especially in the area of ITOT (Information Technology Operational Technology). We are making huge investments in bringing e-health connected all the way to intelligent infrastructure. Intelligent infrastructure makes the foundation of smart healthcare system. We think that the important part is connectivity in terms of creating smart cities and smart hospitals. To make smart hospitals, we need to bring in intelligence and connectivity.
Share with us Schneider Electrics vision for India with regard to the health sector.
India is growing fast and global leader in IT. A lot of innovations are going to happen here. It is very important for us to be here and to co create solutions with Indian customers. We are making big investments in health and can grow significantly in India. The government is also taking right steps in right direction. Schneider Electric has been contributing to the concept of Make in India of the Government for the last one decade. We have 29 plants, where we are not only manufacturing for India but also exporting outside.

Follow and connect with us on Facebook, Twitter, LinkedIn, Elets video