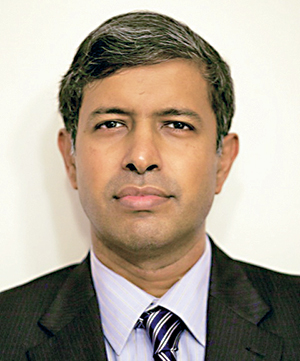 Ananda Sen Gupta, Founder & CEO, TrackMyBeat, shares his insights with Romiya Das of Elets News Network (ENN), on the scope of mhealth in India and how healthcare can be alleviated through new solutions
What is your opinion on the emerging mHealth market in India vis-a-vis global market?
mHealth market in India is still largely at a nascent stage. The opportunity is of course incredibly large. The need is well defined but the systems are not in place yet to take advantage of mHealth. There are two aspects: one is the use of technology, and second is embedding mHealth in the process of healthcare delivery.
Regarding the inclusion of mHealth in the process of healthcare delivery, the world is not that far ahead of India. The healthcare systems are not yet fully geared to bring in technology in an efficient manner. It is still difficult for people to understand the separation between taking care of one's health and doctors or hospitals. So, an in-person interaction is always considered to be of greater value than a remote conversation, and often mHealth gets clubbed with tele-health and thus gets sidelined as being too-difficult-to-implement into the process. Organisations are yet to fully appreciate how to use mHealth efficiently.
As far as the technology use is concerned, barring various pilots that have and are indeed being tried out in many pockets of India. The Ministry of Health & Family Welfare (MoHFW) has a published standard for Electronic Medical Records (EMR), but it is hardly implemented on the ground. As a result, any design for mHealth, which needs the backend connectivity to an EMR, falls flat. Here the developed nations have alreadydesigned comprehensive EMR systems with international coding standards, which can take the data in from mHealth solutions, once implemented.
What are the trends in the mobile computing industry? And how has it changed in last few years?
A key trend in the mobile industry is the continuous drop in price of mobile platforms. Smartphones, which allow various mHealth applications to run, continue to get cheaper, thus allowing more people to have access to them. Access has then led to people getting more comfortable with using mobile applications, including using video and interactive tools. Other than this, the availability of Internet access has grown manifold over the past few years, which allow people in remote locations to get connected more easily – whether directly through mobile data network, WiFi connecting through a land broadband connection. This makes the opportunity for adopting mHealth more.
What are your upcoming projects?
TrackMyBeat is a three-year old startup focussed on innovative use of mHealth and eHealth technology in enhancing healthcare delivery process.
TrackMyBeat has launched flexible corporate health plans to support corporates who have been struggling to provide structured health and wellness benefits to employees with clear results. The solution allows employees to correlate the health outcomes to variousactions they take to remain fit and healthy, and monitor their health easily anywhere anytime and have a contiguous electronic health record, which they can share with a doctor. TrackMyBeat is also planning to launch the solutions in the US, in the area of home healthcare.
Do you see the need for any policy changes to facilitate the growth of mHealth in India?
The Government of India has taken some strong steps forward. The leadership of Telecomm Engineering Centre (TEC), under Department of Telecommunications, has created a machine-to-machine (m2m) communication workgroup for Health. The workgroup's first report on Remote Health Management was released by Shri Ravi Shankar Prasad, Minister of Communications & IT in May, 2015. The workgroup is unique in the way that it has members from the government bureaucracy both from IT and health departments, pioneers of technology. Other than detailing health usage cases, the workgroup also made strong recommendations for supporting 'Make in India' efforts to help boost Indian manufacturers and solution providers. The government has also announced the plans to create a National e-Health Authority (NeHA), which will drive the adoption of e-Health and mHealth. Awareness about creating policies to regularise e-prescriptions, for easy healthcare delivery is also being deliberated upon.
Follow and connect with us on