Curofy is a medical networking mobile application that creates a network enabling communication between doctors pan India.

A small town physician needs to connect and communicate with a super-specialist for patient referrals and second opinions. Also, there is a lot of dependency of private practice physicians on the doctors of corporate hospitals. Various specialties are inter-related for holistic patient treatment in its absence from a corporate set up, it becomes difficult to communicate with the right doctor. Therefore, understanding the essential need to connect doctors with each other, three IITians – Nipun Goyal, Mudit Vijayvergiya and Pawan Gupta co-founded Curofy they launched it on the play store in February 2015.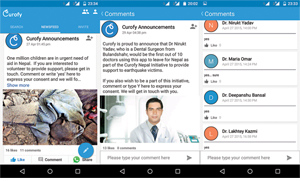 The company started with 25 employees and still growing got funded through a live event on CNBC called TiE the Knot at TiEcon 2014, a conference organised by The Indus Entrepreneurs in last October. Rajul Garg (Sunstone Business School, Global Logic, Pine Labs), Alok Mittal (JobsAhead, Canaan), India Quotient, Spice Labs, Dinesh Agarwal (Indiamart), Dr Shuchin Bajaj (Cygnus Hospitals), and Presha Paragash (Zostel, Sol Primero) have invested in the company.
We started working in the healthcare sector with a medical tourism company. The business was lucrative and offered good margins just to bring in patients from overseas, but it thrived on a big inefficiency that doctors are not connected enough to each other. It was then we dropped the idea, took jobs with MNCs and continued researching about the concept of medical networking in India. Till May 2014, we met more than 1,000 doctors and the need was evident. We left our jobs and started with Curofy, says Nipun Goyal, a co-founder of the venture.

Curofy offers doctors a spam-free and secure environment to communicate with each other. Doctors can provide referrals, share cases, call other doctors without saving numbers and have access to most recent, speciality- wise developments taking place in the fields of medicine, surgery and dentistry, thus providing them a platform for collaborative learning. Although being a doctor only app, it can be helpful for patients, as most of the secondary and tertiary treatment decisions for a patient are made by a doctor, who is either the patients relative, family doctor or a known physician.
We are continuously improving our verification process and when a doctor registers into the network, a mix of physical and technical tools help us identify the credentials, remarks Mudit Vijayvergiya, another co- founder.
According to the company, within the launch of the product over 4,000 doctors, including super-specialists from top hospitals like Medanta, Apollo, Max and Saket City and physicians from 100 cities, started using the app and actively using it amongst themselves; mostly for, finding other doctors in their speciality, locating old alumni and sharing cases.
Since we have launched the app, we have been approached by many pharmaceutical companies, hospitals and medical equipment manufacturers for partnerships. This clearly shows how valuable such a network can be for these players who spend billions of dollar to reach out to doctors, says Pawan Gupta, the third co-founder.
Curofy aims to be the largest health communication platform of the world by trying to disrupt the global health communication industry by building a healthcare vertical network taking a physician-centered approach. It also recently launched a Job Feed App providing relevant jobs based on doctors specialty, location and qualification with a single tap application process.
Follow and connect with us on Facebook, Twitter, LinkedIn, Elets video