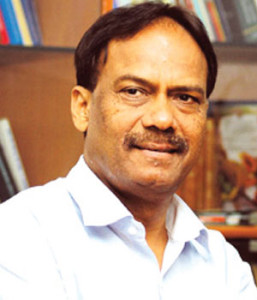 Dr Jagdish Prasad, Director General of Health Services, Union Ministry of Health & Family Welfare, in an interview with K S Narayanan of ENN, calls for removal of bureaucratic hurdles, sound technical advisors, better coordination among central ministries and timely implementation by states for the success of Digital India programme.
Prime Minister had announced ambitious Digital India plan. What is in it for the health care system?
There are five to six components, namely, e-public health system, hospital information and management system, patient management system, supply chain management system, tele-education system for medical education to share content and resources. The government has already planned the concept of Digital India at the national and state level, which will soon be implemented.

What are the challenges involved in implementation of Digital India?
Challenges are three-fold; availability of funds; adequate and qualified manpower; and infrastructure issues like Internet and broadband connectivity. Prime Minister Narendra Modi has focused his attention on Swach Bharat Abhiyan. However, if we have to take up the situation of toilets, then it is impossible to have clean toilets without clean water supply. Clean drinking water is essential to prevent water-borne diseases. India has to follow the example of Singapore where residents are provided clean drinking water directly from taps.
There has to be coordination between all ministries for holistic development. The government has to focus on preventive management as well. Take for instance implementation of stringent law in road accident cases that prohibits driving without helmets in big or small city. Similarly, we have suggested yoga should be a part of the school curriculum like any other subject. We have consulted the Union Human Resource Development Ministry and it will be implemented from next academic session across India.
"There has to be coordination among all ministries for holistic development. The government has to focus on preventive management as well."
How well are various departments coordinating?
Different departments should coordinate but unfortunately it is not happening. There should be a chairman above these ministries to take a call on the accountability of funds, functions and functionaries.
As DGHS what is the overall perspective you get about healthcare in India?
A lot of improvements are required, starting from improvement in the medical education as it is not well regulated; With health as a state subject, we have spent a lot of money over the last nine years under National Rural Health Mission, many states lack basic infrastructures. As a result, we are not able to provide primary and secondary health care. Noncommunicable diseases like diabetes and hypertension is on rise besides cancer. This requires tremendous attentionpreventive, curative and rehabilitation.
Although many communicable diseases like leprosy, Kala Azar, has come down but now Ebola has emerged as the global health emergency. Now, India has to be adequately prepared for these medical problems. Next comes the basic need of people. Health is subject of many holistic things – mental, physical and social well being. For that we have to work in a coordinated way. However in primary health care, doctors are not available.
What is the way forward then?
We can use the six lakh ayurvedic and naturopathy doctors. We should allow these doctors to use common basic medicines. However, it is being objected by the Supreme Court. For this I have written to the government to remove the bar on the ayurvedic doctors. Our purpose is that a doctor with the knowledge of human body is available at the primary health centre.
How else we can transform health system in the country?
Targets have to be fixed and riders have to be put in place against the funds if states dont develop the sector they cannot expect future development aid.

Follow and connect with us on Facebook, Twitter, LinkedIn, Elets video