The diagnostic landscape in our country is highly fragmented. Still largely populated by unorganised players, approximately 10 percent is constituted by organised entities. The Indian medical device market is among the worlds top 20, valued at USD 3,226 mn in 2013, according to a recent report published by Business Monitor International.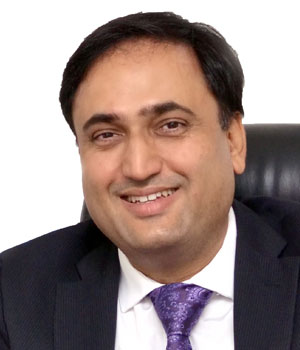 Moreover, it is growing at a faster annual rate of 15 percent than 10-12 percent growth seen in the Healthcare sector in its entirety. Advancement in medical technology, substantial demand, coupled with ongoing standardisation of regulation and accreditation, has made India an attractive destination for foreign companies to invest here.
Establishing facilities for assisted technologies for treatment is expensive. Most of the services at present are being provided by the private sector and the benefits of these scientific advances are limited to the wealthier sections of the population. The question that arises is whether in a country ofapprox one billion people, of which a third lives on or below the poverty line shouldnt better diagnostic services be available for all? Or is it that until the technologies become affordable only the rich should benefit from the scientific advances? In India where a large number of people die each year primarily due to the non availability of proper healthcare centers for treatment, affordable diagnostic services are a must.
The Indian medical device market is among the worlds top 20, valued at USD 3,226 mn in 2013
In rural India, where the number of Primary healthcare centres (PHCs) is limited, 8 percent of the centres do not have doctors or medical staff, 39 percent do not have lab technicians and 18 percent PHCs do not even have a pharmacist. The quality of infrastructure is usually poor and people end up having to go to nearby large cities if they need high-quality care. Due to nonaccessibility to public health care and low quality of services, a majority of people in India turn to the local private health sector as their first choice of care. If we look at the health landscape of India 92 percent of health care visits are to private providers of which 70 percent is urban population. However, private health care is expensive, often unregulated and variable in quality. Besides being unreliable for the illiterate, it is also unaffordable by low income rural folks.
Studies suggest that resolving the health problems of rural communities will require more than simply increasing the quality and accessibility of health services. Health and well-being in such communities relates as much to the sense of community cohesion as it does to the direct provision of medical services.
In rural India, where the number of Primary Healthcare Centres (PHCs) is limited, 8 percent of the centres do not have doctors or medical staff, 39 percent do not have lab technicians and 18 percent PHCs do not even have a pharmacist
Underutilisation of existing rural hospitals and health care facilities is also a common phenomenon. Many a time rural patients bypass local rural hospitals despite the availability of comparable medical services. The general conditional analysis of data on patients and hospitals suggests that hospital characteristics (size, ownership, and distance) and patient characteristics (payment source, medical condition, age, and race) influence rural patients decisions to bypass local rural hospitals.
Rural India is looking for high-quality healthcare provided in a cost efficient manner. The difference between rural and urban indicators of health status and the wide interstate disparity in health status are well known. Clearly the urban rural differentials are substantial and range from childhood and go on increasing the gap as one grows up to 5 years. For the children growing up in rural areas the disparities naturally tend to get even worse.
With increasing urbanisation and the problems associated with modern-day living in urban settings, the disease profiles are shifting from infectious to lifestyle-related. Around 80 percent of the graduate doctors in India work in urban settlements which account for only approximately one-fourth of the population. Urban population has much improved financial access and better hospital infrastructure then rural areas. The spending capacity is also higher in such areas.
But there is still a huge gap and opportunity for highquality and specialty healthcare services in tier-II and tier- III cities. Presently Tier II and III cities represent an area of underserved need, with a growing need for improved health infrastructure. These cities usually have difficulties in recruiting and retaining medical and paramedical talent. Another challenge is profitability of centers in Tier II- III cities which restrains large players from entering them i.e., challenges exist around scale and price points. In such areas difficulty also runs in patient recruitment and retention as business is based on credibility in local communities. Such areas also lack in Quality Benchmark at par with the Global Standards.
The sector can move forward with governments intervention into the industry. By public private partnership, the diagnostic centers can reach every area of the country. It is important to detect the necessity for resources, funds allocation for training and skill upgradation in the rural areas. Involvement of medical technology clusters with common facilities for development, calibration, testing, quality control, waste management etc. hence, can also help in creating an ecosystem for the benefit of SMEs focusing on medical technology.
Government should also encourage greater collaboration between medical centers and technology universities. Medical technology education should be within the medical curriculum. The training for regulatory staff especially at the state level to ensure consistent interpretation of regulatory approval processes should also be considered. Developing a regulatory structure is important as the companies in the market are on the increase. Moreover, significant efforts have been made in the medical technology ecosystem to stimulate innovation in this space so that the opportunities provided in the Indian market can be capitalised by the companies working in this domain and the Indian consumer of healthcare services stands to benefit.
An optimistic forecast would be based on the fact that the full potential of the vast public health infrastructure would be fully realised soon. Its extension to urban areas would be moderated to the extent substantial private provision of health care is available in urban areas, concentrating on its sensible and effective regulation.
A market-centred approach and more effective government intervention for horizontal and vertical hospital integration may lead to better utilisation of rural health care institutions. A sensible mixture of external regulation and professional self-regulation can be devised in the consultation with the profession to ensure competence, quality and accountability.
Clearmedi Healthcare is a specialist provider of advanced medical equipment solutions. It works and supports hospitals to provide great patient care.

Follow and connect with us on Facebook, Twitter, LinkedIn, Elets video