I wish to create an environment where doctors, researchers and interns feel like a family and they get every opportunity to learn in an atmosphere thats peaceful and friendly, says Dr MC Mishra, Director, AIIMS in an interview with Neha Thakur of ENN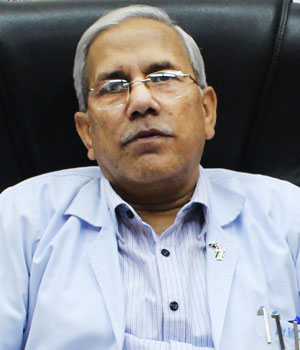 Being a mammoth organisation, what is the capacity of AIIMS to cater to numerous patients who arrive every day?
AIIMS has several comprehensive facilities for teaching, research and patient-care too. It conducts teaching programmes in medical and paramedical courses both at undergraduate and postgraduate level and awards its own degrees. Teaching and research are conducted in 42 disciplines here. Under the Pradhan Mantri Swasthya Suraksha Yojana six new All India Institutes of Medical Sciences have been established. The full academic session for the six new AIIMS at Bhopal, Patna, Jodhpur, Rishikesh, Raipur and Bhubaneswar has started in August 2014.
AIIMS has state-of-the-art infrastructure and is well-equipped with all resources. Its modern labs have all the facilities that make it possible to carry all kinds of researches. The institute has hi- tech labs, library, central animal facility, computer facility, central workshop, electron microscope facility, medical, social and welfare services.

Dr Rajendra Prasad Centre for Ophthalmic Sciences is a 300 bed ophthalmic (eyes) speciality centre designated as the apex eye referral centre for India, and is the WHO collaborating centre for ophthalmic programs.
Recently Dr BR Ambedkar Institute Rotary Cancer Hospitals construction has been completed. It specialises in medical, radiation and surgical oncology.
Jai Prakash Narayan Apex Trauma Centre is the first fullfledged centre to treat victims 56 OCTOBER / 2014 ehealth.eletsonline.com of trauma in the country. It is located about a kilometer west from the main campus.
The Government of India, Ministry of Health and Family Welfare has designated this centre as National Centre for Excellence for implementation of National Oral Health Programme in the country. This centre provides technical support on Oral Health to the Government and WHO. Despite having very few faculty members, this centre has been giving best research output per person in the whole country.
AIIMS also runs the National Drug Dependence Treatment Centre at Ghaziabad, one of Delhis suburbs. The Centre for Community Medicine at AIIMS maintains a teaching and treatment facility at Ballabhgarh, a suburb outside Delhi, it also provides comprehensive services to a population of 84000. Faculty members from AIIMS are posted there by rotation.
What are your expectations from the new government?
The new government has been very supportive, understanding and helpful so far, they are willing to lend their financial support to all our noble causes. Even in the parliament various discussions and bills related to health care have been discussed. Gov- ernment has already set up four newAIIMS in the country that have several technical advancements in surgeries and areas like organ transplantation including heart, kidney and lungs, Neurology, Gynaecology, ENT and orthopaedics have taken place. Government has supported our plan of new diagnostic centre and OPD complex

Elaborate on the impact of technology on medicine and science at AIIMS.
Science and Technology has really grown well at AIIMS in the past years. Actually, we want to make hospital completely patient and environment friendly. We have revolutionised brain https://www.facebook.com/citizen.journalista?fref=tssurgeries and others like Laparoscopic surgery, organ and heart transplantation. There is also image guided therapy which has reduced the risk of surgeries. Basically, health is actually state subject in India and therefore state government must also be friendly.

The biggest challenge is the huge influx of patients everyday that adds to the work load of doctors as the infrastructure is limited. So, in order to ensure better services to patients improvement in infrastructure is the need of the hour
Globally, where do you see Indian medical education and doctors?
Indian medical education has undergone several transformation and developments in the past 10 years. Technically speaking, Indian doctors and surgeons are class apart and we are very strong and self reliant in terms of having highly qualified and experienced doctors along with innovative medical instruments like Gamma knife as well. All techniques used in foreign countries are very conveniently used in India.
What are the challenges faced by AIIMS today and how do you plan to resolve them?
The biggest challenge is the huge influx of patients everyday that adds to the work load of doctors as the infrastructure is limited. So, in order to ensure better services to patients improvement in infrastructure is the need of the hour. AIIMS is a world renowned institution and has established itself as a brand since it was set up in 1956
For 800 beds to 2500 beds today along with 52 special departments under one roof, weve come a long way. We want to make a robust information system, build new surgical centres, build a new OPD complex and have bigger plans of hospital expansion; for example, trauma centre.
We receive almost 10,000 patients and 50,000 footfalls every day. We perform 1.5 lakh special operative procedures every year. So, with this kind of workload and ever increasing number of patients maintaining our image as patient-friendly and offering low cost treatments continues to be a challenge and a priority.
Managing a huge crowd is a challenge and we are devising some effective mechanisms to treat maximum number of patients and to continue welcoming those who look up to AIIMS as a facility for their treatment.
What new developments have been initiated across various departments of AIIMS?
I intend to improve patient care services to ensure maximum customer satisfaction. Also, I am planning to set up some surgical centres maternity centres and new blocks but the plan needs approval recommendations and hence it is yet to be formulated. Then, I also aim to expand the AIIMS campus and add extra hostel facilities. In addition, computerisation of hospital services through intranet is also the topmost priority. An efficient online system is also to be introduced to computerise the appointment system with doctors.
How well equipped is AIIMS to deal with any crisis like Dengue or Ebola?
AIIMS is very well equipped technically and manually to deal with any kind of medical emergencies and it has best of the doctors who are world renowned. Every season, we witness a number of medical urgencies and since there is no dearth of doctors, all the cases are well taken care of. We will be soon having 1000 doctors in the coming year.
Where do you see AIIMS five years from now?
I see AIIMS well-developed and fullyequipped in all the aspects of medical care and facility. It already has begun its journey towards achievement of various technological advancements and in the next five years it would definitely become class apart and ready to compete globally too. We seek to develop strong work force with 3500 nurses and 9000 technicians and as- sistants in the coming years. Besides, we would have diagnostic centre with 630 full time faculties.
What new plans have been introduced to change the medical education at AIIMS?
Most importantly, I wish to create an environment where doctors, researchers and interns feel like a family and that they get an opportunity to learn every moment and also there remains a peaceful, friendly and caring atmosphere. Besides, there will be an introduction of new uation system including OSCII and new assessment and examining status in PG status.


Follow and connect with us on Facebook, Twitter, LinkedIn, Elets video