Rajendra S Kshirsagar, Head IT, Hinduja Healthcare, talks to eHealth about the revolution that IT has brought about in hospitals and at the same time, how traditional methods remain in vogue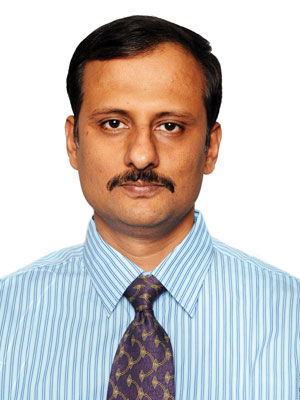 How has IT impacted healthcare delivery?
IT has played a vital role in healthcare delivery, especially in medium and large size hospitals and will continue to do so. In todays age, its almost impossible to run a hospital without having a full-fledged IT setup. Almost all departments within the hospital are interlinked with each other using IT services and this enables the respective department in serving the patient efficiently. For example, when a patient walks into the hospital, he first gets registered at the reception and the data captured in the HIS (Hospital Information System) system is mostly his demographic details, i.e., name, age, sex, address, etc. Subsequently, there may be a service request for the patient which is based on his registration number or name. The same is then internally linked with the investigation machine and post processing of the sample by the machine, the result is sent back to HIS. The report thus generatedconsiders the normal range parameters as applicable depending on the sex and age of the patient. Similarly, same thing applies for an admitted patient. All investigations, service, radiology, pharmacy and other requests are made through the HIS and billed accordingly to the patient bill. MIS is available at various levels based on the users rights.
IT system helps in generation of varied records, including classification based on demography, gender, age, and so on which enhances continuity of care as well. Internet-based access improves the ability to remotely access such data.
Hinduja Healthcare Surgical uses Siemens Syngo Via/Plaza PACS (Picture archiving and Communication System), which, in addition to its advanced reporting tools, allows the doctor to view the digital report from any remote location using his laptop and internet connection. We are in process of enhancing the system so that the same can be accessed through smartphones and other handheld devices.

How does IT help in other allied activities?
IT system also helps efficient and accurate administration of finance, diet of patient, and distribution of medical aid. Improves monitoring of drug usage thus helps reduce adverse drug interactions while promoting more appropriate pharmaceutical utilization. It also enhances information integrity, reducing transcription errors and duplication of information entries. Hospital software are quite user-friendly and eliminate errors caused by handwriting.
In addition to the routine patient care task, today, many value added services are possible using IT tools. At HHS, whenever an OPD appointment is fixed/re-schedule/cancelled for the patient on the system, an automated SMS is sent to the registered patient and doctors mobile numbers indicat- ing the same.
Some of the IT or IT related things which help in this are:-
Internet:– Most of the information is now available online which helps people at various levels, especially service providers to know the latest
Social Media:– Helps in educating patients on health awareness initiatives and various services provided at the hospital.
Better Technology:-Better diagnosis, equipments help in better diagnosis in some cases non-evasive methods and cure.
What about the safety aspect?
Hinduja Healthcare Surgical uses a robust Document Management System (DMS) for maintaining patient medical health records. All Out Patient and In-Patient files are scanned and stored in encrypted digital format. The system allows segregation of the record in to multiple cabinets, e.g. case papers, investigation reports, etc. Like manual system, the entire control for sharing the documents toauthorized users is with the Medical Records department. The added benefit here being that in addition to faster access to patient records on the care givers desk, the chances of tampering the patients physical file is eliminated. The system also has provision to restrict printing and copying of digital patient file records.
"By using handled devices, video conferencing medical service providers can interact with other professionals outside the hospital"
How is your hospital making use of cloud computing?
Cloud computing allows use of HIS and other applications as a service. Thus this will mean reduction in individual hospital hardware and application software investment cost to a large extent. This is especially useful for chain of hospitals where the data center can be centrally located and branch hospital can access the HIS remotely. But ideally, this should be restricted to non-core applications since for accessing remote data centers internet bandwidth will be the key factor and any outage in same will result in affecting the hospital operations.
What are the bottlenecks that you face?
Lack of standards which result in hospital specific customized HIS modules. This creates a big problem when any future changes are to be incorporated in the system by the vendor or on account of statutory requirements.
Lack of in-house IT domain knowledge. Today, IT functions whether hardware or application software process are disintegrated in various specialized levels on account of which it is rather difficult to get personnel with all-round knowledge or hire individual experts with respective domain expertise.
Tendency to rely on paper based system. Many cases even after having electronic storage users prefer a printed copy.
Lack of proper vendor support for maintaining the IT infrastructure.
Most of the Hospital Information System(HIS) presently available in Indian markets have evolved over a period of time and in many cases a particular module is a forte for that particular vendor. For example, some vendors have a strong system for patient billing whereas others for modules like, Lab Investigation, Finance, Materails management, etc. Thus on account of same, most HIS available in the market serve at most 70 percent to 80 percent hospitals automation requirements. Many HIS vendors allow customization of their product to meet individual hospital needs. Even though this makes the hospital happy initially, but in case of any changes required in the program coding especially due to statutory policy changes etc., incorporating the changes becomes difficult for the HIS vendor as the same needs to be separately incorporated in every hospital HIS code. This results in hospital getting updates with bugs and results in IT personnel spending quite an amount of their time in getting the same resolved.

Follow and connect with us on Facebook, Twitter, LinkedIn, Elets video