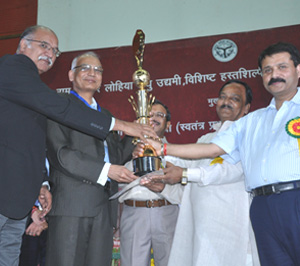 Held with the theme of Improving Patient Safety and Reducing Cost of Healthcare, Healthex International 2013 was marked by new product launches and an international pavilion
The fourth edition of Healthex International 2013 and first edition of Arogya Mela, was jointly organised by Bangalore International Exhibition Services and Association of Healthcare Providers of India (AHPI) on September 22, 2013. The event was inaugurated by Dr Sharanaparakash Rudrappa Patil, Minister for Medical Education, Government of Karnataka; Hans Raj Bhardwaj, Governor of Karnataka; and UT Khader, Minister for Health & Family Welfare, Government of Karnataka, respectively.


Inaugural by Hans Raj Bhardwaj, Governor
of Karnataka, and Dr Devi Shetty,Chairman,
Healthex International 2013
 
Launch of book on Patient Safety by AHPI
The inaugural ceremony was also graced by eminent personalities such as Dr Sriprakash KS, Vice Chancellor of Rajiv Gandhi University of Health Sciences; Dr Devi Shetty, Chairman, Healthex International 2013; Dr Prem Nair, Medical Director, Amrita Institute of Medical Sciences; and Dr Giridhar Gyani, Director General, AHPI.
Key Highlights
Held with the theme, Improving Patient Safety and Reducing Cost of Healthcare and Innovation Pavilion, the three-day seminar-cum-exhibition served as a platform for knowledge sharing and witnessed participation from national and international companies and showcased healthcare innovations by R&D organisations, healthcare start-up companies, academic institutions, public health institutions, venture capitalists and angel investors.
The exhibition witnessed participation of over 25-30 hospitals, 120 healthcare exhibitors which included healthcare equipment manufacturers 25-30 R&D companies, diagnostic centres from India, Italy, China, and Singapore. The innovation pavilion showcased innovative healthcare technology products, equipments, unique procedure methods by highend research organisations. On this occasion, Governor Bharadwaj and Minister for Health & Family Welfare, Khader, released the book on Patient Safety by AHPI.
Quote Unquote
Addressing an audience of eminent doctors, physicians and medical students Bhardwaj said Medical profession is one of the noblest ones, doctors should devote some attention and money to the poor. Everything cannot be left to the government, doctors from private practice should invest time by participating in government-sponsored medical camps to serve the poor.
Addressing the inaugural ceremony, Dr Sharanaparakash Rudrappa Patil said Starting new medical colleges in districts will to a large extent help in addressing the needs of people at the district level, who visit Primary Health Centers and Community
Health Centers for treatment. With new colleges opening up, the need for more doctors can be met. The Karnataka State Governments plan of starting more government medical colleges will take effect from 2014-15, with six new ones opening across districts. Dr Devi Shetty said, Most of the clinics in India lack blood banks and at emergencies the hospital staff donate blood to the patients. These kinds of exhibitions will provide information about the facilities available in the hospitals and the common man can understand the necessity of best healthcare facility thus enabling the development of society.
The event was supported by the leading government bodies like the Department of Health & Family Welfare, the Government of Karnataka, National Small Industries Corporation; international bodies like Indian- China Chamber of Commerce & Industry, Embassy of Denmark (Trade Council); and industry associations like AHPI, Association of Medical Device Industry (AIMED), Surgical Manufacturers and Traders Association (SMTA), etc.


Follow and connect with us on Facebook, Twitter, LinkedIn, Elets video