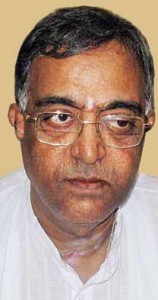 By K N Bhagat, Managing Trustee, OTTET
The Government cannot by itself provide all the conveniences without the cooperation of people. While individual effort is crucial, another golden triangle of cooperation and convergence of efforts of industries, Government and R&D institutions with the involvement of its people really forms the countrys development.
OTTET Telemedicine Network with the support of Government of Odisha has successfully been implementing telemedicine project throughout the state to bridge the gap of demand-supply mismatch, doctorwise, facility-wise in order to give access to healthcare at the doorsteps to the population living in far flung areas of 51000 villages of Odisha.
Based on the Public Private Partnership (PPP) model, first of kind in country, in such dimension, with Government of Odisha, at no cost to Government., Doctors, Hospitals and Nursing Homes, OTTET rolled out such a platform in technical collaboration with School of Telemedicine & Biomedical Informatics (The National Resource Center), SGPGI, Lucknow, i.e through involvement of Government partners from design, planning, architecture of network and service model throughout implementation process with strict monitoring guidelines and exploring potential of employment generation among unemployed rural youth, school dropouts, women segment of the society, which is otherwise a model of PPP + P, i.e. Public Private Partnership with its People.
This Network is designed to function in a synergistic manner so that it is going to bring all holistic results. Here IT is used as a great enabler, a tool for creation of better information system. As IT itself is not a solution, this also creates a huge employment opportunity for a technology driven quality healthcare services.
It has also the potential for creating a mass of semi-skilled, productive; IT based health workers from among unskilled young unproductive population reducing the burden of the society through providing healthcare services through creating a mix of those with IT skills and those with public health informatics skills who act as ancillary unit of the OTTET Telemedicine Network.
When the IT initiatives are working in isolation, OTTET Telemedicine Network not only bridges the gap of demand-supply mismatch doctor-wise and facility-wise but also through deployment of biomedical devices in OPD and IPD, creating PHR for the patients with continued ownership of data for access of public, to their own health information and medical records, while preserving confidentiality of data by adopting all possible security measures. This innovative programme has certain clear messages to convey which can be summed up as:
1. Globalisation of Medicare.
2. De-commercialisation of Medicare.
3. Humanisation of Medical aid.
4. Spiritualisation of Medical Profession.
Telemedicine is the only branch of medicine where you can Love All and Serve All, because hospitals cannot serve without physical contact and the only branch of medicine which can serve All – rural, urban, semi-urban, outreach, where ever is through TELEMEDICINE.
Much has been done and much is on to be done. OTTET continues its march on!.


Follow and connect with us on Facebook, Twitter, LinkedIn, Elets video