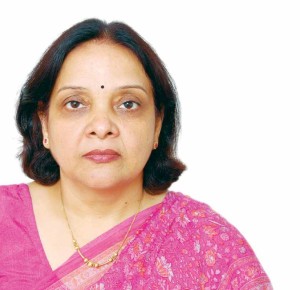 Dr Jyoti Vajpayee, Global Technical Advisor, Population Services International (PSI) speaks about the significant programmes that they have taken up in reducing maternal mortality rate in the country in collaboration with the Government of India. In conversation with Sharmila Das, ENN
Starting the journey in the year 2008 in India, what are the milestones you have achieved serving Indian healthcare?
Given the high unmet need for family planning (20.5 percent) and maternal mortality (212 per 1,00,000 live births), PSI/India began the project Pehel in mid 2008 with the goal of improving the health status and quality of life of poor and vulnerable women by reducing maternal mortality and morbidity in the states of UP, Rajasthan and Delhi. Pehel aims to build a sustained enabling environment through advocacy, private sector partnerships and social marketing to increase the use of Intrauterine Devices (IUDs) and improve access to safe Medication Abortion (MA) among married women in the reproductive age group of 15-49 years, living in urban and peri-urban areas, belonging to middle to lower income categories and non-users of modern Family Planning (FP) methods.
An IUD provides the advantage of an effective, convenient and affordable method with minimal side-effects and is an ideal long term contraceptive choice for women who wish to limit or space childbirths. Despite these advantages, it continues to have low acceptability and remains an unpopular method among women who intend to use long acting contraceptives This is chiefly attributable to lack of access to quality IUD services and accurate information, myths and misconceptions prent in the community, and provider bias against their use. The current IUD use according to NFHS-3 is 1.8 percent and has remained low for over a decade.
How Pehel was born? Do you have any form of collaboration  with Government of India?
India has a fertility rate of 2.6 (2008, down from 3.0 in 2003) and less than half (48.5 percent) of currently married women use any modern form of contraception. Data from NFHS-3 further shows that 21 percent of all pregnancies (about 5.6 million) in India were unintended, with some variations across the project sites (Uttar Pradesh 35 percent, Rajasthan 18 percent and Delhi 12 percent). The contraceptive prence rate (CPR) for modern methods among all women of reproductive age (WRA) in urban areas of WHP project is 34 percent in UP, 59.1 percent in Rajasthan and 54.2 percent in Delhi, respectively. Additionally, the project areas have very high Maternal Mortality Ratio (MMR) of 345 in UP , 337 in Rajasthan and 127 in Delhi . Repeated unwanted pregnancies, which are often poorly spaced are known to be, associated with high maternal mortality and morbidity. Estimates show that 6.7 million induced abortions take place annually in India and about half of these (around 3.5 million) are unsafe " performed in unhygienic conditions by untrained providers . Complications from unsafe abortion are one of the leading causes of maternal death in India.
As part of the response to maternal health challenges, the PSI India started a Womens Health Project (WHP) called as Pehel meaning initiative, with the goal to reduce unintended pregnancies and maternal mortality among low income women of reproductive age. The programme was started in 2008 to build a sustained enabling environment through advocacy efforts, harnessing the power of private sector and using social marketing to increase the use of long acting contraceptive IUDs.
PSI/India support the Government of Indias efforts to reduce MMR and increase CPR. In phase three, PSI/ India will expand the programme intervention sites from 20 to 30 districts and will contribute to increasing CPR in the 30 project districts to 59.6 percent and increasing the percentage of WRA using intrauterine devices (IUDs) to 6.9 percent by 2015. PSI/ India will also support the Ministry of Health and Family Welfare (MOHFW) and the private sector to increase access to safe abortion services through medication abortion (MA) kits.
---
With its channelised efforts, PSI/India has successfully increased :
1) Use of IUDs from 3.2 percent to 5.7 percent in the project districts
2) Awareness of IUD among Women of Reproductive Age (WRA), from 67 percent to 94.5 percent
3) Proportion of women who have correct knowledge about freedom5- IUD has increased from 33.9 percent to 65.1 percent
---
What are the initiatives taken by Pehel to reduce the Maternal Mortality Rate (MMR)?
Preventing unintended pregnancies and unsafe abortions can significantly contribute to decrease in MMR. The goal of the Womens Health Project (WHP) or Pehel is to reduce unintended pregnancies, maternal mortality and morbidity among low income women of reproductive age.
Project components:
To create an enabling environment for increasing access to Intrauterine Devices (IUDs) and safe abortions through Medical Abortion (MA) in the private sector by creating a network of private providers.
To improve the quality of care for IUD and MA services provided in the private sector network by constant supervision and monitoring through medical services and training team.
Facilitating site registration of private clinics for providing safe abortion services as per the MTP act. To address providers biases and motivate them to recommend IUD through various advocacy efforts and Behavior Change Communication activities.
Pehel aims to generate demand among women of reproductive age for long-acting contraceptive methods through mass media, mid-media and Inter Personal Communicator (IPC) activities. We also strive to undertake strategic research studies that help in improving the quality and efficiency of the programme intervention.
What are the healthcare services you have initiated through Pehel and in which states the services are available?
Pehel programme is currently running in three states of India.Uttar Pradesh- Agra, Kanpur, Lucknow, Varanasi, Bareilly, Gorakhpur, Barabanki, Mirzapur, Firozabad, Ghaziabad, Aligarh, Mathura, Allahabad, Bulandshahar, Saharanpur. Rajasthan- Sriganganagar, Jaipur, Alwar, Jodhpur, Ajmer, Pali, Kota, Tonk, Bharatpur, Bhilwara, Hanumangarh, Bikaner, Sawai Madhopur, Udaipur, Delhi
Healthcare services under Pehel programme are: Increase the use of long acting contraceptive IUD and ensuring quality of service delivery through private network providers, increasing access to safe abortion services through Medical Abortion.
Is there any difference of percentage of MMR in rural India in comparison to Indian cities? If so why and how you are facing the issue?
MMR measures number of women aged 15-49 years dying due to maternal causes per 1, 00,000 live births. Current MMR of India is 212 per 100,000 childbirth (SRS). The risk of maternal deaths is not uniformly spread across the country. Despite a declining MMR, huge disparities persist between different states, and between districts in the same state, rural or urban areas. The most common causes of maternal mortality are Haemorrhage, Eclampsia, Sepsis, Unsafe abortions etc. Three delays- delay in decision making, delay in transport and delay in getting treatment at facility level are the reasons attributed to this.
This disparity is due to differential levels of socioeconomic development. The glaring differences are reflected in access to skilled birth attendance, emergency obstetric care, and overall status of women, marked by levels of various factors such as female literacy, maternal health, and anaemia.
The knowledge barrier among community is not the only concern. Rugged terrain, unpaved roads, lack of transport at the critical hour, poor communications, and poor health infrastructure are also some of the key barriers between pregnant women in remote villages in India and good quality healthcare.
While conducting verbal autopsies of maternal deaths, the most common problem is lack of awareness of danger signs among rural families and lack of vehicles to take them to the health centres in time.
---
Rugged terrain, unpaved roads, lack of transport at the critical hour, poor communications, and poor health infrastructure are also some of the key barriers between pregnant women in remote villages in India and good quality healthcare
---
How are we facing the issue?
At the policy level, maternal and child survival are the top two priorities of the Federal Governments National Rural Health Mission (NRHM), launched with much fanfare in 2005. Under the NRHM, the key steps being taken by the Government of India to reduce MMR & IMR in the country are: Promotion of institutional deliveries through JananiSurakshaYojana (JSY) offers cash incentives to health workers and families to encourage poor, pregnant women to have institutional deliveries. Capacity building of healthcare providers in basic and comprehensive obstetric care, Integrated Management of Neo-natal and Childhood Illness (IMINCI) and NavjaatShishuSurakshtaKaryakaram (NSSK) etc. Operationalisation of subcenters, Primary Health Centers, Community Health Centers and District Hospitals for providing 24×7 basic and comprehensive obstetric care and child care services. Strengthening of facility based newborn care by setting up Newborn Care Corners (NBCC) in all health facilities where deliveries take place to provide essential newborn care at birth; and Special New Born Care Units (SNCUs) at District Hospitals and New Born Stabilisation Units (NBSUs) at First Referral Units for the care of sick newborn. Name Based web enabled tracking of pregnant women and children has been introduced to ensure antenatal, intra-natal and postnatal care to pregnant women and care to newborns, infants and children etc.
All these are good interventions but without monitoring, supervision, and strict quality control, there will be little effect on the countrys MMR and infant mortality ratio. This is how Government is taking up the issue. Further under PSIs programme Pehel program mentioned above is offering services in three states (selected districts) with private sector providers.
What are the future healthcare projects you are planning to launch?
PSI has a network of qualified private providers mostly gynecologists and there is a strong opportunity of integrating the other public health problem projects eg. Cervical Cancer.


Follow and connect with us on Facebook, Twitter, LinkedIn, Elets video