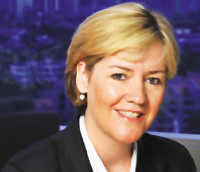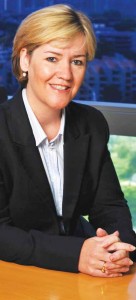 €œIn the wider IT world, there are some significant changes, in not just the consumption of IT but how people are making use of information that€™s been collected over a period of time€,asserts' SAP APJ' Senior Vice President (Industry Business Solutions)' Adaire Fox-Martin' in conversation with' Shally Makin
What does SAP aim to bring into the healthcare industry?

Globally healthcare has been a significant sector and it€™s a history of SAP that says it all. SAP has over 2,300 customers in more than 60 countries and it operates in 24 industries and has particular footprints in each sector. Healthcare is one of the oldest, with 800 customers globally with a combination of private and public collaborations and some other providers.
In the private segment, we have emphasis on managing, analysing costs, platform; primarily- cost of labor to allocate right skills to right patient that comes under human capital resources. In India, aging population is creating pressure on healthcare professionals, managing turnover and we have built solutions to manage all that.
We have also developed integrated solutions for patient'  administration, HR, payroll, billing, admin billing, and many other processes. Billing is different in every country and there we have been careful to develop to understand all mechanisms.
SAP€™s one of the first innovations that has been brought to the market in the real time and in memory computing which allows that variety of data and volume of data in a time frame that is now acceptable to actually deliver a result or an outcome.
Share with us the portfolio of software solutions offered by SAP for the healthcare industry.
The portfolio of solutions we have in our suite is the whole back office solutions, in memory real time solution for consuming technology for valuing the computing database, hospital word level of communication etc. In India, particularly in public systems, there have been funding issues as the 2/3rd of clinics in India are funded and others need investment.
With the IT perspective, the challenges which we would expect is affordability and the ability to deliberate and here comes the game changer from SAP that brings a solution which has an ability to offer an end to end facilities in a private cloud environment. It needs an enormous capital expenditure to deliver result on the other hand use this solution to cater facilities to patients. It€™s the matrix which depends on the various solutions.
The affordability issue has gone away as the operational costs have equated to this solution. The backbone is based in 800 healthcare clusters coupled with preventive healthcare and unique analysis allows us to do preventive healthcare which allows creating volume of data. It€™s about encapsulating data and answer to what mobility means to India and it€™s about creating these two solutions at a common platform for both public and private sector.
Valuing the power of healthcare, how do you think SAP can empower the healthcare providers with their solutions in the industry?
In terms of patient, be it in the public sector or private sector, these applications gives you greater control and visibility over the healthcare destiny. This can change the vision holistically. Ten years later from now healthcare will see a vibrant phenomenon which will reduce overall virtual cycle and reduce huge investment in the healthcare infrastructure. An application on a mobile phone creates a sense of ownership while you use it and similarly the pieces of information in terms of your heath will change the mindset if offered a solution like this.
In the private sector perspective, it€™s the competition where every CRM creates a whole history of the healthcare environment and analyse the holistic status of the consumer of healthcare. In the areas of genomics, DNA analysis, predictive diseases like Diabetes, some of the customers have taken this up and are working with it. We are working on a project to deliver in genomic analysis of cancer patients and through this we can customise the medicine for patients through laser therapy.
The analysis of the volume of data that has to be accessed is undertaken with this solution which has reduced the time frame of the result from 30 days to the same time patient gets themselves tested. The personalised prescription is one of the interesting projects SAP is working on. It is capturing how you could deliver results to patients as in India, the different levels of community and panchayats deliver healthcare and like mobiles we would like to penetrate and serve these areas.
The success of the programmes needs to be replicated rather than just appreciating and working on the same area. Such programmes need to be expanded rather than just making into the news. In our association with Hope Foundation we have started a pilot project that manages a child€™s vaccination programme. With the latest mobile technology, we can immediately access the parent and follow up on the SMS, local center, with schools. So far, it has been a success and we see an encouragement from the Indian Government for better usage of this technology.
How do you maintains its market presence?
If we take market of the healthcare sector and the healthcare we build, we see ourselves as the biggest competitor. Comparing the cost and building a single scenario, we definitely would be processing a point solution in your word processes, and five years down the lane, the empirical data we create is value addition in much larger opportunity.
When it comes to operational costs in order to do that operation mechanism it should demonstrate capacity aptitude. We have developed a variety for different localised one package mechanism for the Indian market consumption so that affordability and non adoptability is not an issue while penetrating into the rural areas. With a holistic approach, the outcome will be a much larger than we expected five years back. SAP is currently working with Ranbaxy Laboratories Limited, Johnson & Johnson, GSK Glaxosmithkline, Cardinal Health, Mayo Clinic, Medline and Mckesson etc.
The consumption method is different, some develop a subscription model for use of software initiation capital extending and some purchase it and use the software and implement it in the entire centre. Another method is through an integrated platform put multiple mechanisms according to the different consumption model on service deliver via cloud. We have mobile consumption models which differentiate SAP from others and sustain itself in this kind of predictive market.
What were the challenges when you started with defining the need of the solutions and today to its implementation?
We are a very customer€™s outcome focused organisation and we are very cognizant that there are 10,000 customers in every country/sector/ language/ currency / size of business. We have addressed various different challenges, reducing the on-premises-time for outcome thus reducing costs.
Data security is very important where a lot of countries are looking into. Government is reviewing policy and trying the legislation to intervene. It will change over time in terms of people€™s perceptions, when we talk about cloud environment one of the things that SAP identified 120 processes and we believed that it is practical to do over the cloud rather than by IT.
These are not critical or business processes that had to be done in a multitalented cloud environment. So we have a scenario which start from premises and orchestral level that allows connecting with the cloud platform. The data centers we have the best security experts and we have the highest standards that the data is secured as per the Government laws. In defence areas, reducing the operational time with lower latency was a huge challenge.
We try to reduce resonance of these challenges into the other sectors. We are careful that these challenges do not cascade over other sectors as during the 40 year journey we have learnt a lot.
We do think that such solutions are of significant future and a journey to go on for futuristic outcomes. There are a variety of models working in this country and in long time view that it is quite integrated and there are various opportunities to look for.


Follow and connect with us on Facebook, Twitter, LinkedIn, Elets video