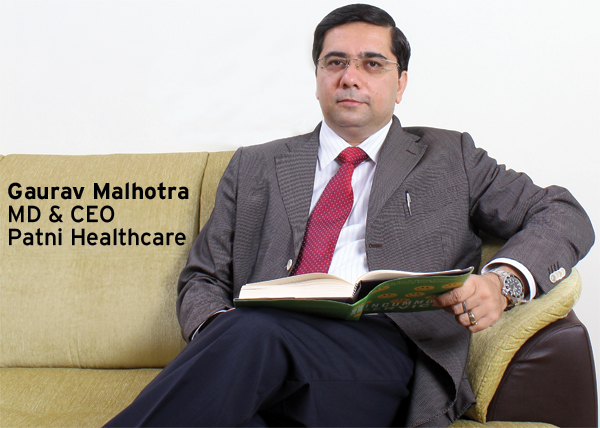 Patni, the leading IT major, has forayed into healthcare space and will be setting-up day-care surgery centres across India. Gaurav Malhotra, MD & CEO, Patni Healthcare, provides information on this venture.
Tell us about the current market size and valuation of day-care services in India?
India has seen a rapid population growth over the last century and it has grown thrice its number since the year 1951. This has led to an increase in Indian consumer spend on healthcare and an increased demand of healthcare facilities. All this has resulted in a CAGR of 15 percent in the sector and a double in the market size in every five years. Which was `60 billion in the year 2010 and is expected to become `120 billion by the year 2015. The day care market in top 10 cities is expected to grow from `1,800 Cr in 2010 to `4,600 Cr in 2015 at a CAGR of 20 percent. The current evolution trend is moving from medium sized, specialty hospitals providing secondary care to asset light models like short stay surgeries centres and single specialty centres. The journey started initially from highly fragmented physicians owned private clinics to large size super-specialty hospitals, which in turn evolved to large size medi-cities providing tertiary level of healthcare.

What is the overall investment of Patni Healthcare in this segment?
Our plan in next 5 " 7 years is to open 25 short stay centres with a total investment of `500 Cr. The break up will be `300 Cr equity and `200 Cr debt. The investment doesnt include real estate investment. Our revenue expectation is `800-1000 Cr in next 5-7 years with 22-25 percent EBITDA levels. We wish to open short stay centres and want to target few key cities in Maharashtra, UP, Punjab, NCR, Gujarat and Karnataka, initially beginning with the city of Mumbai. The key growth drivers for day care centres shall be population growth, rising income levels, increase in burden of diseases, increase in insurance penetration, increased accessibility to healthcare and few other adjoining factors. The reason we want to focus on short stay surgery, is the fact that it is an attractive opportunity and in the state of evolution. Besides being an economically better option for the health sector which is beleaguered with scarce resources, it is highly accepted modality of treatment. We shall have tie-ups with the bigger hospitals to ensure collaborative co-existence.
In terms of quality of healthcare delivery, what are the NABH norms and accreditation policy towards day care centres?
Accreditation bodies like NABH have not clearly spelled out the quality norms for short stay surgery centres. Nevertheless, most of the short stay centres lie under the preview of small healthcare organisation or SHCO as mentioned by the guidelines of NABH owing to their number of bed counts. We firmly believe that short stay centres being highly advanced, in terms of technology and care, need to have a separate article on guidelines for quality standards by NABH.//

Follow and connect with us on Facebook, Twitter, LinkedIn, Elets video