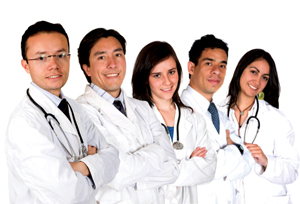 While doctors strive to keep the blood flowing and the heart beating, the hospital administrator is doing his job in keeping the hospital alive and healthy
By Shally Makin, Elets News Network (ENN)
Today, the healthcare industry has emerged as one of the most fruitful and exciting investment opportunities. The tremendous costs and inflation in the healthcare industry is extracting money to be invested in a structural format to yield exponential benefits. With increasing medical errors, malpractices and use of old equipments in nearly every hospital or a healthcare center, there has emerged a need for an operational skills set to administer key clinical commitments, to maintain accreditation status ensuring high level of quality. The foremost step while creating such a structure is to interconnect all the departments for effective communication to flow between the staff. Exchange programme for medical consultants, nurses and technicians to facilitate knowledge sharing and technology exchange are also being organised.
From bottlenecks to backlog, hospitals everywhere face the same business challenges. This increasingly complex and competitive list of challenges and opportunities is looking for the right leadership to wisely deal with the dynamic healthcare environment. Hospital operations are the processes hosted by a team to make sure the right product gets built while schedules are met and costs are contained nevertheless they are blamed for every medical error occurred in the premises under their imperative management.
The success and the growth of the hospitals largely depends on the strategic planning including expansion and addressing current problems thus creating future flexibility. Many researchers, policy makers and administrators have analysed plausible causes of such lack of significant improvement, but one 'elephant in the room' " hospital operations management " is still overlooked.
The design and infrastructure in collaboration with hospital engineering meeting healthcare standards works well when setting up a budding healthcare centre. The supply and installation of medical and related technical equipment including all relevant consumables lie under the procurement department of the medical equipment planning team. The capital defined is thus accountable to deliver the level of care and quality.
Facility management
Facilities management forms the stem of the role defined for a hospital management committee. Operation of healthcare projects requires a functioning system of management to keep facilities at the highest level of operation and to avoid down time. The critical analysis of every organisation is framed with the operational efficiency achieved within the time period. The operational managers are minimising bottlenecks and driving IT implementation in hospitals to handle day "to-day affairs of the hospital. Prateek Vohra, CEO, Technocrats says, " Airflow control solutions can be installed and commissioned in an existing healthcare facility with as much ease as in a new upcoming facility. Concerns expressed by the hospital maintenance department, is often related with pressurisation/polarity/direction of airflow and ACPH. There is a dire need for airflow solutions that address, primarily, the stringent requirements of critical spaces in the healthcare sector."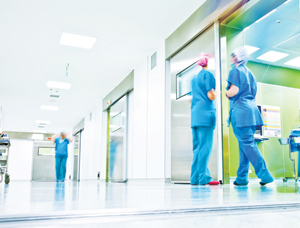 Emergency Care
The patients have no patience when it comes to medical services and acquiring information. This fact emphasises -why a patient cannot wait when it comes to dealing with pain because the end sufferer is the patient and not the doctor. Reducing the delays in acquiring information, discharge summary and final bill and other patient formalities while admitting and discharging is imperative.
The staff lacks empathy and concern for patients as it becomes insensitive to the pain which can further demand training of the staff on behavioral issues. As there is awareness and information rolling all over the internet, the patients and their attendants are more informed and question every action a doctor initiates and refers. The splurged demand for open and digitised medical records have now forced healthcare professionals to be transparent and organised. The healthcare professionals play a vital role in managing complex activities when critically ill patients are admitted in ICU. The problem can be easily averted if time-to-time information is given to them about the condition of the patient, what is the prognosis, what all treatment is being given and what are the charges for different services. Providing information to patients and attendants can avert a large number of conflicts.
Streamlining workflow and activities need a well trained staff to manage different departments in a hospital.
Waste Management
Hospital waste is a potential health hazard to the healthcare workers, public and flora and fauna of the area. Hospital acquired infection, transfusion transmitted diseases, rising incidence of Hepatitis B, and HIV, increasing land and water pollution lead to increasing possibility of catching many diseases. Only 15 percent of hospital waste i.e. biomedical waste is hazardous, not the complete. But when hazardous waste is not segregated at the source of generation and mixed with non-hazardous waste, then 100 percent waste becomes hazardous. The question then arises on the need or rationale for spending so many resources in terms of money, manpower, material and machine for management of hospital waste? Based on Biomedical Waste (Management and Handling) Rules 1998, notified under the Environment Protection Act by the Ministry of Environment and Forest (Government of India), intelligent use of hospital waste and then disposing it off is part and parcel of day to today routine activities has to undergo certain process.
However it is of utmost importance to supervise the waste to be incinerated and administered till the end to reduce risk of infection outside hospital for waste handlers and scavengers and at time general public living in the vicinity of hospitals.It is imperative for the administration to identify unethical practices, ensure legal safety and upkeep of medical records.
Technology
The role of technology is again very essential when it comes to communication, storage, retri and referral purposes. Manager has to effectively invest and streamline processes with the use of technology making the system- structured and transparent. HMIS today plays a role of managing all the operations but with a vigilant eye of the manager as after all the machine cannot be intelligent than man. To achieve automation of all processes and maintaining organisational conditions that enable innovation, increased profitability and high performance. These performance measures in turn helps the manager to value resources including manpower.
A scenario without trained professionals in operations is un-thinkable. The class of professionals that thrives in hospital operations is a blend of strong technical skills, exceptional people management skills, cross-functional knowledge and a knack for creatively managing situations. "We have successfully worked with an outsourced solution for web-streaming our ophthalmic education classes across our network of tertiary care hospitals and also for deriving the benefit of expert lectures from abroad through surveys," says Dr Usha Gopinathan. Development of an adequate information infrastructure will be an essential element in obtaining an end-to-end health chain view. This information infrastructure will need to support electronic patient dossiers. This would enable an institution to demonstrate a greater ability of enterprise resource planning that is a centralised framework for all processes in an organisation, focusing on all aspects of a business.. "These professionals in leadership roles impact healthcare by bringing synergy and alignment among stakeholders. We seldom hear about these professionals who can weave magic on any given day of running a hospital. They are a rare breed and India needs more of them" says Faisal Siddiqui, Vice President, Healthcare, Technopak.
Conclusion
Providing process structure in healthcare is much needed. Support for business processes that span multiple autonomous organisational entities is required in order to manage medical supply chains, intramural distributed healthcare and trans-mural healthcare. Providing flexibility to healthcare is another factor we look at. Automated support for flexibility aspects plays an important role at process design time and run time, including attention for explicit exception management, to deal with the many unforeseen circumstances in medical processes. Modern job demands imposed on healthcare employees imply renewed investigation of available, often limited, job resources. Providing trust in healthcare: Safety management in today's healthcare is still in its infancy. Detailed predictive risk analysis and retrospective incident analysis and the accompanying implementation process are badly needed. Operations management is the strategic implementation of programmes, techniques, and tools for reducing costs and improving quality. Continuous quality improvement or total quality control are names for a philosophy of management that aims to help organisations of all kinds improve performance through eliminating poor quality during production or delivery of the product or service rather trying to fix the results after the product has been made or the service given.//
In case of procurement of material and equipments, minimum three quotations for any new material are required and then the comparative statement is prepared. A call is given to the supplier for final negotiation and the rates are fixed for at least one year. The approved quotations are informed to the accounts department and with the help of hospital information system and the special inventory management software, we can have a good control over price and quantity verification. These equipments are also considered after taking an opinion of various users.Arti Modi, CEO, Apex Hospitals

Dr Usha Gopinathan
utive Director, L V Prasad Eye Institute
Special attention is paid to the screening of the vendors, and the quality of equipment and materials to be procured. Before the start of the financial year, the equipment needs of the centres is collated, assessed to ensure best possible care that can be offered, and procurement takes place adhering to the purchase protocols of the organisation.
Muthanna CG
Vice President " Operations
Manipal Health Enterprises
The strategy adopted by Manipal Hospital involves tracking inventory balances and manage consigned inventory for high value items. The strategy is to reduce cost by reducing inventory levels by eliminating procurement errors and redundancies help in reducing cost through improved decision-making about product costs. The facilitation in information technology in the procurement process reduces the processing time and material delivery and also reduces the manpower.

Dr R C Sharma, V P ( Operations), Rockland Hospital
Proper hospital waste management practices should therefore be strictly followed as part of a comprehensive and systematic approach to hospital hygiene and infection control.
Hospital administrators and planning officers should ensure that washing facilities are made available to people handling hospital waste. This is particularly important at storage and treatment facilities. Staff handling hospital waste should be offered appropriate immunisation, including hepatitis B and tetanus. Staff in contact with hospital waste should wear the following personal protective clothing. The overall aim of training is to develop awareness of the health, safety, and environmental issues relating to hospital waste management.

Charu Sehgal
Senior Director, Consultant " Strategy & Operations, Deloitte Touche Tohmatsu India
The emergence of a separate pool of trained professionals has helped in creating professionals who better understand the nuances and intricacies of managing a hospital. They are able to bring in systemic improvement in the hospitals by focusing on improved procurement and inventory management, thereby freeing up medical professionals to perform their clinical duties and strengthen implementation of standard treatment protocols. The concept of Emergency Medicine Services (EMS) is now catching up in India and many hospitals are setting up specialised EM department within the hospital. Besides, hospitals are also trying to offer specialised education courses in emergency medicine.

Zahabiya Khorakiwala
Managing Director, Wockhardt Hospitals
The hospital manager plays the role of a supervisor, mentor, teacher and leader to his staff and an advocate of patients' rights for the patients.
Hospital manager tries to optimise inventory holding and ordering costs. In terms of infrastructure, we follow international norms in designing our facilities. While in the clinical areas, technology plays a major role in the medical equipment used in diagnosis, in the non-clinical areas, the use of SMS helps in transmitting information to the attending physician about the patients admitted under him. Information can also be given to the patients' attendant. Managers look forward to acquire new and upcoming area is a virtual tour of patients in the ICU area, where the attendant can access/view the patients' condition without being physically present in the ICU.

Karan Thakur, Deputy Genral Manager, Apollo Indraprastha Hospital
Apollo hospitals are always learning from their network hospitals in terms of infrastructure, medical services and technology. In terms of training a manager, there is a distinct skill set required, especially when it comes to maintaining hospitals. This skill-set is very different from that of regular MBAs. Hence, today, there is a need of a doctor-manager to understand both sides of the game. A full-blown hospital information system was first introduced in Apollo, Chennai. The group has also created Medmantra, an integrated system, developed by TCS. Periodic updates and ongoing processes need to be accessed at the policy level, and the process has to be worked upon by the hospital manager. Weekly audits for maintaining biomedical wastein a dedicated place are conducted. We incinerate the waste before transportation. DPCC certification conducts assessment for incinerating waste by the vendor. Categorisation is very clear and is taken care and transported in lifts dedicated to waste staff only. We incinerate the infected waste and make sure that the vendor is also DPCC certified. We also have formal ethics committee where complains and suggestion are filed with an unbiased approach. The patient is affected by the infrastructure of the service cape as it really influences the emotional state of the patient as he enters. A manager makes sure that the infrastructural challenges are overcome and maintained. He looks after the financial efficiency department including ratios, revenues, costs, parameters at departmental level to ensure saving.

Dr Param Hans Mishra Medical Superintendent Indian Spinal Injuries CentreQuality improvements will come from more scientific applications of management principles like improving the workflow when the patient comes to the front office till the timehe gets admitted. So there is process re-engineering and process re-designing techniques that need to be done. Likewise there are many things which can be done in a better way by bringing in management principles from other industries. An important role of a manager is to manage procurement and maintenance materials in a hospital. As customers' expectations rise, patient care becomes more complex, and resources continue to shrink, hospitals are finding that traditional approaches to defining, organising, and staffing quality assurance functions are no longer adequate.

Dr Air Vice Marshal (Retd)
RK Ganjoo
Consultant " Medicine & Haematology
Former Director " Medical
Sir Ganga Ram Hospital
It is wise to remember that 'smarter management is not costly management. It is required to ensure that the skill-sets of key clinical and managerial team members are amongst the best, to achieve and maintain accreditation status and international standards and to develop a sustainable competitive advantage for the hospital to ensure high levels of quality, customer service and competitiveness. The team has to have adequate experience in hospital administration and management as they have to perform a Herculean task.
Regular performance review of various departments and clinicians, procedures and materials to ensure they are aligned with the hospital's overall objectives and targets must be done. Statistical data through Medical Records Department (MRD) and analysing trends and monthly reports on quality performance and key performance indicators should be collected by the hospital manager. The manager must be an active member of the hospital purchase committee in the selection of medical equipment/machines to be ordered and installed. Regular The manager should also plan and manage the process of accreditation by JCI, NABH, NABL and ISO certification and ensure compliance. Another important role is to relieve demands on the ICU unit so that, when needed, beds are available for high-risk patients

SS Ansari
Projects Director
Abdur Razzaque Ansari Memorial Weavers HospitalThe ultimate performance indicator of Operations Management is the efficiency and effectiveness in delivering good quality services: minimise the turnaround time, maximise the utilisation of resources, and employ cost reduction methods.

The 'front door' not only drives flow, but also it drives the perception of flow which is most important to implement in the In-patients department for the operational managers. The managers also need to hardwire the clinical pathways taking full confidence of the treating doctors to ensure that the Average Length of Stay (ALOS) should be nearest to the vision of the hospital. Overall the operational managers need to develop command over all these people by adopting frequent rounding on them and using keyword at key time for both the patients and for the employees at the helms.

Dr Atul Shah
Medical Director, Metro Hospital and Research Institute, Vadodara
With complexity of hospitals increasing, legal requirements and accreditation demands, there is specific need for such trained people. Too many software and experiments, helps in reducing storage space with better retri. Hospitals in modern days are hotels with operation theaters. More focus on waste management involving segregation at source of generation, storage in locked area, final disposal to common incinerator facility. Sufficient manpower of all cadres in all shifts, frequent review of types of emergency received and biweekly case audits as well as mortality audits is also important.
Dr Shivani Sachdev Gour
Director SCI Healthcare and Isis Hospital Kailash Colony
On regular basis operations management involves maintaining interface with departmental personnel to ensure there is adequate space and facilities for patient care and coordination of facilities, investigate patient/visitor concerns and implements appropriate courses of action, assist staff in identifying clinical experts for specific patient population concerns.

Faisal Siddiqui
Vice President " Healthcare
Technopak
Hospital operations are people and technology intensive. The support services such as housekeeping, diet and nutrition services and facilities engineering have large teams and are engaged in using or managing equipment that is expensive and complex. This requires employees to be skilled and trained periodically on the job. For example: a manager of facility engineering on a daily basis has to ensure that the power back-up comes on within seconds of a power outage, the RO plant's water quality tests are optimal, the medical gas pressure at all outputs is meeting the standards, air quality in sterile areas is upto the mark, and fire-fighting system is ready and armed. And, these are only some of the major systems to be checked daily.
Abhilash Pillai
Project Manager
Apollo Health Street
This complexity of hospital business makes the lives of a hospital manager challenging but equally exciting, as he always needs to ensure that his institution provides high-quality healthcare in a manner that is safe, manage and work with a team of individuals with very different capabilities and skills to deliver optimum outcomes with excellent patient experience while complying with regulatory requirements. The healthcare business in India is fast evolving and would continue to do so to accommodate the accelerating changes in the delivery of care and the increasing demand for healthcare services in the country. This ongoing movement will bring along with it numerous opportunities for young aspiring managers.

Follow and connect with us on Facebook, Twitter, LinkedIn, Elets video