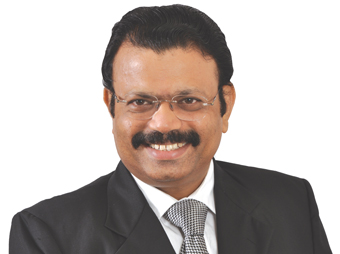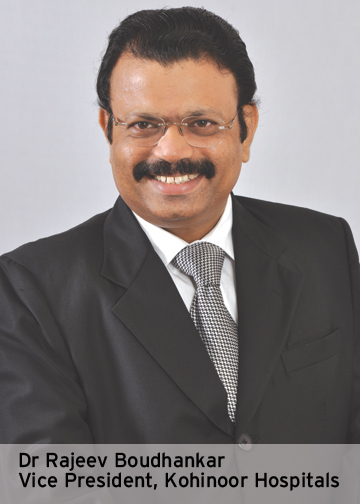 Kohinoor Hospital is Asias first and the worlds second Leadership in Energy and Environmental Design (LEED) Platinum rated hospital building under Green Building Rating System. Dr Rajeev Boudhankar, Vice President, Kohinoor Hospitals, talks about the credentials of the hospital.
What are green buildings? What are the financial benefits they bring for a hospital?

Green or sustainable buildings use resources like energy, water, materials and land more efficiently than the regular standard buildings. With more natural light and better air quality, green buildings typically contribute to improved employee health, comfort, and productivity. Green buildings, including hospitals, provide benefits that conventional buildings do not. These benefits include energy and water savings, reduced waste, improved indoor environmental quality, greater employee comfort / productivity, reduced employee health costs and lower operations and maintenance costs. Generally, buildings account for 1/6th of the worlds fresh water withdrawal, 1/4th of its wood harvest and 2/5th of its material and energy flows. Hence it would be justifiable to say building green is an opportunity to use our resources efficiently while creating healthier buildings that improve human health, build a better environment and provide cost savings.
Tell us more about LEED and why Kohinoor Hospital opted for this rating system?

The Leadership in Energy and Environmental Design (LEED) Green Building Rating System, developed by the U.S. Green Building Council (USGBC), provides a suite of standards for environmentally sustainable construction. LEED certified buildings often provide healthier work and living environments, which contribute to higher productivity and improved employee health and comfort. A long list of benefits of implementing a LEED strategy include improvements in air and water quality to reduction in solid waste. Kohinoor Hospital has been designed to get the Platinum rating, which is the highest rating under LEED certifications for Green Buildings, making it the 1st healthcare institution in Asia and 2nd in world to achieve this prestigious distinction. I have always believed that it is easy for a new hospital to have environmental design features that are better than those in an existing hospital. When the construction site was decided, I was convinced that we should have the maximum green features and technologies, which are perquisite for LEED certification and could be introduced in the hospital. So, we have achieved the highest parameters to be platinum rated.
What are the key steps that you took to achieve the platinum rating?

There are numerous steps suggested by the agency, and we took on aspects that were the best. To begin with the category of sustainable sites has 26 possible points for rating. The intention is to ensure that the development undertaken will not require additional infrastructure to be laid by the authorities. It is also mandated that the development be in densely populated area, with ample alternative sources of public transportation. We conserve more than 40 percent of water by using recycled water as the hospital has a state of art Sewerage Treatment Plant to aid water recirculation. The benefits of demand control ventilation are reduction in energy conservation, reduced wear and tear of the equipment and confirmed/documented indoor air quality. Carbon Dioxide (CO2) sensors are the only currently accepted method of demand control ventilation. 30 percent more of pure air is circulated as compared to other constructions. We use astronomical time switches for controlling external lighting. These switches are programmable on the basis of sunrise and sunset, and work without the use of light sensor. This saves substantial amount of electricity and increases the life of lamps. A green building consumes 0.66 watt /sq. ft. as compared to a normal construction which consumes 2.0-2.5 watt / sq. ft.
Tell us more about the Green roof and HVAC system at Kohinoor Hospital?
Green roof provides insulation for the building from outdoor environment. It helps us to lower urban air temperatures and combat the heat island effect. It is an effective mechanism to filter out pollutants and carbon dioxide. We have a solar plant installed on the roof, these solar panels are used to harvest the solar energy which is the energy derived from the sun through the form of solar radiation. Its use is to heat water and maintain the humidity in the operation theatre. We have built-in a mechanism to store the heated water that helps us during the rainy/cloudy days.
Our HVAC Design includes the chilled water plants, these generally consists of energy efficient screw chillers Variable Frequency Drive (VFD) driven chillers, multiple primary chilled water pumps, secondary chilled water pumps with variable frequency drives, condensing water pumps, Fibre reinforced plastic (FRP) cooling towers, VFD driven double skin air handling units with thermal break and variable frequency drive, fan coil units, chilled and condensing water piping, air distribution system, insulation, electrical panels, wiring, control wiring and earthing.
How does the integrated building management system (IBMS) work?

Building Automation System (BAS) is a micro processor control system which is used to monitor and control all the parameters of HVAC, electrical, fire protection, elevators and other building services/utilities. The DDC (Direct Digital Control) system interfaces with sensors, actuators and environmental control systems, carries out various functions of energy management, alarm detection, time/event/holiday/temporary scheduling, communication interface/control and building maintenance and report generation. Internal electrical system uses the latest technologies and fundamental principles of energy conservation and safety that encompass protection against electric shocks, thermal effects, over current, fault current and over voltage. Dimmers are provided for lighting circuits to reduce the lux level at times when higher lighting level is not required. Also sensors are provided to switch off lighting when the space is not occupied or where natural light is available to achieve the required lux level. The use of Earth Leakage Circuit Breakers (ELCB) is to safeguard against electrocution through direct or indirect contact with a live circuit. Most of the smart features of energy and water conservation technologies are monitored and regulated by these systems. Thus we go green on an automated mode.
What advice would you offer to new hospitals and existing hospitals that are intending to start green initiatives?
There are many out-of-the-box ideas that can be adopted by other hospitals, which might want to tread the green path. However, it is much easier for a new hospital project, than for an existing hospital to make changes in their infrastructure with structural changes for energy and water conservation. They can begin with the energy and lighting systems to save energy and then plan few aspects of use of materials; indoor air quality and green landscaping for reduce their resource consumption. The benefits will be terms of lower electricity and water costs. Small steps make significant impact on the environment. We have new hospitals planned in the coming years in Maharashtra and will be building on the LEED green design modules. //

Follow and connect with us on Facebook, Twitter, LinkedIn, Elets video