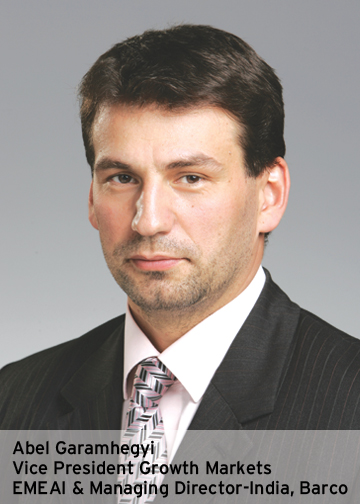 We have reached the state where technology is completely dominating the healthcare industry, says Abel Garamhegyi, Vice President, Growth Markets EMEAI & Managing Director-India, Barco,  in conversation with Shally Makin.
What kind of role are medical displays playing in healthcare?
The medical displays hold great importance in healthcare. The display is the connection between the technology and the human and it gives the best possible zero compromise support on a reasonable price to the doctor.

A good quality imaging machine is capable of providing all kinds of necessary information to the doctors. While conducting surgery, surgeons have access to information, which comes through that particular machine. A display ensures that an image is uniformly visible with a comfortable vision; this translates to produce colour uniformity with zero tolerance and technical luminance. Doctors know which machine is better once they experience its features in the operation room as he/she needs to see every single detail in a very precise manner. Price is also a factor when it comes to choosing healthcare displays.
How role does innovations play an effective role in such set ups?
Innovation for displays depends on two factors, digital content visibility and accuracy. The idea behind medical displays is that we should have a system for providing uniform viewing to the healthcare practitioners. We have gone from greyscale to full colour diagnostics. The greatest challenge is to have a system where the human eye sees a particular colour in the same way in each and every monitor. In diagnostic imaging, it is often difficult to ensure that every single corner  of the monitor should showcase same kind of colours. Barco monitors stand out as in the digital sense; they provide complete accuracy in imaging.  With the rising number of patients, the need to take quick decisions with accuracy has grown 10 times. We are enabling the doctors with the DICOM modalities for displays and Barco calibrates every monitor with same protocol to produce the same decision by every doctor even with different Barco screens. We believe in image latency that creates a difference between capturing the image and displaying the image in time. If the endoscopy of a heart patient takes one milli second to display then there is no chance for the doctor to take quick decision. If 0.1 millisecond is required by the image the doctor still has 0.9 milli second to take the decision and save a life. The factors are size, uniformity and backlight of the image. Today, we have fusion displays where Barco combines different pictures or save it and is also capable to do through one single network. So this collaborative networking is also a unique plan in an operation theatre, which is an IP based integration, and the images can be shared and viewed through PACS.
What are the factors which help you strive to create much safer and accurate product?
Track number one is how you handle the picture. Track number two is the device, as the hardware is the biggest source of infection. So we need ventilators in the operation room to ensure that the air that the patient gets is 100 percent sterilised. We look forward to minimising the human error by showing the right image in terms of displaying the tissue and the densest tissue to differentiate between tumours. One cannot use a monitor that is not designed for healthcare use not just because its cheaper but also as it is going to create a problem at some point of time. The other track is how do we make those displays 100 percent safe and secure. The display should not be fancy; it should be of a simple colour and design with good graphic quality supported by medical sensors.
What is the cost of installation of such systems at a healthcare centre?
If a hospital puts together a certain amount of money and puts out every single pixel visible through a Barco display, this shows that there is a demand. To produce a display monitor which does not compromise on quality is another challenge with every single penny spent on their display making it affordable for a hospital. The cost of installation depends upon size of the centre, doctors, number of rooms, equipments and much more.
We work towards introducing workstations for reporting images from entry level to diagnostic level which starts from 10,000 Euro. DCA imaging has imaging modality for around 5 million Euro, which only includes the equipment costs and nearly 10 workstations. Share with us any innovation which Barco will be coming up in near future.
There are large numbers of innovations happening in this space. For instance, we have a Barco display through which a patient can access television and internet. We are also working towards developing systems that can facilitate mobile care. For instance, we can have tablet like devices through which patients can interact with the hospital staff. Tablets can serve the purpose of reminding of schedules and updating the patient and the healthcare staff about the drugs prescribed. One thing is for sure, Barco is keen to play a leading role in the innovations that are happening in healthcare space. Lot of new interesting ideas will emerge. One cannot use a monitor that is not designed for healthcare use, as it is going to create problems at some point of time. So the innovations that happen in this space must not only focus on creating cheaper systems, they should also be efficient.
 One cannot use a monitor that is not designed for healthcare use not just because it is cheaper but also because it is going to create problems at some point of time
Abel Garamhegyi
Vice President, Growth Markets EMEAI & Managing Director-India, Barco

Follow and connect with us on Facebook, Twitter, LinkedIn, Elets video