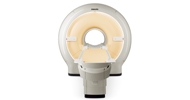 The demand for MRI services continues to grow worldwide, mainly as a result of an increasing need for neurological studies and the early detection and treatment of malignant tumors, as well as the continued need to perform orthopedic examinations. In addition, there is an emerging requirement for MRI equipment to have a larger bore, due to increasing rates of obesity throughout the world, while maintaining homogeneity. Philips Ingenia MR is the first available digital broadband MR system. It provides high-quality MR images, enhancing the physicians ability to arrive at a rapid and accurate diagnosis, and it improves the overall patient experience, using shorter scan/setup times and a comfortable environment, consisting of a wider bore and lighter coils.
MRI Imaging enters a new era with Ingenia – Worlds first-ever digital broadband MRI
As healthcare rapidly changes around the world, so do the requirements for MR scanning. In addition to performing the
most common procedures better and faster, there is a growing need for oncology and body imaging, often on larger patients.
More services and faster delivery are the name of the game. Powered by the breakthrough dStream architecture, the  Ingenia is the first MR system that brings MR signal digitisation where it has never been before " in the RF coil, as close to the patient as possible. dStream unleashes the power of digitisation by delivering a high purity MR signal for increased SNR, combined with largest FOV, enhanced workflow and ease of use for greater efficiency in a radiologists daily operations.
Increase SNR by up to 40 percent
Philips-exclusive DirectDigital RF samples the MR signal directly in the coil on the patient, and sends it to the reconstructor via fiber-optic cable. The result is up to 40 percent higher SNR and a dynamic range that exceeds 185dB.
Largest homogeneous FOV for a 70cm bore
Combining patient comfort with extended coverage and high image quality, Xtend provides the largest homogeneous field-ofview in a commercial 70cm wide bore system and an excellent combination of magnet homogeneity and gradient performance.
Thirty percent improvement in throughput
Designed to streamline workflow and reduce exam time, Flex-Stream enables imaging with fewer coils and reduce patient set up time, bringing about a throughput increase as much as 30 percent.
Contrast uniformity, speed and consistency
The revolutionary Patient adaptive MultiTransmit system from Philips has reached new levels of to benefit cardiac MRI@3.0T in a big way by in its 4D MultiTransmit avatar. It adapts RF signals to each patient, addressing dielectric shading to provide superb image uniformity, contrast and consistency, as well as faster imaging.
Channel-free coil system
Unlike conventional MRI systems, Ingenia is channel-independent, which gives excellent scalability: for example, simply by adding a multichannel receiver coil having more elements and capturing high-quality images. This plug-and-play capability means its easy to keep up with advances in coil technology, without requiring major upgrades. Apart from convenience, it also directly translates into economical benefits for the users.
Maximizing Patient Comfort
The benefit of Ingenia goes beyond technological advances. Ingenias 70cm wide magnet bore with largest FOV and Patient Adaptive MultiTransmit creates the excellence in scanning patients of all sizes and shapes. Notably, despite the larger bore the homogeneity of the magnetic field is enhanced, considerably reducing the image distortion found with conventional scanners.
The patient also benefits from the speed at which the exams can be performed, and the systems ability to scan more body parts. The high SNR, Digital Broadband technology, and largest homogeneous FOV can be leveraged to perform most of the time consuming examinations in less than 8 mins for routine imaging. Also, the Multi station screening for oncology with Ingenia is one of the hall mark of the power of imaging at 3.0T.


Follow and connect with us on Facebook, Twitter, LinkedIn, Elets video