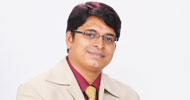 Nokia is looking at better ways of connecting people to what matters to them when it comes to healthcare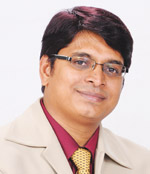 Dr Arun Gowda
Product Manager (Global) Health and Wellness Services at Nokia

What is Nokias footprint in mHealth space in India?
Nokia Life, the worlds largest livelihood and life improvement services suite for connecting and engaging the next billion is live in India since mid-2009. Health services are one of the main service offering along with education, agriculture and entertainment under Nokia Life. Nokia Life is pre-embedded in most of the Series 30 and 40 Nokia devices being shipped in the market, hence the user need not download a separate application to access health information.
What are the services you are offerings in the mHealth domain?
Nokia Life has a range of information services that are potentially useful to users right from conception until old age. Health services in Nokia Life range from mother and child that cater to information around pregnancy and childcare, health and fitness which is information for men and women who want to stay healthy and health topics that include information around respiratory health, heart and diabetes. These services are available on a subscription basis for a monthly charge of `30. Information provided under the Nokia Life Health services is relevant, hyper-local and personalised for the user.
How have you seen the advancement in the field of mHealth in India over last decade?
mHealth in India has received lot of attention in the last decade and a lot of pilot projects have been conducted. Time is right for both the public and private sector to step up and convert the pilots into large scale projects that will help the general public and the health community. Another good thing to note is that the health community doesnt see mHealth and technology as a threat but as an enabler to improve community knowledge about disease.
Enlist the clients to whom you are providing services. What model do you follow?
Nokia Life is a suite of information services that is for the general population to use. Users who want to try Nokia Life Health services have the option of a free trial period and subscription to the service for which they need information for. There are instances where a developmental organisation would like to reach out to an audience with health information. For e.g., Nokia Life along with Arogya World and other partners is currently offering mDiabetes service in India, free of cost to
the user.
What innovations are you bringing to the market?
Nokia Life which was until now a one-way information dissemination service will see the addition of social elements like Ask an Expert, Polls and Share that allows the user to communicate with us and their immediate social network through Nokia Life. We are also adding new services as well as expanding the service offering to make it useful for a larger group of audience. The childcare advice offering is evolving to a parenting advice service that will now expand from offering information from the earlier 0 to 5 years to 0 to 17 years of childs age.
What is your marketing and business strategy in India?
By pre-embedding Nokia Life in the Series 30 and 40 devices we have made it possible for people to readily access information and not go through the hassles of downloading an application. At the point of sale, retailers are trained to talk about and help users activate Nokia Life services. Literature available both inbox and out-of-box have information about the availability of Nokia Life services.

Follow and connect with us on Facebook, Twitter, LinkedIn, Elets video