Our solution for India powers two of the five leading telecom operators and a prominent insurance player, says Nehal Shah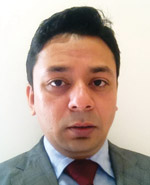 Nehal Shah, Director & General Manager, Clinical Solutions, CS Clinical Solutions India Pvt Ltd
Which industry does Clinical Solutions India cater to?
Clinical Solutions caters to the healthcare call centre market and specialises in the non-emergency segment. Its high technology solutions are most suitable for catering to the state funded programmes like 104 " health helpline, dial-a-doctor helpline. It also provides value-added services to the insurance industry. Globally, we are the largest supplier of non-emergency health helpline call centre solutions.
How do schemes like 104 helpline help the citizens?
The government has now realised that schemes like 104 are excellent as they provide the basic healthcare access to millions in the state, irrespective of the urban-rural divide and divide of time and location. Such schemes end up delivering considerable benefit to the existing healthcare infrastructure. These health lines are going to be made available 24X7 through a toll free system.
The help can come in many ways. Lets say a child in remote rural area is suffering from severe abdominal cramp. The childs parents can get access to qualified healthcare through proven technology solutions. Even in urban areas people can access healthcare without having to visit a doctor.
Please give more information on Clinical Solutions.
Clinical Solutions is a UK headquartered company with clients across the globe. We specialise in the non-emergency segment, with products like IntefleCS Call Centre, Home Clinic, Treatment Centre, Browser based Symptom Enquirer, Long Term Chronic Disease Management and Emergency Responder. Our suite of products is underpinned by worldwide experienced clinical content. This in turn delivers successful platforms from which healthcare professional including nurses, doctors, clinicians can successfully triage a patient and determine the right level of care. Clinical Solutions has been powering NHS-Direct, the national health helpline within England to a population of circa 60 million for the past 12 years. The national health helpline for Scotland, Wales and Portugal are also being delivered using Clinical Solutions technology. Clinical Solutions has similar customers in Norway, Brazil, US, Australia and India.
How has been your experience in India?
Clinical Solutions set up its operations in India in early 2010. It first went through a complete review and customisation process of the content from the clinical and language perspective. The duration of this project was 9 months. Our solution today powers two of the top five leading Telecom Operators and a prominent insurance player with 400,000 calls triaged till date. We are now moving our market focus to PPP like 104-Health Helpline as we intend to be the largest supplier of Health Helpline call centre solutions in India as well.
What medical conditions are being covered?
We cover everything on the non-emergency side of healthcare. Typically we cover family planning counselling, first aid, first level medical advice and suggestive medication, women and child care information, long term disease management information, service directory, etc.
What is your vision for India?
We are very focused on being an enabler to provide basic healthcare to the billion plus population through telephone which is available 24X7.

Follow and connect with us on Facebook, Twitter, LinkedIn, Elets video