We are witnessing a huge rise in the popularity of non-invasive ultrasound procedures, as the techniques are fast and inexpensive. Armed with an array of impressive tools and techniques our ultrasound professionals are offering quality healthcare service to large numbers of patients

By Shally Makin, Elets News Network (ENN)
Ultrasound is now revealing its true colours. The journey from black and white to colour doppler system is now complete. A favourite tool for healthcare professionals, this diagnostic tool shows tremendous growth in spite of the economic downturn in foreign nations. The ultrasound market is segmented into three broad categories, black and white machines, colour doppler units and laptop systems. The market has acquired a large customer base. There is a movement towards the usage of miniaturised ultrasound probes and evolution of four-dimensional capabilities.
This equipment is now being used in various fields including obstetrics/gynaecology, surgeries and cardiology. Highest usage is in obstetrics/gynaecology. One of the cheapest diagnostic tools in the medical equipment industry, the installation of ultrasound systems has become a priority for hospitals. It is a great investment for hospitals. Pioneering technology advances through cardiac imaging to 4-D neonatal imaging in a portable ultrasound system to real-time image viewing. Ultrasound started its career from foetal imaging and today the technology is regarded as the best tool for foretelling the development of the foetus through myriad stages. During ultrasound uation, the foetus is completely safe from ionizing irradiation. The live-action 4-D technology offers 3-D views to enable physicians and sonographers have a closer view of foetal development.

The Indian ultrasound market is on a high growth path. It is expected to clock US$ 200 million by 2015 and is forecast to grow at a Compound Annual Growth Rate (CAGR) of 13 percent. With the advent of various schemes from the government, the reach of ultrasound can only rise. It is spreading across the healthcare market and making seminal contributions in the reduction of mortality and morbidity rates during pregnancy. The National Rural Health Mission initiative of the government makes use of ultrasound systems to promote safe pregnancy and motherhood.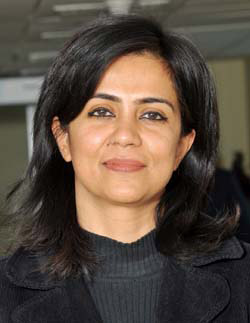 Dr Devlina Chakravarty
COO & Medical Director, Artemis Health Institute
Interventional radiology is the need of the hour today as it provides a simplistic, cost effective model of treatment leading to lower mortality and morbidity rate.
Apart from the major players including GE Healthcare, Philips, Siemens, Sonosite, Mindray, Esoate Healthcare, Aloka Inc and Toshiba generating 70 percent of total market revenue market, a whole lot of companies are now venturing into the ultrasound sector with Samsung medicine and the industry also entertains companies which focuses on ultrasound applications for womens health in obstetrics, perinatology and so forth. The market majorly has Chinese and Korean manufacturers who import low-cost machines blended with latest technology. There are various technological trends taking place in the market and that includes fusion imaging, four-dimensional imaging, elastography and miniaturisation.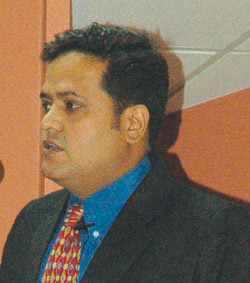 Amit Bana, Manager, Medical Electronics Department, Blue Star Limited (INDIA)
The ultrasound market has suffered in terms of increased expense on importing machines as the dollar has gone up. Over the recent years, the Indian ultrasound industry has witnessed a tremendous growth, in spite of the economic downturn in foreign nations.
The company offers the latest technology in the healthcare industry. From PACS to the best of MRI system, Blue star offers high end colour Doppler used in elastograghy for breast cancer. Ultrasound has created its niche in oncology treatments. The strength of Blue star lies in MRI of 0.5 to 1.5 and 3 Tesla. The black and white ultrasound system costs around 1-5 lakh and the market remains stable used in standalone centres.
A Colour Doppler costs between 10 to 50 lakhs and the mid segment products range from 15-16 lakhs. The purchasing power of the buyer is also increasing and so does the high end systems costs around 20-40 lakhs each. The high end segment with the latest technology will dominate this financial year. MUS 8400 is a fully digital ultrasound system with latest signal processing technology and sophisticated transducer design; Blue Star brand colour Doppler system, 17-in flat panel display with four active ports MUS 602, B/W; Blue Star brand B/W portable ultrasound scanner with high-resolution display for all applications . Other products are ultrasound bone densitometer, ultrasound scanners (B/W and colour) and many more. Blue star was presenting Hitachi before and today Aloka has created very good name along with Trivitron where ultrasound dominates the market. Blue Star happens to be in the field from past three decades. The company now plans to import a machine from international supplier under Blue Star India Limited.
With advancement in cardiac imaging CT scan can replace angiography which are 64 slices and above. The primary diagnostics are now changing their equipments to 64 slices as they are better in imaging. The cardiac CT scanner market is growing at the rate of 10 -20 percent per year.
The radiation free technique has emerged profitable in terms of its versatility, advancements in technology and wider clinical application. Ultrasound market in India is valued at approximately `500 crore today. Colour Doppler segment sharing 90 percent of the total Indian ultrasound equipment market dominates with 13 percent growth in revenues with 3D and 4D imaging in cardiology and radiology. GE Healthcare has revolutionised ultrasound products with its new range of portable ultrasound system. It has worked to simplify ultrasound reporting and image management with its flexible and intuitive system. The solution provides the ability to integrate ultrasound with HIS, RIS, EMR and PACS systems, and communicate across departments, hospitals and enterprises to help reduce dictation and transcription. It is possible to utilize 4D view for offline processing and creating preliminary and final reports easily using new quick reports templates.
Dr Rajesh Kapur
Vice President, IRIA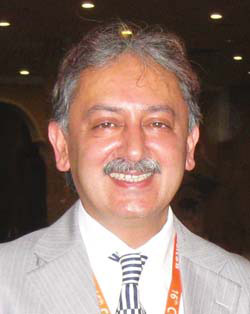 Today ultrasound gives a clearer view of the body parts which further help in monitoring and developing treatments for conventional surgeries
Dr Rajesh Kapur, Vice President, IRIA, opines, New additions in radiology are the contrast feature in ultrasound which was earlier seen only in MRI and now we see in ultrasound as it can pick up infection with greater degree of confidence. Ultrasound equipments need to be registered with the authorities before use. There are 35,000 systems registered so far which are catering to more than a million people along with unregistered systems further gratifying the whole country. He believes, Today ultrasound gives a clearer view of the body parts which further help in monitoring and developing treatments for conventional surgeries.
Sonosite has introduced a suite of specialised products for point-of-care visualisation in medicine with brilliant image quality and simplified controls that enable clinicians to focus in on their target areas in a matter of seconds. For overall improved detail and contrast resolution, the EDGE ultrasound system is engineered with new proprietary imaging algorithms that reduce speckle noise. The system also boasts a high luminance LED, high resolution 12 inch display, making it easier for clinicians to see the ultrasound image from across the bed during procedures. Philips offers an innovative product with superb image quality and sophisticated workflow solutions that helps in healthcare through the eye of radiowaves including technologies such as Xmatrix and HD 15 ultrasound systems. Soft tissue navigation, instrument tracking, image fusion, increased visualization during catheter-based procedures, transesophageal imaging, and sophisticated quantification is creating a mark in the industry. In combination with their comprehensive suite of elastography applications, Siemens highlighted its new strain imaging application Virtual Touch tissue IQ imaging, reinforcing the companys role as a leader in strain elastography imaging last year. The new ultra-premium ACUSON S3000 ultrasound system advances Siemens pioneering ultrasound technologies with its proprietary eSie Fusion imaging, which enables the automatic fusion of 3-D computed tomography (CT) volumes with real-time ultrasound via a single click. Current fusion techniques require time-consuming manual registration of CT or magnetic resonance (MR) images. They also require the patient to lie motionless throughout the entire exam to avoid elaborate manual realignments.
Focused ultrasound (FUS) could be the ultimate form of non-invasive surgery to destroy tumours without making any incisions and without harm to other organs. It can replace the need for most radiation treatments and transform pharmacological therapy by delivering drugs precisely where needed without harm to the rest of the body. It can also dissolve blood clots and restore flow through blocked vessels. Just like a converging beam of light, converging radiowaves can concentrate up to 1000 intersecting beams of ultrasound energy with extreme precision on a target deep in the body as small as 1 mm in diameter and thereby treat the tissue.
Ultrasound can also be useful in cardiology providing a tomographic orientation of coronary arteries and offer qualitative information on plaque composition and response to interventional strategies. The frequency of the ultrasound used is typically centred at 12.5 – 50 MHz. Researchers are exploring new and creative areas of IVUS with Doppler capabilities to allow for simultaneous hemodynamic assessment of the stenosis. Continued improvements in transducer design and technology will allow for better resolution and penetration of ultrasound waves.
Dr Devlina Chakravarty says, Interventional radiology is the need of the hour today because so many procedures require diagnosis of the disease initially and then radiology equipments including ultrasound can now be of therapeutic use in some cases. It thus provides a simplistic, cost effective model of treatment leading to lower mortality and morbidity rate.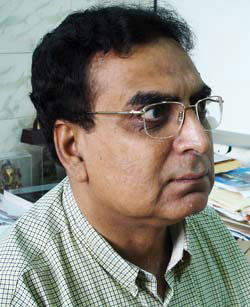 Dr Brij Bhushan Thukral, MD, HOD, Department of Radiology, VMMC and Safdarjung Hospital
Brief us about the Radiology market and its role in the healthcare industry.
Radiology market is set to grow in leaps and bounds due to rapid advancements in information and nano-technology. In next few years molecular imaging is going to give the field of medicine a very big surprise. The industry will play a much greater role in providing the technology to the radiologists and clinicians alike. I see a huge growth in the market share of radiology.
Tell us about the latest trends in the ultrasound market and in the digital and computed radiography.
Latest trends in DR/CR include advances like transmission of high quality images to the treating clinician within no time. This will not only bring efficiency in the process of providing treatment, it will also help in saving the film expenditure as electronic medical records will get generated. In the field of ultrasound, the reduction in price and addition of new technical advances to the system is going to raise expectation of the end users i.e. Radiologists.
Do you think the industry needs well trained technicians to adapt new systems and technologies?
Yes certainly. We do need well trained technicians to handle advanced equipments. To fully exploit the potential of technology, the training of the technicians has to go hand in hand. If trained technicians are not there, the benefit of advancement in technology will be lost. Digital radiology will be lagging behind in market share if the costs are not brought down soon as CR technology is competing well in terms of price despite inferior technology and relative slowness of the system.
What are the challenges and opportunities faced by the ultrasound market presently?
There are many challenges and opportunities . We need to integrate the new technology. We also need to improve transmission to the radiologists. The inclusion of colour Doppler will add to the quality of the diagnosis. Also inclusion of elastography and contrast studies is going to give it a boost. There is a need for more research in the field of contrast development to make it cheaper and better.
Neurosurgery is at an experimental stage and this may further help in treating cancerous cells with an integrated special MRT treatment table acting as a probe head whose sound waves can melt tissue with precision at specific points. A local temperature of 60 to 80 degrees Celsius is created, thereby melting the myoma but sparing the surrounding tissue. The therapeutic use of ultrasound is now being done to remove excess subcutaneous fatty tissue using high-energy sound waves which is a bloodless and anaesthetic-free procedure.
Challenges
Although the spread of ultrasound technology is not the root cause of increase in incidences of female foeticide, the compact, portable and relatively low-cost nature of this technology does increase the complexity of administratively overseeing and prosecuting medical practitioners, companies or other individuals who misuse the technology to assist in sex-selective abortions. With booming population, and increased awareness about the portable ultrasound systems, there has been an increase in the misinterpretation of the Pre-Natal Diagnostics Techniques (PNDT) Act. Manufacturers must confirm that their customers have valid PNDT certificates and have signed affidavits stating that the equipment shall not be used for sex determination. Given the multiple uses for ultrasound in obstetrics and gynecology, restricting access to the technology would conflict with the human rights goal of reaching the highest standards of health. The market today is witnessing increased competition and lack of awareness.
The ultrasound industry has advanced to incredible heights, not only as a diagnostic tool, but also as a therapeutic device to become a more engrained part of the cancer industry. From a sole practice of ensuring babys health in the womb, ultrasound shows great potential in the healthcare industry. With unlimited use in healthcare, the demand for the latest ultrasound trends is literally changing with the seasons.
Policy Watch
The healthcare industry is facing deficit of trained professionals especially in the field of radiology. The misuse of the technology can lead to punishment, as per the PNDT act. Any newcomer from college cannot use such machines. Requisite permission is needed for using such equipments and certified PNDT act. Today, the process of certification is very strict, even if the radiologist is experienced. The vendors are thus facing a shortage of certified and trained technicians in the industry. Policies are now becoming stringent when it comes to monitoring medical equipments such as ultrasound since the State governments would be now responsible for monitoring the disposed ultrasound machines. The use of unregistered machines will lead to a three-year jail term with a fine of up to `50,000. The fee for registration of the machines has increased substantially. MCI now accounts for registration and cancellation of doctors convicted under the Act. The Ministry had appointed a nodal officer to coordinate issues relating to the implementation of the Act. Portable ultrasound machines were banned, except those in hospitals and mobile-care units of the National Rural Health Mission.
As the country travels on the path of economic reforms and prosperity, there is demand for quality healthcare. Quality healthcare needs installation of top class ultrasound facilities. Hence we can rest assured that the industry will remain on a high growth path for a long time to come.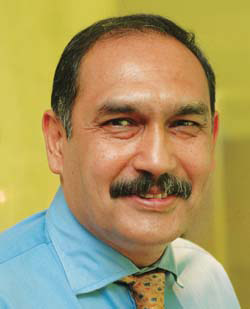 Dr Harsh Mahajan, Director, Mahajan Imaging Centre
Ultrasound waves were first used for medical purposes in 1940. The concept is simple, high frequency sound waves sent into the body bounce back off the surface of the organs. The fundamental principle being used is the same as in case of Sonar, and an image of the organ gets created. Ultrasound, which is a universally available and inexpensive tool, is mainly used for diagnostic purposes. Most cases done today are for pregnancy uation and abdominal scanning. Other applications include scanning of the joints, muscles, blood vessels (by Colour Doppler), breast and other organs.
At Mahajan Imaging, we have been using ultrasound for taking biopsies of lesions at difficult locations with great accuracy. Recently at one of our centres, we started fusing ultrasound data with MRI and CT data of patients for better visualisation of diseased tissues. Also, we have started doing elastography of the breast, thyroid, prostate and liver. We are in the process of collaborating with the biggest liver hospital in India to uate the potential usefulness and accuracy of ultrasound liver elastography.
In the next few months, we are coming up with the countrys first stand-alone image guided therapy centre where we would be treating uterine fibroids and bone tumours using MR Guided High Frequency Focused Ultrasound (MR-HIFU). In the near future this same technology will be used for treating cancer of the prostate, breasts and even diseases of the brain. The medical ultrasound is an ever evolving modality whose applications are increasing day by day.

Follow and connect with us on Facebook, Twitter, LinkedIn, Elets video