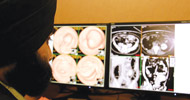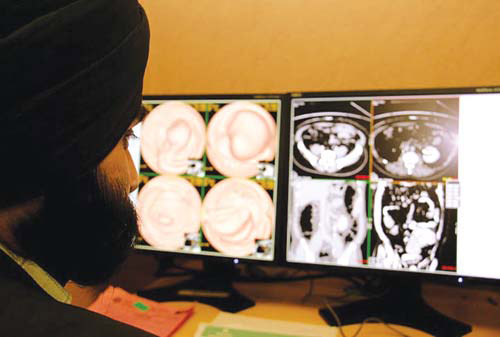 One of the leading imaging centers, Mahajan Imaging has a history of bringing new technologies into the private sector in the country
In the year 1988, a young doctor returned home after spending one year in the United States of America having learnt about a new diagnostic modality called the MRI (Magnetic Resonance Imaging). This was a time when the common perception of a radiologist was that of one who reads only X-Rays. He left the greener pastures of the West with a dream to provide world class diagnostic facilities to the people of India.

In 1991, one of the first few MRIs in the country was set-up in Delhi by this young doctor, Dr Harsh Mahajan, the founder of Mahajan Imaging Pvt Ltd. From that day, there has been no looking back and his dream to bring to India, the latest and best technology in Radiodiagnosis, is slowly but surely being realised. Over the years he was able to successfully build a team of highly skilled and dedicated imaging specialists, who were equally passionate about their work. The entire team strives for perfection and provides the highest level of diagnostic care to patients, rich and poor alike. The reliability and authenticity of the quality of work done is borne out by the fact that doctors and their families usually prefer to get their own scans done at these centres.
Mahajan Imaging has a history of bringing new technologies into the private sector in the country, for example, functional MRI, MR Tractography, MR mammography, CT coronary angiography, 4D ultrasound with tomography, PET-CT, CT-guided robotic biopsy, digital mammography, DEXA bone densitometry and Cone Beam Dental CT. Continuing the said trend, they have recently become amongst the first to offer the standing open MRI (G-Scan) for spine and musculoskeletal applications. Always giving patient-interest the highest priority, Mahajan Imaging has recently invested in two DR X-Ray systems which significantly decrease the radiation dose supplied by X-Ray scanning and hence decrease the radiation exposure to the patient.
There are currently six centres in New Delhi, with the flagship standalone centre in Hauz Khas and other centres located in prestigious hospitals including Sir Ganga Ram Hospital, Fortis Hospitals and Dr BL Kapur Memorial Hospital. They have recently got into the first ever Public-Private-Partnership with the Ministry of Health & Family Welfare, Government of India, and set-up a world-class high-end radiology department in the Sports Injuries Centre in Safdarjung Hospital, New Delhi. All tests done at this centre are at very low government approved rates, without any compromise on quality.
Their department of PET-CT and nuclear medicine at Sir Ganga Ram Hospital, New Delhi is one of the most experienced such departments in India and many patients routinely come for second opinions from other parts of the country. Mahajan Imaging conducts postgraduate teaching at the Department of PET-CT and Nuclear Medicine, Sir Ganga Ram Hospital, New Delhi and Department of Radiology, BL Kapur Memorial Hospital, New Delhi.
Apart from routine clinical imaging, Mahajan Imaging is also involved in advanced clinical and applied research and their partners include Massachusetts Institute of Technology (MIT), Boston, USA, All India Institute of Medical Sciences, New Delhi and Indian Institute of Technology (IIT), Delhi. Mahajan Imaging is also involved with a number of software development companies and aims to integrate information technology with healthcare to improve patient-care and streamline and simplify access to medical services.

Follow and connect with us on Facebook, Twitter, LinkedIn, Elets video