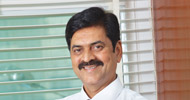 V S Upadhye
MD, Labindia Healthcare

VS Upadhye, MD, Labindia Healthcare, talks about a new technology in the field of Molecular Imaging, which has the potential of being accepted as a better cancer diagnosis tool, thus providing a better alternative to traditional Ultrasound, MRI and Mammography. The cost analysis by Dilon Gamma Camera (a product from Dilon Technologies, USA) introduced for the first time in India by Labindia Healthcare, shows that the system will be quite acceptable and affordable in the Indian market for early cancer detection
Tell us about the new technology that is creating ripples in the industry.
Gamma imaging is relatively new in the industry. Currently when there is suspicion of cancer in the breast, traditional treatment options are recommended such as Mammography. Normally Mammography is not 100 percent specific, therefore Ultrasound is suggested. In certain cases MRI examination might be advised. The Dilon 6800 camera (manufactured by Dilon Technologies, USA and introduced in India by Labindia Healthcare) for Molecular Imaging is an imaging technique that reveals cancerous lesions even in women with difficult to diagnose incidents. The Gamma Camera makes imaging possible with a compact detector for optimised examination. Dilon 6800 has the power to detect and diagnose various other cancers such as Thyroid, Kidney, Gall Bladder, Liver and Spot bone analysis. In clinical trials, BSGI (Breast Specific Gamma Imaging) has demonstrated the ability to aid in the diagnosis of cancer in patients with factors limiting the utility of mammography such as: dense breasts, implants or injections for augmentation.
What are the advantages of using Dilon 6800?
The advantages being that the patient is comfortable, as she doesnt have to lie down and go through a painful examination like Mammography. This small instrument is designed with high sensitivity and specificity and is capable of multiple acquisition angles. It relies on advanced imaging technology and superior positioning to get optimal results. The other advantage of this equipment is being a portable and mobile system; it eliminates installation and facility costs thus being an overall affordable option.
How do you think this technology can cut down costs for diagnosis in India?
The cost analysis of Dilon shows that it will be quite acceptable in the Indian scenario. Compared to the cost of all three techniques, the cost of buying the Gamma Camera comes down to around one and half crore with affordable examination charges. In India, this technique is being introduced for the first time by Labindia Healthcare. The cost of the equipment is dictated by the Indian hospitals. We do not have too much competition in the industry, as there are bigger players selling huge machines that cannot be compared with other technologies.
Where do you see Labindia five years from now?
Our company is presently focussing on Medical Imaging, Molecular Imaging, Diagnostics, Critical Care and Wound Management products. In Medical Imaging we basically sell Ultrasound and Colour Dopplers from Mindray exclusively in a few states of the country. The market is growing and there are a lot of players in every vertical pertaining to Medical Imaging and Diagnostics. Some of our very niche segments such as Molecular Imaging and Molecular Diagnostics would be the area of expension in the coming years. With nationwide presence and approx 400 employees, five years from now I look to achieve a share of `400-500 crores in the industry. Everybody is excited about this new technique and some of the government hospitals are looking forward to explore this new equipment.

Follow and connect with us on Facebook, Twitter, LinkedIn, Elets video