By serving in emergency situations with great deal of efficiency, the MMUs mark the beginning of a new age of technology in the healthcare industry
By Shally Makin, shally@elets.in
Technology has created a buzz in the healthcare industry; it challenges the doctors to keep track of the health of all their patients. The Mobile Medical Unit (MMUs) knocks at your door and delivers medical help, thus making emergency services easily available in all parts of the country. Accessing medical help was never that easy before the introduction of MMU in the country. Such  special purpose vehicles plan to make an effort to take healthcare to door step of the public in rural areas, especially in under- served areas; the Government of India has approved mobile medical units at one MMU  per district under the National Rural Health Mission (NRHM). As a part of NRHMs mission 2005- 2012, provision of a  mobile medical unit at district level for improved outreach of services had been suggested. A mobile medical unit is a  strategic step in the direction of achieving the aim of having improved healthcare in non-approachable areas.
Need of the Hour
India does not have a single system, which can play a major role in managing emergency medical services. There are different emergency numbers in Indias 28 states and seven Union Territories. Hospitals in the country provide different telephone numbers for ambulance services. Clearly, India is in need of proper emergency medical service that can be  accessed from anywhere in the country. The existing fragmented system falls terribly short of meeting the demand. Emergency services department was made an independent entity in 2009, while trauma continues to be one of the major causes of death in India. The Centralised Accidents and Trauma Services  (CATS) set up by the Delhi Government in the early 1990s, was then standardised to serve patients in emergencies.
Legislation for emergency services in India has often proved to be ineffective in meeting emergencies. There is a need for having a common access number, trained paramedics, gradation of ambulance and hospitals, network of hospitals. It is also needed to define physical and human resources that will be needed for the service. Especially north-eastern states,  due to their difficult hilly terrain, non-approachability by public transport, and long distances for reaching the health centres necessitate the need of MMU with specialised facilities  for the patients requiring basic specialist examination.
Modelling the Unit
The initiatives to deliver quality health services through MMU is well appreciated in states like Bihar, Haryana, Jharkhand, Madhya Pradesh, Maharashtra,  Himachal Pradesh and others. These states have equipped most of   heir districts in the first phase itself. The projects are majorly implemented through a PPP model. The expanded role of private players including Tata motors, Siemens, Bafna Healthcare and Swaraj Mazda, in delivering healthcare services has made such medical facilities units to be on roads to assist the needy ones.
Ambulances are categorised into various sub-categories such as emergency ambulance, patient transport ambulance, response unit and charity ambulance depending on their functional use. The major producers of these vehicles are  Swaraj Mazda, Force Motors and Maruti Suzuki India Ltd. GVK EMRI has already proven to be one of the most accessible services connected just through one single  number. Following its footsteps, various other hospitalsincluding Fortis and  Medanta have started their emergency services which are equipped with the latest technologies accompanied by a doctor, nurse, X-ray technician, lab assistant, OT (operation theatre) assistant and a paramedic.
Tªte- -Tªte with
Dr Dina J Shah, HOD Emergency Medicine, Fortis Hospital, Noida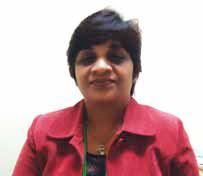 In India, services need to be more approachable. People think that emergency does not need any equipment, but we A well equipped ambulance is really the need of the hour.
Ambulances at Fortis are of high standards. A mobile medical unit should be in each and every district. We can also have larger ambulances, which can be  equipped with a consulting room, x-ray and examination room. Of course there must be enough space for people to consult their doctors and nurses.
MCI recognised emergency medicine as a separate entity in August 2009. In another 10 years, qualified trained doctors will be on the move to deliver emergency services. The system must be able to address primarily basic burns,  poison, bites, fracture, splinting, etc. Basic Life Support (BLS) Ambulances provide transport to patients who do not require extra support or cardiac monitoring should include splint treatment and CPR capabilities with advanced life  support system. Ambulances provide transport to patients who need a higher level of care with certain systems such as plus defibrillator, ECG, cardiac monitor,  portable ventilator, suction machine, resuscitation kit, electrocardiogram, emergency medicines and pulse oximeter.
We have set up separate network in Fortis with a one number system centralised to all Fortis centres including Jaipur, Mumbai, Chandigarh and Bangalore.  A doctor can provide advice on mobile and the information can be used to organise better treatment of the patient.
Combining ambulances with ER is the biggest step taken by the Fortis group. Central calling system has been working for 6 months. Fortis will soon start using Mercedes ambulances, which are imported from Turkey and will be seen on  the roads once the licensing processes have been cleared. The advance training to the paramedics is being observed.
Central calling, tracking system, 3-way call, data collection and other medical facilities in the ambulances contribute to the digitisation of the entire process. To avoid failures of losing lives  of critical patients the system insists on training personnel to build confidence in them to deal in critical situations.
Today the MMUs are designed in a way to have facilities for emergency operation, pathological investigations, incubator and kits for pregnancy and HIV tests. Advanced investigation gadgets  like portable X-ray machine and ultrasound  machine and ECG machine too would be available in these mobile units. A basic MMU would also distribute free medicines to the needy ones and would  have all the emergency drugs, antibiotics, anti-allergic, antipyretic, iron and folic acid tablets in addition to other medicines, which are used in common diseases. MMUs provide free check-ups and medicine to people of 60 plus age group.  They also attend to lower age groups in case of emergencies or if mobility of the patient is a problem.
Flying High
Aero medical operations in India are gradually developing the expertise to provide medical assistance in far flung areas. Many critically ill patients will be able to benefit from the robust medical platform of this service.
Eurocopter India Private Limited intends to develop a countrywide MRO network. The service will be developed in collaboration with Pawan Hans Helicopter Ltd., which is the worlds largest civil operator of AS365 Dauphins. The AS365 Dauphins will be used for in-country MRO service. There are also plans to transform an AS365 to serve as a full-flight simulator capable of training the flight crew.

Air Rescue One, a service that is available 24/7, is a joint initiative of Deccan Charters and Escorts Heart Institute and Research Centre and Apollo Group of Hospitals.

Dr Nitin Yende established Vibha Lifesavers as a comprehensive medical transport system in 1996. Their range of services includes providing medical escorts to commercial airline, stretcher services to evacuate critically ill patients to any destination in India and abroad.

Ashoka Rescue provides Geriatric Care and expert opinion on medical problems. It can transport Specialist Consultants through Chartered and Commercial Airlines.

To give a fast and affordable air medical transportation Prime Air Ambulance has latest Aircrafts. Prime Air Ambulances aircrafts are well equipped with medical equipments. The trained flight crew is trained in medical  methodologies.

Fortis Escorts Heart Institute has a dedicated team trained in aero – medical transport of critically ill cardiac patients. For evacuation,  a fully trained team, comprising of a cardiologist, an anaesthetist, a nurse, a cardiac surgeon (if required),  with all the essential life saving equipments like the ventilator, defibrillator, monitor, IABP and so on, is dispatched to the destination in a 6 – 8 seater aircraft/ helicopter.
The multi-utility vehicle is proving to be a good ambulance in case of an emergency. A high roofed Winger Ambulance from Tata Motors is a preferred vehicle for ambulances. It can be redesigned for allowing smooth drive and safety within budget price. It has also been termed as Hospital-on-Wheels, one that meets the technological requirements. Such MUVs  are designed to have the least car-like noise, vibration and harshness (NVH) levels. A bump- free ride and a 100 percent comfortable patient drive is important. Speed, manoeuvrability, efficient braking and suspension, and high grade ability and stability is also a must. Priced between ` 4.70 Lakh to ` 6.55 Lakh, Tata Winger is one of the most economical ambulances in the market. Swaraj Mazda on the other  hand has been a long time leader in the industry with thoughtfully designed vehicle to transport patients speedily and comfortably. The ambulance has a complete first aid kit, oxygen supply system with 2 nos outlet, anti acidic stain free vinyl floor, rear flood light, fire extinguisher, wash basin, foldable stretcher cum trolley, provision for pure drinking water and electrical provision for ac/dc supply ( 220 v / 12 v ).
Transportation of critical patients to hospitals in emergencies should be a comfortable experience. This will assure safety, including efficient LSPV (Load Sensing Proportional Valve) brake system and low centre of gravity for better stability. Fog lamps, which offer excellent visibility  during winter is an important requirement. As a part of Corporate Social Responsibility, many companies have come forward in improving emergency services.  Wockhardt Foundation has entered into a strategic alliance with Welspun to jointly launch Mobile Health Reach, a healthcare programme in Mumbai.
In Column

Anjan Sen, Director, Strategy and Operations, Deloitte, India

Do you think an emergency service in India needs to be better approachable and equipped?

Despite development in overall healthcare, India is yet to see a comprehensive Emergency Medical Services (EMS) system in place. It is a well-accepted fact that  a patient who is given basic treatment by trained professionals and is shifted to a medical facility within 15-20 minutes of any  emergency has the greatest chance of survival. With an increase in population and more number of vehicles plying on Indian  roads, number of accidents is on the rise. Reaching hospitals can take hours which could prove to be fatal to the patients. All these factors included, there is a need for  well-equipped ambulance services in India. These ambulances should be easily accessible and should have trained professionals  with basic healthcare facilities in place.

Tell us about the various Mobile medical Units being operated across the country.

In India, we have a lot of fragmented mobile medical units in operation. Typically, most state governments run mobile emergency  units which are reachable at the phone number 102/ 108. Local institutions and corporate hospitals also provide mobile medical units which  transport patients for a particular charge. Some NGOs have launched mobile healthcare units to serve targeted sections of the society. Smile Foundation (an NGO) provides medical services for women and children in urban slums and remote rural areas. Avert Society, another NGO; in association with other NGOs provides mobile and free HIV/ STI testing and treatment to at-risk population. Corporate entities like GVK EMRI and Religare Voyages are also in the business of offering ground and air ambulance services respectively.

How far do you think such mobile services can deliver healthcare facilities to the masses?

Smile Foundations The Smile on Wheels program at present has 12 operational projects running in 11 locations covering 172 slums with the population of 10.67 lakh in 9 states of the country. Since inception in 2006 this program has  directly benefitted 3, 89, 552 beneficiaries. Similarly, there are other initiatives which have been able to serve lakhs of people across the  country in delivering healthcare. We will need innovation in delivery and reach and usage of technology to cover more needy patients. In the long run, we will also need to monetize the service offerings to keep  delivering mobile healthcare services on a sustainable basis. The government needs to get involved to improve overall access to the masses.

How do you perceive the advancements in the technology being used for such medical units over the years?

Advancements in technology can help the doctor (sitting in themedical facility) to guide the caretaker in the ambulance  to give proper first aid to the patient so that his chances of survival increase. Automatic transmission of information regarding vital signs and then calculated decisions based on that information can save crucial time which can be life saving for the patient. At the same time the hospital can also be prepared with all necessary  arrangements for the patient to arrive so that immediate actions  like surgery could be done. For mobile medical units which cater to patients in the remote areas, telemedicine and advancements in remote diagnostics can drive the industry forward.
Siemens healthcare has a come up with a refurbished concept of mobile medical unit. Sanjeevan, a mobile healthcare clinic developed by Siemens Ltd and  equipped with Siemens healthcare technology will be deployed at Medanta.
At Wockhardt Foundation Mobile Medical  Units come under 3 broad mobile programs- Mobile 2000, Mobile 2000 I, Mobile  2000 Urban. Dr Huzaifa Khorakiwala, CEO, Wockhardt Foundation has designed these programs to meet  a specific need. Mobile 2000 programme has been aimed at delivering free primary healthcare at rural India in systematic and professional manner. Under the Mobile 2000 program, we aim to start operating 1000 mobile units by June 2017 and delivering primary healthcare to 25 million Indians in rural and remote India. There are advancements in the diagnostic equipments where results can be shown on the spot in a cost effective range. Telemedicine shows a great scope in keeping these medical units well connected.
Dr Huzaifa Khorakiwala
CEO, Wockhardt Foundation
At Wockhardt Foundation, we aim to provide quality healthcare to 25 million Indians through the Mobile Medical programmes, which will cover people from poorer sections of society; By June 2017, our Mobile 2000 umbrella will have more than 1000 mobile units
At Wockhardt Foundation we believe in the 3 Bs " Big, Best and Beautiful. We aim to provide quality healthcare to 25 million Indians through the Mobile Medical programmes, which will cover people from poorer sections of society. By  June 2017, our Mobile 2000 umbrella will have more than 1000 mobile units for the poor, weak and needy and would  play a sizeable role in addressing the primary healthcare to the masses of India.
Such ambulances, which boast of latest advances, can be customised as a Mobile Medical Unit, Critical Care Unit, Blood Transportation Van and much more. The mobile medical units are proposed to have specialised facilities and services such as X ray, ECG and ultrasound to address the diversity and ensure the adoption of most suitable and sustainable model for MMUs to suit their local requirements. The software enables real-time tracking of ambulances, using GPS to ensure the closest ambulance can reach an emergency caller. All control room staff is trained EMDs (Emergency Medical Dispatchers) who carefully question callers to determine the type of emergency, extent of injuries suffered, and possible instructions before the ambulance arrives. EMDs also stay in contact with the ambulance staff to coordinate with the medical workers at area hospitals.
With the introduction of such state-of-the art ambulance facilities in all parts of the country, the health status of rural and urban population can be improved. Such advanced life support systems are slated to become more popular, as the healthcare industry makes a major attempt to delivering healthcare at your doorstep.

Follow and connect with us on Facebook, Twitter, LinkedIn, Elets video