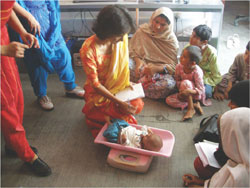 Located about 120 kilometers from Pune, Baramati is a Tehsil or administration centre, for a group of villages primarily possessing agricultural economy. Baramati has a well-built infrastructure, with roads, water, and utilities. The small town also boasts Indias largest dairy, capable of processing one million liters of milk per day and also pioneering work of tele-diagnostic facility that has been implemented at Rui Hospital.
A new Community Service Centre features kiosks that provide internet access and services. Wimax enables broadband speeds in a wireless environment, while Intel-powered PCs provide computing power and access, even in areas with erratic power supplies. One beneficiary of the towns new PC access is the network of more than 100 womens vocational self-help groups.
A digital community health center was implemented with remote diagnostics in ophthalmology and cardiology. The center delivers specialised care in areas like cardiology and eye care at dramatically lower costs than in urban areas " sometimes as much as 25 times less expensive. The initiative involved healthcare partners SN Informatics and Schiller Healthcare, along with tertiary care providers Narayana Hrudyalaya and Aravind Eye Hospital, and supported by the leading local institute at Baramati, Vidya Prathisthans Institute of Information Technology (VIIT).
The ECG test of a patient in Baramati is transmitted to the cardio-care room of Narayana Hrudayalaya and a slit lamp captures the inner image of the eye and the data is transferred to Aravind Eye Clinic. The existing tele-medicine set-up of the hospital was utilised for this purpose. A cardiologist examines the test results and reports the abnormalities, if any, round the clock through this procedure. The average response time is less than 10 minutes.
The community health center is making a striking difference, with 11,000 outpatients served in just first four months of its operation. The project was under the World Ahead Programme, an initiative launched by Intel to provide education and healthcare service in India and encouraged by the working of the Baramati project. Intel has expanded the tele-health scheme to a 100-bed hospital in Tindivanam as well.


Follow and connect with us on Facebook, Twitter, LinkedIn, Elets video