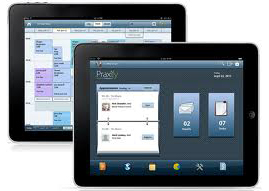 eHealth Bureau
Praxify is a cloud-based physician practice management solution with electronic medical record (EMR) suite of products and services catering to the needs of doctors and clinics. Xtremum Solutions, an innovative healthcare technology services and solutions company, announced the launch of its next generation, cloud-based physician practice management solution with EMR suite of products and services on the Apple iPad. With this launch, Praxify will enable doctors and clinics to adopt A3 (anyplace, anytime, anyone) associated with their clinical practices efficiently and would provide better care to their patients while reducing medical errors.
Praxify (derived from Practice Simplify, www.praxify.com) will assist doctors, who are on the move between clinics and their hospitals in big cities and towns and are usually crunched on time, to automate, streamline and digitize their practices. It addresses the need to provide secured patient data at point of decision whether on the phone or face to face consultations and also helps doctors and their staff to manage interactions with their patients efficiently and ensure patient satisfaction.
The value proposition for the doctor and the clinic is that they are not burdened with investments in computer and servers systems and heavy software licenses and their associated maintenance and upgrade and are expected to 'pay-as-you-go' which is simple to operate and has no maintenance. The doctor has the added advantage of mobility and information 'on-thego' anywhere and anytime with Praxify, whether it is the clinic, their car while transiting, the emergency ward, hospital consultation chamber or the operation theatre and even their home in case of any SoS calls. With an average cost of about `2 per patient per month, the doctor can now reduce a lot of administrative costs associated with paper-based records, increase revenues by optimizing scheduling and patient reminder systems and, in turn, increase the overall productivity of their practices and also enable publication of research based on evidence-based practices using patient data on Praxify.
"Praxify has all the core capabilities of a practice management system and an EMR should have and is very user friendly. Praxify has done a great job customizing as per each medical specialty requirements. The system includes functionality that automates the entire workflow from when the patient arrives at the office/clinic to when they leave," said Dr. Lavanya Gali, a world renowned sleep medicine and internal medicine specialist and one of the early users of Praxify. "The systems scalable nature makes it a good fit for a range of practices from solo practices to corporate hospitals", adds Dr. Lavanya.
Doctors using this A3 offering can view their schedule of the day specific to multiple locations that they visit, view all patient medical records, medical history, billing details, images like xrays, and lab results, prescribe medicines, mark favorite medicines and lab tests with the touch of their fingers on their Apple iPad wherever they are.
"Doctors and their staff are inherently mobile. Our vision with Praxify is to enable doctors and patients to interact more seamlessly and easily, and provide doctors the mobility edge they have always been looking for," said Abhijit Gupta, the Founder & CEO of Xtremum Solutions. "With a very rich user interface and the flexibility of mobile connectivity, Praxify will empower the doctor to concentrate on serving his/her patients in a better way, which in turn would have better patient outcomes. Given the growing need to streamline healthcare costs in India, reduce the amount of medical errors and to cater to our large population, a solution like Praxify would be revolutionary," adds Abhijit.
"Praxify is a great solution for a growing company like Sleepcare. Its cloud based delivery model, mobility features and easy-to-use interface makes it – cost effective, efficient and scalable for us," said Prashant Koirala, Director, SleepCare Solutions. The Indian market has about 700 thousand ambulatory practices, most of which do not rely on any electronic system to store medical records. They now have a huge opportunity to embrace this technology especially with the advent of 3G connectivity and launch and wide spread acceptance of affordable mobile devices in the country.
Adds Kapil Khandelwal, Advisory Board Member for Xtremum Solutions and leading healthcare technology expert in Asia Pacific and Emerging Markets, "Healthcare mobility for individual doctors has been witnessing 'tectonic' shifts with the launch of cheaper, lighter and easy to carry-and-operate tablets and high-speed 3G mobile connectivity. Praxify is a paradigm shift that fills into the doctor's pain points of moving between clinics, nursing homes and hospitals where they are attached and manage their patient relationship on-the-go".


Follow and connect with us on Facebook, Twitter, LinkedIn, Elets video