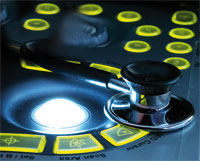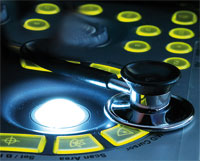 Innovation in Health IT seems to be the flavour of the season creating a niche in the healthcare industry
By Shally Makin
Health IT has now revamped the healthcare system providing strength of character to the healthcare infrastructure. IT is gradually picking up pace to integrate the economy from the forefront. Escalating demand for services and innovative solutions by the healthcare industry has pumped the IT sector to bring pioneering resolution to bridge the gap that lack of medical devices and software creates. According to a report by markets and markets in August 2011, the world healthcare IT market is expected to grow from US$ 99.6 billion in 2010 to US$ 162.2 billion in 2015, at a CAGR of 10.2 percent.
While US$ 4.5 trillion is spent on global healthcare annually, over 100 million people fall into poverty each year due to expenses incurred upon healthcare and approximately two billion people worldwide live without even basic healthcare. With greying populations, rising incidence of chronic diseases, and growing demand for tools tailored to local healthcare, markets healthcare lies in one of the world's most pressing and complex problems. Companies like GE Healthcare, Philips, Draeger Medical, to name a few, have contributed a lot in the Health IT domain by introducing innovative products and technologies to provide effective treatment. Acquisition in the healthcare and life-sciences space for IT service providers seems to be quite proactive in the current market.
Today, technology is a key enabler for every industry. From imaging to tele-diagnosis, technology has proven useful in reaching the unreached masses as well. Health being the primary concern for an individual, needs to be closely looked at by providing affordable healthcare with the use of latest technology. Health IT client capabilities span a broad field of healthcare enterprise, including providers, hospitals/health networks, pharmaceuticals, medical devices, consultants, service and product vendors, healthcare organizations, legal, legislative and accrediting organizations and professional associations. Companies like Wipro-another IT major – are scouting for a niche player in the Health IT segment. The company also plans to hire about 200 more domain experts, especially those in the analytics and mobility space, by the year-end. Wipro will soon take up large-scale IT modernisation projects with the advent of the more comprehensive ICD 10 medical coding standards.
 Healthcare trends have changed from diagnosing patients in clinic to advising patients through the use of mHealth and telemedicine. Health IT has demonstrably come a long way since its inception. Electronic tools are becoming common in following five areas- treatment, exchanging clinical data with other physicians, notes on patient care, generating reminders, and writing prescriptions. With the use of tools such as EHR, EMR, e-Prescriptions and e-Reminders, exchange of clinical data has become much more efficient and streamlined. Information technology underpins providers' ability to shift to new care models, so IT moves to center stage with efforts to implement products like hardware, software, networks, and radiology information systems, hospital applications, laboratory applications and ambulatory care management systems and other healthcare services. On the other hand, few healthcare providers already provide medical facilities including e-prescribing, PACS and online results reporting and scheduling along with telemedicine, HMIS, LIS and others. Health IT aims at improving the overall quality, safety and efficacy of the health delivery system which prevents medical errors, reduces healthcare costs and decreases paperwork.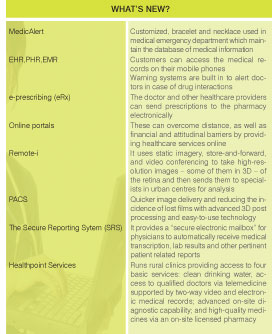 Latest Market Trends
Toronto-based medical information service MedicAlert has developed a customized bracelet and necklace for use in medical emergency department. The gadgets also maintain the database of medical information. At the time of emergency the information is transferred to the effective treatment. MedicAlert has more than 4 million members worldwide and is available in 140 languages. Customers can access the medical records on their mobile phones as well. More than 40 percent of the company's online traffic takes place after business hours.
Using such tools, physicians can edit their patient's records and spend more time in viewing patients' records to ensure there are no errors and update the patient for any risks.
A typical EHR has information about an individual's health conditions, allergies, treatments, tests, and medications. Many EHRs can connect with health care providers outside the doctor's office such as specialists, labs, imaging facilities (X-rays, CT Scans, MRIs), and the local hospital. Some EHRs have warning systems built in to let the doctor know about drug allergies or potential problems with drug interactions. Also, some EHRs have medical alerts to remind the doctor to perform certain tests or procedures.
Electronic prescribing or e-prescribing (eRx) is a way for the doctor and other health care providers to send the prescriptions to the pharmacy electronically. This reduces chances of error due to incorrect interpretation of a written prescription, and also helps in avoiding harmful drug interactions.
According to a recent survey published in the Business Wire, 75 percent of survey respondents claimed meaningful use of EMR is to be their top budget priority for 2011 IT investments, with 53.5 percent citing physician adoption of EMRs to be their greatest challenge in meeting that goal. 87 percent of respondents said time to access an EMR impacts physician satisfaction and 73 percent said that it also impacts overall patient care.
The survey found that adoption of Electronic Health Record System, which covers 8.7 million beneficiaries, eliminated 1,000 tons of paper records and 68 tons of x-ray film. Adoption of the system also lowered gasoline consumption among patients who otherwise would have made trips to the doctor by at least three million gallons per year. This shows that electronic health records have a positive net effect on the environment, and that our model for uating their impact can be used to determine whether their use can improve communities' health.
Online portals are gradually picking up pace, and hold potential for promising growth in the next five years, particularly in the areas of telephone counseling, self-help and web-based support services. Adoption of online services can help overcome distance, as well as financial and attitudinal barriers faced by the developing countries. For example, the I-med network developed by Queensland software helps doctors to log in and see the patient's radiology images regardless of where they happen to be.
Remote-I, an initiative of CSIRO health scientists uses broadband network to treat eye disease in the remote Pilbara region of Western Australia. It uses static imagery, store-and-forward, and video conferencing (although not all at once) to take high-resolution images – some of them in 3D – of the retina and then sends them to specialists in urban centres for analysis. The information is then transferred to the computer for analysis. After this, treatment guidelines are transmitted back to clinic staff at the remote location. The system uses static imagery for low-bandwidth situations and, video conferencing imagery for high bandwidth use. It is based around the HL7 industry standard, ensuring interoperability with a wide range of hardware and software solutions.
Over the years, tele-health has linked physicians to each other, fostering better collaboration and problem-solving, rather than linking patients to the physicians. When reimbursement for telemedicine services is slow, the effort to gain physician's role may be better served by focusing on the improvement in clinical outcomes through access to resources. There are patient rooms dedicated to create a virtual exam room" linking real-time audio and video communications with mobile devices.
P&G Future Works, the MNC's entrepreneurial engine recently funded Healthpoint Services – a startup that runs rural clinics to provide affordable primary healthcare in developing countries. It provides rural communities with access to four basic services: clean drinking water, access to qualified doctors via telemedicine supported by two-way video and electronic medical records; advanced on-site diagnostic capability, enabling evidence-based healthcare; and high-quality medicines via an onsite licensed pharmacy. Healthpoint offers 22,000 medical consultations and serves over 50,000 people daily with drinking water. This may help in overcoming infrastructural challenges at the PHCs level in the developing countries.
As hospitals automate their manual, paper-based processes, IT leaders are rethinking their server and desktop infrastructure strategies. The consumerisation of IT has CIOs scrambling to deal with demands for iPads, iPhones and other personal devices brought into the hospital by a technology-comfortable physician.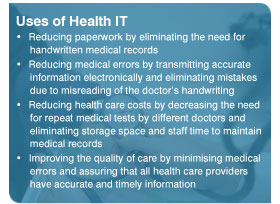 The industry has shown an unprecedented response from the Health IT providers to the existing users that were apparently resisting the change from paper to electronic, who now want to entirely convert everything on the latest and smart devices. Medical imaging has certainly been a driving case in improvements of graphics rendering for the virtualization vendors. USB device support has improved, with a number of successful deployments that justify desktop virtualization as a viable solution.
The benefits of PACS are many, including the ability to view imagesfrom multiple locations, accessibility to reports, collaborative diagnosis, quicker image delivery and reducing the incidence of lost films with advanced 3D post processing and easy-to-use technology. The Secure Reporting Sytem (SRS) provides a secure electronic mailbox" for physicians to automatically receive medical transcription, lab results and other pertinent patient related reports. Access is restricted to the physician and their chosen delegates and the reports are only for those patients where the provider is listed on the case.
Challenges
With increasing integration of IT in healthcare, privacy and security issues are acquiring more significance. A few companies have installed firewall and intrusion detection software to protect the information. Since all health plans are now drifting towards transforming all information into electronic format, the risk of unauthorised access to medical records increases as records would be available to the patient, doctors as well as to all the healthcare providers.
Over the past several years there have been a number of instances of security breaches in hospitals and doctors' offices resulting in medical identify theft. Access to personal information may allow thieves to bill for medical services in the patient's name.
The challenge to the health IT fraternity is to create the next-generation telemedicine system that can provide a true multi-point communication platform, allowing everyone involved in the medical case to securely view the same data and medical records at the same time regardless of the communication device used. With the advent of cloud-based technologies, services and software applications, a dedicated enterprise network in a single location should be developed, enabling better medical collaboration and information sharing via secure real-time audio, video, and data links.
Using clinical IT systems as the engine for quality improvement is a logical endeavour. Until about a decade ago, IT systems were intended to automate transactions in hospital departments. When the business became more enterprise-focused, the emphasis shifted to improving processes across departments. IT departments today may have accomplished a lot of good, but the traditional processes did not allow the department to get data capture in a way that can be aggregated and use it to really drive improvements in quality. With the advent of rampant research and development in the IT sector, many hospitals are buying practices, or looking for innovative ways to provide services that allow practices to improve patient care by applying the latest technologies, without having to worry about implementation and management.


Follow and connect with us on Facebook, Twitter, LinkedIn, Elets video