A new series of mobile computing device launched by Motorola is all set to revolutionise the way enterprises work and do business. While these new devices, launched recently in the Asian market, are offering a wide variety of mobility solutions across industry verticals, healthcare organisations that are looking to create a sophisticated enterprise-level mobile work environment has much in store from this.
eHEALTH caught up with Ramesh Sundaraman, Head-Mobile Computing Business, Motorola to get a low down on potential application of these devices for healthcare industry.

What are the potential applications of Motorola FR series mobile computing devices in hospitals and healthcare enterprises?
Over the last one year we have been doing pilot projects with our new FR series devices in several hospitals. We have learnt from our experience in deploying mobility solutions there are about 24 different areas where a hospital can potentially mobilise its operations, such as – bedside monitoring of patients, pharmacy inventory, medicine administration, blood bank, operations and telemedicine.
We have already done significant deployments in Thailand and Hong Kong where we have put together Enterprise Wireless LAN for building highly secured and efficient networks. One of the main areas where such deployments are made is 'asset management'. To being with, hospitals were somewhat reluctant about deploying mobility solutions for clinical operations; however, they later adopted the same, after realising its true value in bringing superior work efficiency and improving service quality.
How do you go about marketing your solutions? Is it only through IT vendors and SIs or do you also approach hospitals on your own?

If a hospital already has an IT setup, we would try to work with the vendor who deployed the solution at the first place. The reason being they are the ones who would best understand the hospital's requirements. Our role is to extend their IT infrastructure to offer mobility solutions. However, in an absolutely new setup everything has to be done from the scratch. For the value addition that we do, we try and understand the needs of our client; however, for actual installation and operationalising the solution we do seek help of the IT partners.
We also approach hospitals independently to understand their problems and sometimes to explain them the benefits of our solution. We also update them on latest technologies. For instance, many understand wireless technology and barcode scanning, but very few understand enterprise mobility.
Do you uate applications of HMS vendors to ascertain workability and compatibility of your devices/solutions?
If a hospital is already having an IT vendor then not much work is required in this respect. It would just be an issue to check for technical compatibility. However, if the customer is installing HMS for the first time then there is lot to be done. In such cases, we do validate the software from all generic requirements to ensure that it works well with all our devices.

With so many solution providers, health IT market today seems to be highly fragmented. What are your comments?
It is indeed a big challenge for us because almost every hospital is deploying a different package. Nowadays, even different branches of the same hospital group would have different HMS packages. At our end, we try to enroll those partners who are engaged with us, but we also try to enroll some big players offering solutions. For instance, IBM is our worldwide partner and Wipro is our Indian partner who provides solutions not just in health care but across many other verticals. I hope we all would gradually evolve in the process.
What will be your comments in terms of long term cost advantage for hospitals for using mobility solutions?

There are two aspects to it – one is the return-on-investment, and other is the total-cost-of-ownership. As regards the former, it can be readily realised as the enterprise spends sometime working on the mobile platform. The work efficiency, performance and service quality can be dramatically improved over a relatively short period of time. In terms of the later, we have the same architecture across our product line which ensures the availability of all products. It's a very important aspect because ours are consumer-based devices which can't be phased out, as enterprises make a long-term investment on them. We also ensure stability of the platform and its reliability by providing superior services to our customers.
About Motorola
FR68 & FR6000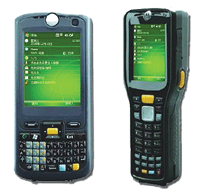 Motorola's FR68 Enterprise Digital Assistant (EDA) and the FR6000 rugged handheld computers (currently available only in the Asia-Pacific markets) are full-function 3.5G HSDPA/WAN network mobile computers that offer simultaneous voice and high-speed data connectivity, and GPS navigation. The devices also offer expanded levels of enterprise-class features in a highly compact form factor and ergonomics best suited to the needs of Asian users. Additional functionalities include high resolution 3.2 mega pixel auto-focus color camera, and optical character recognition (OCR) functionality in the FR68, and 1D laser scanner, plus additional connectivity through wireless LAN (WLAN), Bluetooth® and IrDA. Powerful computing capabilities enabled through the Marvell XScale PXA312 624MHz processor and Microsoft® Windows® Mobile 6.1 operating system in the devices ensure ease of integration with existing enterprise infrastructure, enhanced security features, a flexible development platform and improved mobile messaging – all in a single device.
CASE STUDY: The Sir Run Run Shaw Hospital in China Saves More Lives with Motorola Mobility Solution
The Sir Run Run Shaw Hospital is a modern hospital ranked amongst the best in China and co-managed by the Medical Centre at Loma Linda University in California. Realising the fact that a hospital's information system is what allows them to deliver the highest level of service, it undertook the task of upgrading and modernising its IT infrastructure by deploying Motorola's high-performance wireless medical system that can integrate its existing information systems and bring seamless, real-time connectivity across the organisation.
The Solution
The solution includes WS5100 wireless switches, AP300 network antennae and MC50 handheld mobile terminals. The WS5100 provides powerful, centralised intelligence and management capabilities and the MC50 is an enterprise digital assistant combined with barcode scanning capabilities. It features advanced data capture, flexible voice and data communication capabilities.
The Benefits

With wireless LAN covering the entire hospital the medical staff can now access the information system from anywhere in the building. Doctors and nurses just need to scan a patient's barcode wristband with the MC50 which identifies them immediately and retrieves their medical history automatically.
The medical and nursing staff can now work beside the patient's bedside, giving them more attention while at the same time ensuring safe and accurate treatment. Doctors can now verify patient's medical information real time, right by the patients' bedside and take prompt decisions based on patient's immediate needs. Interestingly, some of these decisions were actually life-saving. In addition, it helps hospital staff to achieve true mobility – drug management, sample collection, blood transfusion tests, asset and material management, remote patient monitoring and nurse calls can be deployed wirelessly, increasing the efficiency rate of many common activities.
From a patient's point of view, once the admission procedures have been completed the system notifies the relevant doctor in real time, allowing for the efficient scheduling of consultations or surgery. If additional consultations are required, the wireless medical system provides an extremely convenient way of fixing the appointment. The MC50 mobile terminal instantaneously sends the information to the relevant administrative office, which will arrange for the appointment via the wireless network. In comparison to the conventional handwritten consultation slip, the electronic consultation slip greatly improves the efficiency of hospital staff.
ROI & User Feedback

"A cutting edge management model and modern information management system have greatly augmented the competitiveness of the hospital. The patient satisfaction level has reached 97%. Amongst similar hospitals in China, Sir Run Run Shaw Hospital has the highest bed turnover rate and the lowest antibiotic usage rate. The average number of hospitalisation days is now only 8.95" Said He Chao.
Adding further on this, he said, "Doctors have become more efficient as they now spend less time writing down the records and waiting for patients' test reports. As the ution of doctors' orders is confirmed electronically, the life cycle of the orders is significantly reduced and the risk of human error has subsequently been minimised.
In addition to this, the status of orders is accessible at all times, thereby making it possible to track all nursing procedures and actions. Nurses save time as they are finally free of the hassle of paperwork. Writing errors are reduced and efficiency is raised tremendously. At the same time, the quality of clinical nursing is assured and nurses have more time to tend to patients. The achievement of a patient-centered facility is thus closer to being realised.

Follow and connect with us on Facebook, Twitter, LinkedIn, Elets video