GE enters home healthcare monitoring market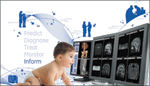 GE Healthcare, a business of General Electric Co., is entering a potential USD 5 billion international market providing health monitors for the elderly who live alone. GE Healthcare announced recently an agreement with privately held Living Independently Group Inc., a provider of a wireless monitoring system to distribute monitors to seniors and develop new applications. Financial terms were not disclosed.

Omar Ishrak, President and Chief utive of GE Healthcare's clinical systems business, said the market for home monitors is now valued at about USD 500 million, but could grow to as much as USD5 billion in 10 years. The monitors, which are attached to walls in homes and assisted living centres, track the movement of elderly people who live alone, providing alerts if seniors fall or have medical emergencies.
The industrial and commercial conglomerate also is banking on future applications that could advance the technology. GE's Global Research Centre in Niskayuna, N.Y., will work to develop monitors that track a person's weight and blood pressure, follow a senior's slowing walk and collect other data used for disease management. "If you look into the future, more and more care is provided in the home, though this market is small now," Ishrak said. "The opportunity for growth is there."
Wockhardt to open 7 hi-tech hospitals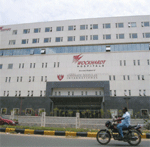 Wockhardt Hospitals Ltd. (WHL), part of the INR 3,000 crore Wockhardt Group, is planning to expand its operations across the country. The company will open seven new super speciality hospitals at major locations across the country and increase the bed capacity of some of its existing super speciality hospitals with an investment of INR 700 crore by 2010.
Currently, the company has 17 super speciality hospitals with over 2,000 in-patient beds across the country, four in Bangalore, three in Mumbai, two each in Nagpur, Hyderabad and Kolkata, and one each in Rajkot, Surat, Bhavnagar and Nashik.
After the expansion, total number of in-patient beds of the hospital will rise to 3,700.
Anil V Kamath, managing director, Wockhardt Hospitals, said, "We are planning for a pan-India presence in the next two years with commencement of operations in tier II cities. We will open seven new super speciality hospitals in Bhopal, Central Mumbai, Goa, Kolkata, Jabalpur, Varanasi and Bhuj by 2010."
Trivitron Healthcare launches 'Pride' series
Chennai-based Trivitron Healthcare has announced the launch of its Pride Series, an array of "innovative" products researched and designed for the Indian health industry.���
Dr. GSK Velu, Managing Director, Trivitron Medical System, told reporters that the company has set up a 75,000 sq ft manufacturing facility near Chennai to facilitate the design, development and production of the Pride series of products, divided into Cardiac Care, Critical Care and Imaging categories.
"We are also considering the products from our other Global facilities as based on our requirement," he said adding that the products would cost 30-50% less than other brands operating in this segment.���
The company had invested INR 20 crore on Pride series, eyeing a return of INR 100 crore within a year, he added.���
Due to lack of enough government sops for the industry, Velu said it was predominantly import-oriented, with only INR 2,000 crore worth equipment of the INR 12,000 crore sized industry being locally produced.���
With a view to promoting indigenisation of the industry, the government should come out with Medical Technology Parks of India (MTPI), on the lines of Software Technology Parks of India (STPI) where extensive research and development of medical equipment could take place.
Siemens wins one of the biggest orders for medical systems
The Catholic Medical Center in Seoul, Korea has ordered a total of seventy systems of medical equipment from Siemens Healthcare. Worth around 40 million USD� (appr. 28 million), the order is one of the biggest of its kind in the medical industry worldwide. Siemens will equip the departments for radiology, nuclear medicine, oncology, cardiology and emergency medicine in the 8 hospitals that make up the Catholic Medical Centre. Siemens has also signed a service contract with the Medical Centre for maintenance, upkeep and permanent monitoring of the equipment.
One of the 8 hospitals, Seoul St. Mary's Hospital, is still under construction and will be Korea's biggest hospital once it is opened in April 2009. Catholic Medical Centre will then become a mammoth multi-medical science complex where a 2,000-bed facility, research and education will take place. "The Catholic Medical Centre has long commanded a leading role in Korea's medical care. Now we want to join in the top league worldwide, including by providing the best possible medical service by using the most innovative high-tech machines available," said Director Rev. Matthias YoungSik Choi. The systems Siemens will be supplying to the Catholic Medical Centre hospitals include magnetic resonance and computer tomography scanners, angiograph, X-ray, fluoroscopy and ultrasound machines, as well as equipment for nuclear medicine, mammography and radiation therapy.�
Apollo Hospitals, Merck arm to set up diabetes clinics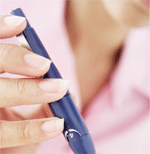 Apollo Hospitals group along with MSD Pharmaceuticals, a subsidiary of US drug major Merck & Co, is setting up "Sugar Clinics" to tackle� diabetes in India.
Under this joint initiative, Apollo will provide the clinical infrastructure while MSD would supply products and processes. The two companies signed a memorandum of understanding to this effect recently.
Apollo group chairman Pratap C Reddy, has proposed to set up 200 sugar clinics across the country. With each clinic costing up to INR 25 lakh, the entire programme involves an investment of over INR 40 crore.
"We will set up 50 clinics in the next six months", Reddy said adding that all Apollo hospitals in the country would start offering these facilities in a month's span. At present, two such clinics are operational in Hyderabad on a pilot basis. There is also a proposal to launch stand alone sugar clinics where the incidence of diabetes is high.
Stating that "this is a war against diabetes, which has reached epidemic level in the country", MSD Pharmaceuticals managing director, Naveen A Rao, said that� MSD was only� providing backoffice platform for the programme and "there is no financial part to it".
Fortis plans hospital in Hyderbad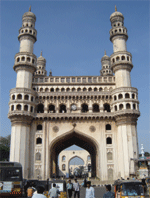 Hospital chain Fortis is looking to expand its presence by setting up a hospital in Hyderabad.
This apart, the company would take the inorganic route for growth here, said Daljit Singh, President, strategic and organisational development, Fortis.
Speaking at a healthcare and pharma conclave recently, he said, "We want to have a strong presence in the central part of South India. Hyderabad is our consideration."
The group is not making any representation to the state government for land, he said, adding that Fortis Hyderabad was part of the company's bigger plan to set up about 40 hospitals across the country with an investment of INR 1,500-2,000 crore.
"We are exploring all modes of growth including greenfield, brownfield, joint venture, merger and acquisition," Singh said. Apart from internal sources, it would raise debt from financial institutions or take the PE route.
There would be at least 10 hospitals in tier II cities. These would typically have about 100-beds and cater to about 85 per cent of the health needs in these cities. If need be, the patients will be referred to its hub hospitals in the metros. Fortis is keen on having centres of excellence and super specialities in the metros, he said.�
Nuance buys Philips Speech Recognition Systems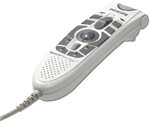 Philips has sold its Philips Speech Recognition Systems (PSRS) to US-based Nuance Communications for USD 96.1 m. Nuance says the deal is strategic, about ensuring it has the technology, relationships and market strength to take the lead in a rapidly expanding European market.
As a result of the deal, Nuance will add SpeechMagic to its existing portfolio of products, gain a customer base of over 8,000 customers, 100 integration partners and become the leading provider of health speech recognition systems in Europe. Steenhaut said PSRS's extensive range of dictionaries and terminologies in different European languages were of particular value.
Headquarted in Vienna, Austria, PSRS is a leader in speech recognition solutions, especially in the European healthcare market. With the addition of the PSRS business Nuance says its combined healthcare business in North America and Europe should reach a projected turnover in excess of� USD 410 m. Nuance says the European market for automated documentation solutions may be worth up to USD 2 billion.
By buying PRSRS Nuance will get a much expanded language portfolio and speech recognition vocabularies. PSRS currently offers 25 continuous speech recognition languages and 150 speciality foreign language vocabularies. Nuance gains a strong customer base, with more than 8,000 SpeechMagic deployments. These include many UK NHS Trusts, several complete health regions throughout Spain, Norway, Denmark and Italy and hospitals in the Benelux, Germany, France, Sweden, Finland, Austria, the Middle East, Asia Pacific and Latin America.
Carestream assists EU R-Bay project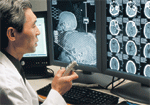 Carestream Health is acting as a major technical infrastructure provider to the EU-funded R-Bay validation project, which aims to address the uneven spread of radiologists across member states.
Carestream Radiology and Information Management Solutions are driving the initial test platform for the project by facilitating remote reporting of images from hospitals in Denmark, Finland and Czech Republic by clinical providers in Estonia, Lithuania and the Netherlands.� The R-Bay project is paving the way for the creation of a unique internal eMarketplace for eHealth services in Europe that will act as a cross border commodity brokering and exchange place.
The eMarketplace will enable the sale and purchase of remote viewing, consulting and second opinion services across organisations, regions and nations, enabling pan-European distribution of radiologist resources across trusted and secure networks.
"Carestream Health has wide experience in system integration and the interoperability issues associated with implementing national and regional solutions, such as the Scotland National PACS project, Baltic e-Health project and Uppsala region of Sweden," said Ulf Andersson, Marketing Director, Europe North, Carestream Health.
"Our radiology solutions create a highly productive desktop and workflow environment and our IMS solutions go beyond conventional storage functions to provide efficient, intelligent management of patient data. As part of the R-Bay project, these solutions will ultimately help to better distribute radiologist resources to offer all patients in Europe the opportunity to access optimal medical care through pan-European imaging services."
To manage the project and meet the overall objectives, Carestream Heath will work closely with Finnish IT provider Mawell, who are responsible for providing the central eConsultation workflow portal. A portfolio of four services will be offered under the consultation portal – eInterpretation, eProcessing, eArchiving and eTraining. To facilitate these services, Carestream breakthrough thin-client architecture is being scaled to create a virtual cross border community, all within the same software framework, for efficient and secure sharing of patient clinical information.
R-Bay is utilising the latest version of Kodak Carestream PACS that offers optional integrated applications such as image fusion and orthopedic surgical templating in addition to native 3-D imaging and advanced cardiac features.
TI delivers breakthrough power efficient AFEs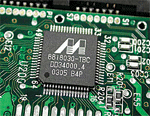 Texas Instruments Inc. (TI) recently introduced two new integrated analog front ends (AFEs) for handheld ultrasound systems. The industry-first 16-channel AFE5851 and the 8-channel AFE5801 bring breakthrough power efficiency and smaller footprint to support the new market for hand-held ultrasound systems that can fit in a doctor's pocket.
The new AFE5851 features 39 mW/channel at 32.5 MSPS and integrates 16 variable gain amplifiers (VGAs) and eight 12-bit, 65-MSPS analog to digital converters (ADCs). The ADC is shared between two VGAs and each VGA differential output is sampled at alternate clock cycles to optimise power efficiency. The ADC has scalable power consumption to further lower power use with lower sampling rates. The AFE5851's high channel count and low-power features allow for increased channel density in handheld ultrasound systems.
The second new device, the AFE5801, features 50 mW/channel at 30 MSPS and 58 mW/channel at 50 MSPS and integrates eight VGAs and eight 12-bit, 65 MSPS high-speed ADCs with LVDS data outputs.
Both the AFE5851 and AFE5801 can be preceded by a transformer or an off-chip low-noise amplifier, which can be located on the probe. This new architecture results in at least 40% power savings when compared to other devices currently available on the market.
Sectra to provide radiology system throughout Northern Ireland
The Department of Health, Social Services and Public Safety in Northern Ireland will implement an integrated solution for managing radiology information and images (RIS/PACS) provided by the Swedish IT and medical-technology company Sectra through a ten-year agreement.
The solution will be used throughout the entire public healthcare system in Northern Ireland. The contract is valued at �30 million and represents Sectra's largest order to date.
Within radiology, the need for increased efficiency is expressed by hospitals' demand to process more information, faster and at lower cost without compromising quality in patient care.
This creates a demand for efficient integrated RIS/PACS solutions that enable sharing of information and reading of images generated at several hospitals.
"This major project is unique in the way it links together so many hospitals for a totally seamless workflow of images and information throughout their entire public healthcare system," said Jan Wolffram, Managing Director of Sectra in the UK and Ireland. Northern Ireland has about 1.8 million inhabitants and nearly one million radiology examinations are carried out every year. The installation is of significant size including some 25 hospitals, organised in five trusts.


Follow and connect with us on Facebook, Twitter, LinkedIn, Elets video