Bumrungrad is partnering with a hospital in Abu Dhabi to build a new facility at US$ 544 million � this, after discovering that as many as 70,000 UAE national travelled to Bangkok last year for medical treatments. Your achievement in setting new standards in healthcare delivery has surely been noticed globally. Have other nations approached you for such partnerships?

Expansion into health care services outside of Thailand has been done through Bumrungrad International Limited (BIL), an associate company of Bumrungrad Hospital Public Company Limited. BIL owns and operates hospitals and healthcare facilities in seven countries in Asia and the Middle East including Asian Hospital in Manila, Philippines, Bumrungrad Hospital in Dubai, UAE (under construction), manages Bumrungrad Mafraq Hospital in Abu Dhabi, and Asia Renal Care, the largest chain of renal dialysis centers in Asia. The Company focuses on ownership, acquisition and management of hospitals and healthcare delivery companies in the Middle East and Asia. It is specifically interested in expanding into Malaysia, India and China.
In just six years, Bumrungrad has witnessed a doubling in the number of its overseas patients that currently accounts for 53% of your patient revenues. What is your view in terms of the fast growing healthcare industry in countries like India? Do you foresee any competition on the foreign patient revenue that may come your way?
India and Singapore have been competitors in this sector for some years, this is not new to us. Korea, Taiwan, the Philippines and Malaysia have also announced national initiatives to attract medical tourists. So the field is definitely getting more competitive.

But we actually welcome this competition, for two reasons. First, we cannot develop the category by ourselves. There is so much untapped potential, it actually helps to have many players spread awareness of medical travel and its benefits.
Second, we think Thailand in general and Bumrungrad in particular have distinct advantages versus these other destinations, that appeal to many patients. Our unique combination of international medical quality, warm Thai service, and value for money do not come together anywhere else.
Apart from the low Dollar-Baht ratio, what would you say are the prime factors for Bumrungrad being a preferred healthcare destination for foreign patients?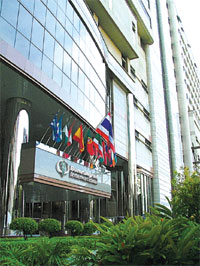 The combination of medical quality, service excellence, and value for money, as mentioned above. Plus, Bumrungrad has been focusing on the needs of international patients for 10 years now. In 10 years you learn a lot about the services and processes needed for this type of patient. Our staff of interpreters; our referral processes and International Medical Coordination Office; our network 22 international agents and our Airport Arrivals Lounge at the new airport here � these are just a few of the innovations we have developed.
The large numbers of patients you handle must require careful and strategic management of medical records, clinical operations, administration and ERP. How do your services leverage on IT?
Ten years ago we wanted to build the ideal hospital back office IT system. We could not find existing software that met our needs so we developed it ourselves. We spun off a company, Global Care Solutions, and they designed a product named H2000, which is a single-source, integrated system for finance, operations, medical records, strategic information, even medical image management.
This system has kept improving over the years, and to say it has been a key to our success would be an understatement. I'll give you an example. We see an average of 3,000 outpatients a day. Half come in without appointments. You know what the average waiting time is to see a doctor? Seventeen minutes. I don't know of any other hospital in the world that can match that sort of efficiency. Hospital administrators visit us and they are amazed at how high a return we get on our assets.
It has not gone unnoticed. As part of Microsoft's visionary healthcare strategy, they searched the world for best-of-class hospital management software. Last month they finalized a deal to acquire Global Care Solutions, our system. They thought it was that good. So now we not only have the world's best hospital IT system; we have the world's most successful software company next door to us, and we are their R&D partners for improving this system.
What is your annual IT budget and how do you plan for technology investments in future?
We plan IT investments to support our overall objectives. Operational efficiency is an example of an objective that most people would associate with IT strategies. But as a hospital we have objectives like patient safety and customer service that are just as important. For example, one of our recent investments is a pharmacy robot, this complex piece of machinery that prepares and dispenses medications in pre-packaged dosage units according to our doctors' orders. It doesn't generate revenue or profits; the reason for it is that it reduces the potential for human error and increases patient safety.
What specialities and super-specialities do you offer at Bum-rungrad? What medical innovations do you have to your credit?
We offer over 30 speciality centers here, and our 945 doctors represent 55 sub-specialities, things as specific as Paediatric Cardiology, Aviation Medicine, facial pain, sleep disorders � virtually everything.
"Thailand in general and Bumrungrad in particular have distinct advantages versus other destinations, that appeal to many patients."
We have a clinical research program but we are not a research or teaching hospital, so I don't want to represent us as an institution that pioneers new treatments. However, we offer some of the most advanced care and technology in Thailand, and we would compare well with top hospitals in the US. Some examples of advanced things we do here are HD Brachytherapy, deep brain stimulation, brain stents, hip resurfacing, image guided radiotherapy, capsule endoscopy, digital mammography with computer-aided detection, and bone marrow transplants. I could go on but that gives you a sampling.
Follow and connect with us on Facebook, Twitter, LinkedIn, Elets video