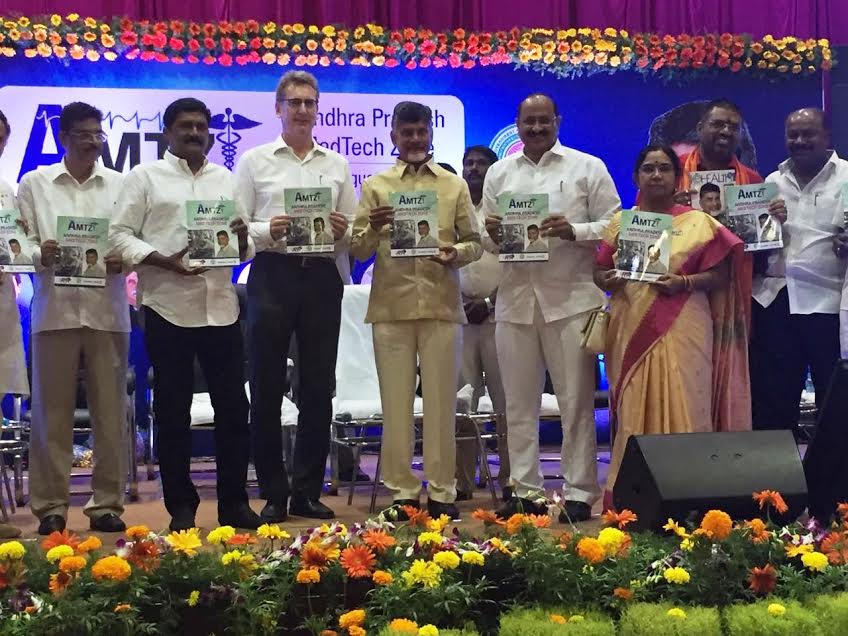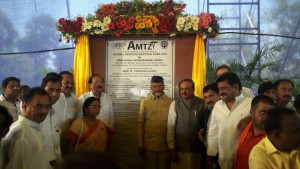 In order to accelerate achievement of the key objectives of Make in India campaign and herald an era of self-sufficiency in not just manufacturing but also in research & development (R&D), the visionary Chief Minister of Andhra Pradesh Nara Chandrababu Naidu  on 19 August laid the foundation of first-of-its-kind state-of-the-art 270-acre Andhra Pradesh MedTech Zone (APMTZ) in Nadupuru village, Visakhapatnam.
The Central Government extended its support to the entire vision of the progressive leader Chandrababu Naidu with the presence of M. Venkaiah Naidu, Union Minister of Urban Development, Housing & Poverty Alleviation and Information & Broadcasting and Ananth Kumar, Union Minister of Chemicals & Fertilizers and Parliamentary Affairs.
From the state level, dignitaries present during the ceremony were Dr Kamineni Srinivas, Minister for Health and Medical Education, Government of Andhra Pradesh and Dr Poonam Malakondaiah, Principal Secretary, Department of Health, Medical & Family Welfare, Government of Andhra Pradesh.
 Other thought leaders from international development organization like WHO extended their support with their active participation and enthusiasm over the entire project. Dr Henk Bekedam, World Health Organization (WHO) Representative to India was present during the occasion.
Dr Jitendar Kumar Sharma, Chief utive Officer, AMTZ, the main brains behind the project, also voiced his opinion during the occasion heralded both domestically and globally.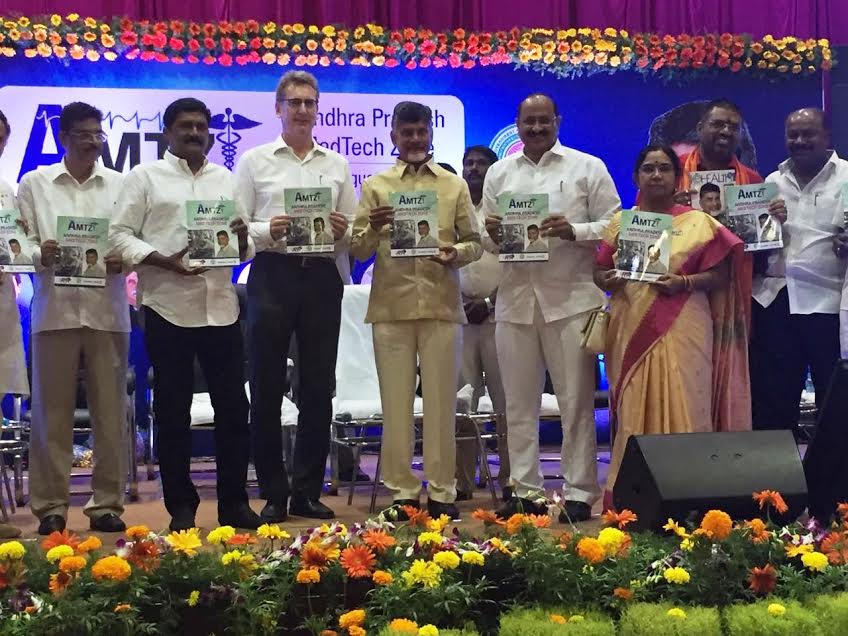 Key Activities
Saw participation of representatives from Government Departments, Industry Bodies and Associations, Medical Device Manufacturers & Testing laboratories, etc.
eHEALTH Magazine (Elets Technomedia) as the knowledge partner of the entire AMTZ project will play a crucial role in creating platforms of discussion on AMTZ and medical devices
An hour-long interactive session between the Chief Ministers and participating delegates on ease of doing business, opportunities, challenges, etc.
Launch of AMTZ Investors brochure
Launch of Special AMTZ edition of eHEALTH Magazine (Elets Technomedia), including exclusive interviews of decision-makers of AMTZ and CM message. The issue has emerged as a reference material for AMTZ participants.
With the emergence of Medical Devices as the national agenda in the light of the entire debate to have a separate rule book for medical devices, AMTZ will certainly will further strengthen this escosystem. AMTZ, as suggested by industry leaders like Rajiv Nath, Forum Coordinator of the Association of Indian Medical Device Industry (AIMED), World Association for Small & Medium Enterprises (WASME), Andhra Chamber of Commerce, PHD Chamber of Commerce, etc., has unlike other projects overcome all procedural challenges in a rapid and globally recognized manner. It will also play a key role in promoting talented medical device manufactures to address import substitution by providing access to common state-of-the-art scientific facilities for R&D  at a low rental cost. Additionally, AMTZ will generate both indirect and direct employment and manufacture world-class products by setting internationally recognized benchmarks.

Follow and connect with us on Facebook, Twitter, LinkedIn, Elets video