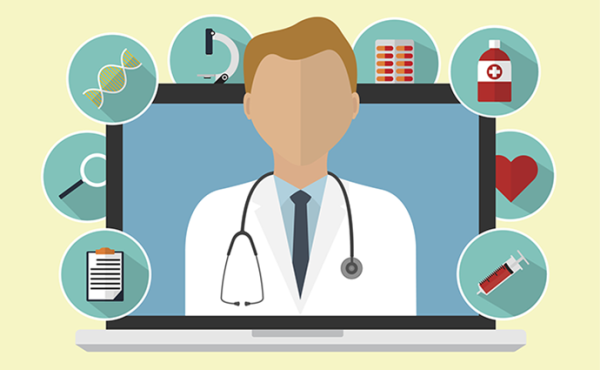 A Summit on the Nascent Domain of Behavioural Telehealth

The inaugural summit on Behavioral Telehealth: Technology for Behavior Change & Disease Management will take place at The Conference Center of Harvard Medical in Boston during 31May-1June 2007. The summit endeavours to discuss advances in behavioural telehealth, including applications to promote wellness, change behaviour and manage diseases. The programme will address the shift from traditional healthcare delivery to more consumer-driven approaches.
The target audience for the summit includes senior utives, clinical leaders, IT staff and clinicians from behavioural health companies, telemedicine companies, disease management companies, psychophysiological monitoring companies, medical device companies, pharmaceutical companies, e-Health companies, hospitals, home care agencies among others.

"Most of the lost productivity in the workplace is related to behavioral issues. This conference will examine how emerging information technologies can support the integration of behavioral health into primary care and chronic disease management. It will explore how e-empowered health consumers can truly become partners in their own self-management.
This timely event brings together leaders in behavioral health, disease management and telemedicine to celebrate the successes, tackle the challenges and advance the goal of integration," said Dr. Steven Locke, Research Psychiatrist, Beth Israel Deaconess Medical Center, Associate Professor of Psychiatry, Harvard Medical School and Associate Professor of Health Sciences and Technology, MIT. He also happens to be the Program Chairperson of the summit.
The summit will include over 40 speakers participating in panel discussions, case studies and keynote addresses. Topics to be covered include: computer-assisted behavioural assessment, screening and monitoring, online psychotherapy, treatment of depression and anxiety-related disorders, treatment of alcohol and substance disorders, tools for promoting patient adherence and for lifestyle and risk behaviour change, web-based tools for addressing behavioural issues, decision-support and educational tools, behavioural tools for enhancing self-management of medical conditions and much more. In addition, attendees will have the option of attending the workshop on 'Technology tools for promoting patient self-management and shared decision-making.'
A Fillip to USA's Rural Health, Thanks to USDA
It seems the rural USA is going to get an impetus in e-Health. The US Department of Agriculture(USDA) has allocated $153 million for distance learning and telemedicine, for  rural communities of the USA. This will facilitate the people living in the remote and rural USA to access international standard of healthcare services.  Through telemedicine technology, rural residents can get access to medical specialists, which are not often available in remote areas.
However, USDA's initiative in education and health is nothing new. In the past five years, USDA has already invested $166 million in distance learning and telemedicine programme. The department  has enabled about 4000 rural educational facilities to expand their access to modern telecommunications technology and about 2000 healthcare institutions to develop technologies to enhance their local medical care.
Bulgaria Gets its First Satellite-based Telemedicine Network
ND SatCom, an SES ASTRA company and a leading global supplier of satellite-based broadband VSAT, broadcast, government and defence communication network and ground station solutions, has teamed up with its partner Interactive Technologies to implement Bulgaria's first satellite-based telemedicine network based on ND SatCom's core technology platform SkyWAN. Bulgarian service provider Interactive Technologies provides the meshed VSAT network to the Bulgarian Armed Forces for applications such as live video transmissions of operations, videoconferencing, teleconferencing and file transfer between military hospitals, etc.
According to Tzvetelina Dimitrova, CEO of Interactive Technologies, "ND SatCom's SkyWAN is a platform which supports the wide range of applications such as video conferencing, IP video and VoIP needed in this project. Due to its allocation on demand scheme, SkyWAN offers our end customer an optimized and dynamic bandwidth usage." Dieter Dreizler, Director, Sales of ND SatCom, says, "ND SatCom's SkyWAN technology supports the network's performance and offers unique redundancy features. Effectiveness and reliability are key factors in telemedicine communication. Given that parts of Bulgaria are earthquake endangered regions and terrestrial lines might fail, satellite communication is the best solution for providing independent and consistent telemedicine services."
EMIS Introduces Safety Checks for Medications having Serious Side Effects

Egton Medical Information Systems Limited(EMIS) is the UK's leading GP software supplier.  EMIS is the supplier of IT systems to primary healthcare, providing the software that holds the medical records for 39 million NHS patients nationwide. Around 56 per cent of GPs in the UK currently use EMIS software. Recently EMIS has developed a proactive system of safety checks to help monitor patients who have been prescribed medication with potentially serious side effects.
Many of the drugs such as Azathioprine, Ciclosporin, Methotrexate, have potentially severe complications that can be identified early through regular monitoring of blood tests. The new system, known as medication monitoring, will enable GPs using EMIS' PCS or LV systems to quickly identify patients who are overdue for tests, through daily searches. Doctors will also be alerted to missed tests on their computer screen, during consultations.
The software has significant potential benefits for patient safety. For example, patients taking Azathioprine for rheumatoid arthritis require regular full blood count checks for the potential life threatening complications of neutropenia (low white cell count) and/or thrombocytopenia (low platelet count).
Similarly, patients taking Ciclosporin (used to prevent transplant rejection) have a 50 percent risk of developing hypertension and require monthly blood pressure checks. The new safety alerts will enable practices to ensure that patients taking these and other drugs get optimal care and minimise the risks of severe side effects.
Pan-European Electronic Health Service in the offing
EU member-states and Iceland, Liechtenstein and Norway have adopted a common declaration on their commitment to pursue structured cooperation on cross-border electronic health services across Europe. The declaration was adopted at the eHealth Conference 2007 whose theme 'From Strategies to Applications' looked at the implementation of electronic health-service applications and infrastructures such as electronic prescriptions and electronic patient files, as well as future services available thanks to the electronic health card.
The eHealth Conference 2007 took place during 17-19 April at Messe Berlin – Berlin's International Exhibition and Conference Centre, as part of the eHealth week Berlin 2007.
This high level conference is a joint project of the European Commission, the German Federal Ministry of Health, the Berlin regional government, and the Association for Social Security Policy and Research (GVG).The conference theme was appropriately titled 'From Strategies to Applications' and its primary aim was to provide a forum for those responsible for telematics in government, health insurance organisations, service providers and users' organisations in Germany and abroad. The eHealth Conference 2007 focussed on the implementation of applications and infrastructures, reflecting on the current situation in Europe and Germany, in parallel thematic tracks. Coming back to the declaration, it has the potential to make cross-border electronic health services in Europe a reality in the near future. "By adopting today's declaration, we seek to ensure that, in the future, electronic health services for Europe's citizens do not stop at national borders," conferred Dr. Klaus Theo Schrder, the German State Secretary at the Federal Ministry of Health."We want to give patients access to their medical records and patient summaries from everywhere within the EU. This not only serves the continuity of care but also affords safety in an emergency," he further explained.
The signatory countries share the view that national e-health infrastructures are a prerequisite for the development of European cross-border electronic health services. So, national e-health road maps should be taken into account when planning the content-wide infrastructures. The declaration also emphasised the need for more synergies between research and education, and called for a deployment strategy of new innovative e-Health services. The document also recommended that member-states should not only work on common European standards together with the e-Health industry to enable interoperability, but also  open up new market opportunities in the field. The declaration then proposed that the European Commission launch large-scale pilot projects to test European cooperation in the application of improved patient summaries in different health contexts, such as medical emergencies or the dispensing of prescriptions.
The increased mobility of European citizens has brought the need for quality medical care to follow patients beyond their national and regional borders and health systems.
A Partnership to Promote Remote Critical Care Across Pacific Rim
IBM has partnered with healthcare technology vendor, VISICU to wire a telemedicine network to provide remote critical care support to military hospitals along the Pacific Rim. The system includes IBM Blade Center servers and VISICU's eICU technology, which enables remote monitoring of intensive care units.
Tripler Army Medical Center, Honolulu will manage the remote monitoring and support system using VISICU's eICU technology on IBM BladeCenter servers, in collaboration with the University of Hawaii. The eICU center, in colla boration with remote military hospitals, will provide an enhanced level of care to active-duty military personnel, their families and other beneficiaries.
VISICU's eICU solution electronically connects military hospital throughout the Pacific Rim with the remote eICU centre in Hawaii. This enables patients in these hospitals to get instantaneous access to critical care specialists, who are able to monitor patient status and directly speak with the bedside clinicians to channelize appropriate intervention.
Now the eICU specialists can support more than 300 patients across the Pacific Rim using the state-of-the art network and video technologies with device connectivity and smart alerts. Tripler Army Medical Center is supporting Joint Medical Operations with the U.S. Naval Hospital in Guam, four thousand miles away. In order to extend access to other hospitals along the Pacific Rim, a more flexible server platform was required. IBM Blade Center servers and IBM system-storage technology can now allow the telemedicine network to support more than 300 patient connections, over 4,000 miles.
A Concerted Partnership to Tackle Cancer
Two internationally acclaimed cancer centres have announced a partnership to achieve their shared vision of advancing world-class cancer care, that will ultimately reach well beyond the walls of their respective institutions.  The two cancer centres are Toronto's Princess Margaret Hospital (PMH) of the University Health Network (UHN), and the Centro Di Riferimento Oncologico (CRO-Oncological Referral Centre, National Cancer Institute), of Aviano, Italy.
The two centres signed a memorandum of understanding, establishing the principles and framework to pool their renowned cancer knowledge and specialized expertise, support innovation in cancer education programs, promote e-Health initiatives, and create opportunities for joint ventures. Here it deserves a mention that Princess Margaret Hospital and its research arm, Ontario Cancer Institute, have achieved an international reputation as global leaders in the fight against cancer. PMH is a member of the University Health Network, which also includes Toronto General Hospital and Toronto Western Hospital. All three are hospitals affiliated with the University of Toronto. The Centro di Riferimento (CRO-Oncological Referral Centre, National Cancer Institute), of Aviano, Italy, is dedicated to clinical research with the aim of improving understanding of the causes and biology of malignant tumours, as well as identifying new means of prevention, diagnosis and treatment of cancer. Signing on behalf of UHN were Dr. Robert Bell, President & CEO, and Dr. Mary Gospodarowicz, Medical Director of the Cancer Program at PMH/UHN. Signing on behalf of CRO was Dr. Paolo De Paoli, Legal Representative. According to Dr. Robert Bell, President & CEO of UHN, "Our fine institutions may be separated by an ocean but they are united by a common vision to promote and expand the dissemination of best practices in all aspects of cancer research and care. This is the way to achieve global impact and truly provide what we all strive to do every step along the way — the best patient care."
"We will collaborate to enhance the academic and research opportunities, and also share information about best practice in clinical trials, education, and patient care," conferred Dr. Mary Gospodarowicz.
A Portal to Empower Kidney Patients in Ontario
Thanks to a new patient portal which is being  developed by Grand River Hospital, Hamilton Health Sciences (both Ontario-based), University Health Network – which  includes  Princess Margaret Hospital, Toronto General Hospital, Toronto Western Hospital.- and Canada Health Infoway, now patients suffering from chronic kidney ailments in Ontario, Canada will soon be empowered to self- manage their illness.
This patient portal, which is scheduled to be launched in March 2008, will integrate with patients' electronic health record, and provide self-management tools for tackling their chronic kidney ailments and improve communication interactions with their healthcare teams. Patients will be able to access the portal through a link found on both the Grand River Hospital and University Health Network websites, authenticating their identity through a secure login process.
This patient portal will enable patients to set personal goals for self care, monitor symptoms and side effects of their kidney disease, thereby facilitating to improve management of their chronic conditions and shrinking the room for unplanned visits to their doctors. Moreover, the portal will also foster two-way communication between patients and healthcare providers by placing timely access to medication summaries and lab results, accompanied by useful information to help patients understand what the results entail.
A  DVD to  Make Breast Cancer Victims More Aware of the Surgery Options
University Hospitals of Leicester NHS Trust comprises three acute hospitals based in Leicester, UK. They are Glenfield Hospital, Leicester General Hospital and Leicester Royal Infirmary. The three hospitals merged to create UHL in 2000, to meet the increasing demands for providing better healthcare. The trust is one of the largest acute teaching hospitals in the United Kingdom, employing over 12,000 staff.
Now a new information DVD has been developed by the staff at Leicester Royal Infirmary, UK with the aim of helping breast cancer patients make decisions about breast reconstruction. The DVD, which is believed to be one of the first of its kind in the UK, includes computer animation, photographs of results and interviews with patients who have had breast reconstruction surgery. Graham Offer, Consultant Plastic Surgeon at the Royal, said, "We decided to produce this DVD to give cancer patients who are considering reconstruction, a realistic idea of the different surgery options available and let them see for themselves the results that can be obtained. We hope the DVD will help alleviate some of the worry and anxiety that women naturally feel." The making and distribution of the DVD has been funded by the Crazy Hats charity, a fundraising committee set up by former breast cancer patient Glennis Hooper several years ago. To date, Glennis has raised �18,000 for the plastic surgery department at the Royal.

Follow and connect with us on Facebook, Twitter, LinkedIn, Elets video