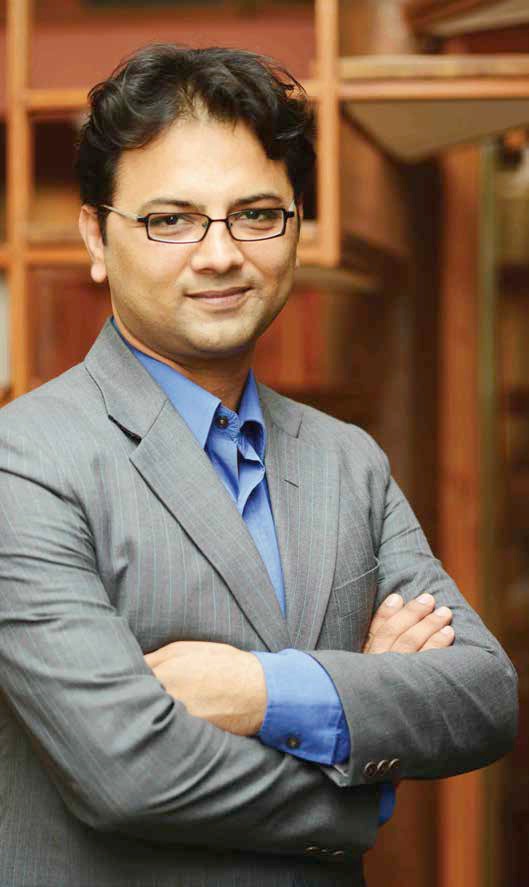 Armed with a belief that the technology has the potential to change the way healthcare is delivered in India, the IIM Calcutta graduate Sachin Chaudhary passed over the opportunity to be the CEO of a leading chain of hospitals in India and started a healthcare service providing company Medical Second Opinion in Gurgaon. In conversation with Ekta Srivastava, ENN, he talks about the technology driven eConsultation in healthcare.
Brief us about Medical Second Opinion?
Medical Second Opinion is a healthcare company to address growing requirements for Second Opinion. At MSO we offer exclusive aggregation of finest doctors and hospital providers from India and abroad. Patients who have been diagnosed for any tertiary level procedure/ surgery/ medical intervention seek a second opinion before they undergo the procedure. Since the popular doctors of the country largely live in metropolitan cities, accessing them becomes an issue for these patients. Our aim at MSO is to bridge this gap and connect doctors and patients by leveraging technology that is available to all.
Help us understand the process from Medical Second opinion (e-Consultation), how does it work?
Just like other online portals in the market that enable customer to book tickets, movie or shop, MSO healthcare platform, the patient has to take four easy steps to take a consultation
• Create a health account by registering on www.medicalsecondopinion. co.in
• Define the clinical problem and upload relevant reports
• Select a specialist from the panel
• Pay and send to get a response within 24 hours For assistance, they can also connect with the helpdesk on our toll free number 1800-200-9901.
How do you think that ICT based services are different from brick and mortar concept?
Electronic services are much different than a physical hospital in its very ethos. While doctors belong to a hospital, with our portal, we have brought together the finest of the doctors from a plethora of hospitals. Thus, reaching out is solely to the doctors which in the other case is largely with the hospital.
The most differential offering of an ICT based service is the ease of accessibility. Anyone from anywhere can connect with their choice of doctors making it cost effective, time saving and less cumbersome.
Eventually as technology is gaining foothold within the young population, what is expected to happen is an increased awareness about personal health with a rise in the number of consultation taken. The population in general is expected to become more proactive to their health than reactive, which we are now and this will lead them to the hospitals.
"Our aim is for every patient to take second opinion from the best doctors before undergoing a surgery."
How the technology is empowering patients?
Technology builds a sense of responsibility and ownership of health in an individual because of the ease to access that it has endeavored. Instead of a patient going to the doctor, it brings the doctor to the patient.
Acting as a discovery platform, patients get aware on 'who' the best in the industry for each specialty are, because of the finest being a part of the panel while getting a direct access to them. All this can be done while sitting at home and using internet or downloading the MSO mobile app to consult them directly in this modern health care approach. This leads to the empowerment of the patients that have a best assembly of hospitals and doctors and their choice to use them.
"Our aim is for every patient to take second opinion from the best doctors before undergoing a surgery"
What has been your mantra for success in this domain?
Healthcare is ultimately delivered by doctors. And our focus from the first day has been to sign up the right doctors. Mostly the senior doctors which were not as easily accessible to patients in remote parts of the country now have the opportunity to seek thousands registrations on our platform, every day we have more than few 100 new visitors on platform.

Future plan
As we complete our bi-yearly targets, our focus of work in the coming months is going to in the introduction of more facilities in our healthcare platform. We plan to add video consultation as a way to connect with the doctors while taking the consultation. We also plan to expand our specialties by 6 more. There are talks at different stages for getting doctors from Singapore, US and the UK. Work is also in progress to sign up more corporate from abroad.
We have recently signed a joint venture in Singapore and Congo and are working to set up our MSO subsidiaries there. Meanwhile, a cross platform mobile application that works on apple, android and blackberry is also in its final stages.

Recommended from all portals