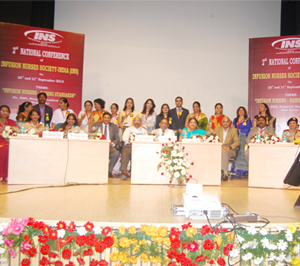 The Infusion Nurses Society – India (INS) conducted its second annual conference on the theme 'Infusion Nursing-Raising Standards' at Ram Manohar Lohia Hospital in the city today. The two day-long conference included educational sessions, case studies and workshops aimed at training nurses and related healthcare professionals on safeguarding patients from medication errors by adhering to standard infusion practices. Almost 450 nurses across Delhi, Indore, Meerut, Himachal Pradesh, Chennai, Kolkata and Mumbai participated in the event.
Infusion therapy, that is introduction of a solution into the body through a vein for therapeutic purpose, is used on 90% of all hospitalized patients. According to WHO, one in 10 patients is harmed while receiving hospital care. At any given time, 1.4 million people worldwide suffer from infections acquired in hospitals. Medication errors are the most common type of error and account for 78% of serious medical errors in the ICU. In the recent past, a number of disease outbreaks involving transmission of blood borne pathogens due to unsafe infusion practices have been reported.
CEO of Infusion Nurses Society-US, Ms. Mary Alexander shared a video message encouraging INS-India for a successful National Conference.
On the occasion the Office bearers, Dr.Prabhu Vinayagam (President INS India), Col.Binu Sharma (General Secretary), Dr.Jayant Giri (Treasurer), Bri.Sai Bala (Chairperson Educational Committee), Col. Sarvjeet Kaur (Chairperson Public Relation Committee), Madhukari Ray (Chairperson Policy and Procedure Committee) and Governing Council members, Dr.Vikram Guduri, Asima Bhattacharya, Capt. Ajitha PS, Mary Jose, Clare D'Mello, Punitha Singh, Poornima Mittal, Dr.Sunita Arora, Ujwala Rajkumar Pal, Dr.Neha Lopes and Thankam Gomez convened and discussed about the way forward for INS- India.
Experts also expressed concern over incorrect infusion practices in newborn saying that there is a risk of the inadvertent over infusion of these solutions associated with specific intravenous infusion set up procedures or where the safety mechanisms associated with the administration of intravenous fluids using infusion pumps have been overridden. Failure to adhere to the standard protocol and procedures may lead to undesired results.
New concepts to safeguard patients from medication errors include use of computerized prescriber order entry system; a pharmacy system software to check screening of duplicate drug therapies and patient allergies; and adopting use of electronic medication administration records (MAR) and bar coding.
About INS India
The Infusion Nurses Society–India, an international affiliate of the Infusion Nurses Society of the US, was formed in December 2010. The vision is to exceed the public's expectations of excellence by setting standards for infusion care by developing and disseminating standards of practice, providing professional development opportunities and quality education, advancing the specialty through evidence-based practice and research supporting professional certification and advocating for the public, in alignment with the vision and mission of The Infusion Nurses Society of US.

Recommended from all portals