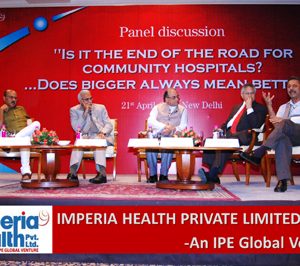 Imperia Health Pvt. Ltd. a first of its kind Hospitals Operations Management Company for Mid-Size Hospitals in India, hosted a panel discussion at Hotel Oberoi, New Delhi. The discussion was lead by Dr. Naresh Trehan, Chairman & Managing Director Medanta, Medicity; Mr. Shekhar Gupta, Editor-in-Chief Indian Express; Dr. Giridhar Gyani, Director General, Association of Healthcare Providers India; Mr Shiv Khera, Motivational Speaker. These experts conducted a detailed discussion on the declining market of mid–size Hospitals and its effects over the population and healthcare indicators for the country. The event was attended by a large gathering of distinguished medical professionals, leaders from different industries and media personalities.
The discussion started over the emerging demand for better health care facilities and advanced solutions in the field of medicine. Indian health care sector is estimated to reach US$ 100 billion by 2015, growing 20 per cent year-on-year, as per rating agency Fitch.
Yet, paradoxically there are a large number of Small and Mid-size Hospitals of different capacities that remain grossly under subscribed. While mid size segment that contributes to about 25% of the overall market, there has been a year-on-year decline due to a number of issues, which include lowering confidence of the society on safety and quality issues in these facilities. On the other hand, the large and corporate hospitals that contribute about 7% of bed capacity, are gaining in popularity and people are ready to travel from far-away places for treatment of even common ailments. The increased incidence of chronic lifestyle diseases and lack of concurrent growth in the public sector hospitals has driven even the lower middle class patients to spend beyond their means at the corporate hospitals in order to receive reliable services of good doctors.
To provide good and safe health care services at affordable cost IPE Global, a multi-disciplinary consulting company has seeded a unique model of Hospital Operations Management through its venture Imperia Health Pvt. Ltd. This venture is conceived and sponsored by leading clinicians and health sector leaders of the country. It aims at assisting, managing and partnering with a network of health care establishments in the small and mid size range to especially catering to the needs of all economic strata's of the society. The model will play a crucial role in driving hospitals that are on the decline in Tier 1 & 2 cities towards sustainability through Manpower Management, Asset Management, Marketing and Quality Assurance. The venture will also support new entrants to set up green field projects matching the demand and quality of services required.
The strategists behind Imperia Health Pvt. Ltd. and its Board of Directors include Mr. Ashwajit Singh, Chairman & MD, IPE Global; Dr. Harsh Mahajan, MD, Mahajan Imaging Pvt. Ltd; Dr. Randhir Sud, leading Digestive and Heapatobiliary Expert; Dr. Rajiv Parikh, a well known Peripheral Vascular & Endovascular Specialist; Dr. Ashok Vaid, Oncology & Haemotology veteran, Mr Vishal Marwah, Partner Henderson PE. They aim at facilitating a progressive transformation in the way mid and small size hospitals operate in India.
Mr. Ashwajit Singh, MD, IPE Global stated "Imperia Health's approach to Hospital Operations Management is to identify improvement opportunities in key areas. This is done through the use of collaborative approach that integrates management and staff into the process to ensure sustainability and continued improvement. The client-led and functional Specialists' driven methodology would be introduced that allows management to leverage their time efficiently so that day-to-day operations don't get impacted. The Imperia model does not envisage change of ownership but providing additional management support to these hospitals in the areas of strengthening their systems, processes, manpower planning & training, financial management, administration and marketing. Our marketing, standardisation and branding solutions help influence the external environment facilitating segmentation, tie-ups, networking, visibility and advocacy."
Dr. Naresh Trehan stated, "Healthcare in India has transitioned from family doctors, local or community hospitals to the corporate hospitals over the years. The problem that we are facing today is that there is a dearth of front-line hospitals that can cater to the middle and lower strata of society with efficient and affordable health facilities and treatment. A majority of our population that comprises of these people are therefore left with no choice but to go to treasury hospitals as a result of which hospitals like AIIMS, Safdarganj etc. are booked to full capacity. Imperia Health can play an assured role of building and creating a network of mid-size hospitals with better assistance in daily operations. Our healthcare management services can outshine people running the sector presently who lack proper knowledge of accountability, hygiene and cost maintenance."
Dr. Harsh Mahajan, MD, Mahajan Imaging Pvt. Ltd elaborated, "Almost one-fourth of mid-size & multi-super speciality hospitals in India are on the verge of collapse and are either shutting shop or seeking mergers or sell out. While corporate hospitals are cashing on this trend, it is the middle and lower income groups that are finding it hard to meet their health requirements due to financial constraints. Imperia Health Pvt. Ltd. is set to cater to this section of the society with its model of Hospital Operations Management. It targets such declining hospitals to improve their manpower, infrastructure, capacity for treatment and ability to deal with emergency and terminal cases."
Dr. Randhir Sud, Chairman, Institute of Hepatobiliary Sciences, Medanta added, "The market is ripe for the entry of a leading enabler and provider of high quality affordable healthcare services in the mid and small range health care providers. Imperia plays a pivotal role as it aims at providing best and safe services to middle class patients at their door steps. Imperia would act as a huge support to the middle and lower strata of the society with its high quality services at reasonable prices."
Dr Girdhar J Gyani the well known quality expert of India and driver for NABH standards, now heading the Association of Healthcare Providers (India) (AHPI), expressed concerns over the declining financial performance of the mid-size community hospitals and emphasized the need for introducing professional management systems into these assets along with focused training inputs for ensuring patient safety and quality issues. He stated that his association is also working towards strategizing means to make available capacity building system for these hospitals.
Speaking at the occasions, Mr Shiv Khera also emphasized that it is the need of the hour that these mid size hospitals are given due focus for developing the skills of the staff and are trained towards higher motivation levels for fulfilling the goals of the health sector.
Dr. Devi Shetty, Chairman & Managing Director, Narayan Hrudayalaya in a message to Imperia Team, stated, "The path you have chosen is vitally important for the endurance of health sector in India. Large healthcare players together do not even form 1% of the total number of beds in this country. Majority of the players run with 30-60 beds and they are the ones who offer healthcare to majority of the population. It is important that professional help is available to them the way you are planning. I would wish you all the success in your endeavour."
Through its practical and all encompassing method of improvement, Imperia Health's Hospital Operations Management Services is set to resurrect the healthcare sector in India.

Recommended from all portals