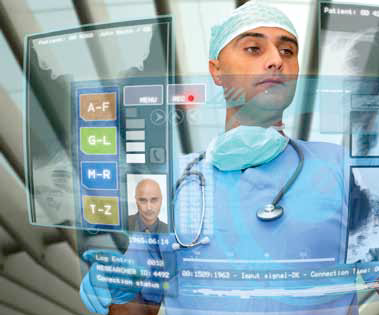 Shally Makin discusses about new tools and technologies which are set to change the healthcare landscapeÂ
The trend started with e-tickets, graduating to paying bills and managing bank accounts, and finally fashion.
Today healthcare reigns on the Internet with a plethora of information available. You may procrastinate over making that trip to your doctor, but a service  that's available on your phone or tablet on the touch of a button will keep you gripped even while you're onthe-go.
Intuitive features are especially programmed to follow the same series of symptom checking and analysing that health experts follow to understand what  the problem is. Each person has unique health needs, but once the problem is outlined, the cure is customised and relayed using  interactive online tools like simulators and feedback forms that provide a personalised experience.
The Internet is here to transform the way healthcare is delivered to the masses. Technology has had a significant impact in the  healthcare arena. Now, with the rapid proliferation of the Internet, technology may actually be serving to alter the traditional  relationship between doctors and their patients.
As more and more people use the Internet to gather information, many are relying on  this developing technology to address their health needs and questions as well.
Shyam Znwar


MD, InQvent Holding Pvt Ltd

"Alacurity provides nurses, physiotherapists, translators, medical equipments, service apartments,  corporate wellness plans, preventive health check-up packages and follow-up consultations, health concierge services and online medical record for quick retrieval"
"Online healthcare is certainly the most imminent revolutionary reform waiting to happen in medical world.
For many in medicine,  that's an unconventional perspective. Yet, convention can't hold back the Internet from masses who seek not only reputable health information, but also a dynamic user experience and Web-based dialogue about their respective conditions and questions", says Dr Sanjay Gupta, Consultant, Moolchand Orthopaedics Hospital, New Delhi.
The shortage of physicians across a range of medical specialities is a problem that's expected to worsen. Retail clinics and urgent care centres grew from the difficulty many people encounter in getting appointments with primary care doctors.
Tools
A new online tool takes the guesswork out of developing individualised catch-up immunisation schedules by allowing parents and healthcare providers to easily create a schedule that ensures missed vaccines and future vaccines are administered according to approved guidelines. Government plans to increase online access to medical records and e-consultations which will push up demands on clinicians and increase costs.
"Online healthcare is a tool that gives patients the ability to follow-ups with their doctor without travelling or waiting in clinics. This enables doctors with a platform to provide better disease management support for their patients," says Anita Shet, Chief Executive Officer , Pink Whale Healthcare Instead of relying on a directory of physicians to grab the attention of busy patients looking for a cardiac surgeon, the online healthcare offers video spots of doctors explaining various procedures.
Expensive medical treatment in metros and inaccessibility in small towns are paving the way for several start-ups such as Alacurity, Healthkart and HealthCare Magic to fill in the existing gaps in the healthcare system. They focus on preventive healthcare services such as post-treatment check-up, follow-up visits and better referrals.
Alacurity, promoted by seed fund In-Qvent Holding, offers patient assistance, medical equipment and preventive care. Besides, it provides nurses, physiotherapists and medical products including respiratory inhalers, drug devices and medicines to patients at prices ranging from `10,000-2 lakh — which is 25 per cent cheaper than the treatment at most hospitals. They are offering these services through prequalified service providers. Shyam Znwar, MD, InQvent Holding Pvt Ltd says, "So far pre and post hospitalisation facilities are not organised. There are good doctors, equipments and hospitals. However when somebody comes to India, they need  many more things than just hospitals. They need to stay over for long time. They need proper accommodation, food, translator, nurses, physiotherapist, need to buy or rent equipments. It does not only cost a lot of money, but also requires lot of efforts."
Sumit Chauhan, Vice President & General Manager, Embedded & Telecom Business Unit, Symphony Teleca Corp believes, "Proper treatment of patients suffering from diseases is a critical need for every society. Emerging online and mHealth services are a key opportunity to improve the treatment of patients and also realise better cost efficiencies in the healthcare system."
Prashant Tandon
CEO, HealthkartConsumer awareness is rising and people are getting more involved in their healthcare. Consumers have
access to transparent information to address concerns of authenticity, efficacy, price, etc.
Bangalore-based Healthcaremagic. com offers specialised packages related to blood pressure, pregnancy, diabetes, cancer and other ailments. It connects patients with registered doctors and specialists online, thus saving time from frequent hospital visits. Started four years ago, it started gaining momentum in the last couple of years, given the boom in online ventures.
HealthKart sells over 13,000 fitness, health and personal care products. The products are categorised under eight parts – Nutrition, Sports & Fitness, Diabetes, Home Devices, Eye, Personal Care, Beauty and Parenting. Additionally, HealthKart also sells various healthcare services, such as preventive health packages, diagnostic tests, and gym memberships, etc, to provide one-stop shop for all consumer healthcare needs. Prashant Tandon, CEO, HealthKart mentions, "The expenditure and focus on healthcare is increasing – both public and private. We intend to be a shaping force through providing quality authentic healthcare products, useful information to make this space more understandable and transparent to the consumer and leveraging technology to ensure proper healthcare can be accessed from every part of the country".
Pros and cons
The surge of health information on the Internet has one of two effects on the doctor-patient relationship. For physicians who are comfortable with the Internet and with patients declaring their autonomy, and for patients who have explored sites with trustworthy information, the patient-physician relationship is enhanced and improved.
But for those patients who access flawed information and then bring it to their physicians, and those physicians who prefer to practice in a more paternalistic mode or who are not up-to-date with the Internet, there will be harmful consequences on the relationship. Dr Sanjay Gupta adds, "For patients as well as doctors, it opens up options from a vast selection of geographical boundaries and across a spectrum of available expertise. Nevertheless, one has to be cautious as online healthcare can be a very useful complimentary tool but not a substitute for traditional medicine".
Dr S B Bhattacharyya
Head- Healthcare Informatics, TCS"Right from seeking information for problems to being reminded regarding next steps, including taking medications, online care is all set to transform healthcare"
Consumer advocates argue that the disclosure of performance data will help consumers to choose high-quality providers. While there is a plethora of health-related information on the Internet, currently there is no way to authenticate it. Indeed, there is an immense amount of misinformation available on the web. This unfortunate reality creates situations in which physicians may have to un-teach what their patients have learned. Dr S B Bhattacharya, Head-Healthcare Informatics, TCS highlighted that, "Privacy and secrecy issues, requirements of high levels of system availability and efficient data exchange using well accepted standards continue to be areas of concern".
Sona R, Marketing Executive, Trivitron Healthcare shares, "The sheer convenience of a specialist being just a phone call away can drive users to an online model. Online medical services offer patients a unique opportunity to rate hospitals, doctors and compare the outcome of treatments. It offers a transparency that is beneficial to the patient." She adds, that the traditional system of meeting the  doctor face to face and getting ourselves tested is the most convenient and accurate diagnosis we can ever get, though being a click away from getting diagnosed is easier."
There have been many scenarios where individuals hailing from an urban background find it a very time-consuming and energy  grueling activity to first avail a doctor's appointment and then drive down to the hospital for even a medical necessity that is as small as a general medical check-up. Extending this point, the scale of time and energy that is wasted for other ailments that are a little more serious than general checkups would be even higher. There also lives a certain set of people who are so busy in their daily work routine, that they can't afford to take time off and visit doctors or hospitals located far from their homes or offices.
Amit Mohan
Director – Marketing, Zimmer India"Online healthcare is an efficient, cost effective, collaborative approach offering seamless integration. The patients need to learn about illness or ordering prescription medications.This is definitely not a 100 percent replacement for the office visit to a doctor for consultation"
Patients who use the Internet are becoming more educated about their medical decisions. They no longer go to their physicians for medical information, but rather to seek medical advice to confirm their own suspicions. The availability of information on the Internet is certainly a wonderful thing to have at one's fingertips. However, if the patient-physician relationship is to maintain its integrity, using such online information must be part of a cooperative effort. Internet medicine is not a substitute for hands-on, face-toface care between a real live doctor and a real live patient.
Amit Bansal, Director, HepingDoc.in says, "With corporatisation of healthcare, absence of stronger regulation to reduce malpractices, and without clear visibility of the medical diagnosis and treatments, there is an increasing trust deficit on healthcare providers. This has led to a growing traction for a service that improves visibility and provides structure to the unstructured healthcare."
There is an abundance of fraudulent websites. The only way you can tell an original from a fake one is by painstaking research and cross-questioning the experts before they recommend any treatment. Online healthcare won't work well for injuries which require immediate care and also may not make sense for persistent problems.
Range of servicesÂ
People who are tired of queuing up and victim of inaccurate advices, logging onto medical health services for consultations, appointment scheduling, recommendations on healthcare providers and treatments serve the purpose. From childcare to fitness, the online healthcare model is offering patients reliable and multiple solutions at the first click. Online medical services offer patients a unique opportu-nity to rate hospitals, doctors and compare the outcome of treatments.
Jayadeep Reddy
CEO and Founder, eHealth Access Pvt Ltd"By using technology as an enabler and accelerator, we are leveraging the massive penetration of mobile and Internet usage with technology innovations in connected devices and helping doctors reach out to more patients"
Most experts see online portals as complementary to traditional modes of consultation rather than a replacement. For practical reasons, health workers are often unable to talk to home-based patients with chronic conditions on a daily basis; but they could keep an eye on an online medical record that is automatically updated whenever the patient measures their own blood pressure, checks their weight, or takes their medication. Such technology could help medical workers ensure remote patients are healthy, and detect any problems at an early stage before they become serious. "People have surrendered fully in front of Internet which delivers massive information about everything from minor to major. Systematisation and expansion of healthcare sector are few reasons for enlargement of online healthcare." says Dr Vasvi Mathur, Dental Surgeon, Private Practitioner.
While no one counts the number of interactive web projects run by those in the healthcare field, the figure may be in hundreds. The array of content includes education tools, information kiosks, videos and virtual renderings of healthcare facilities. Dr M P Sharma, HOD, Internal Medicine & Gastroentrology, Rockland Hospital talks about the issue related to self medication. He says, "Self medication can prove to be highly fatal to one's health. It might lead to complications like: allergy, bleeding, etc. WHO suggests that while providing information online the emphasis should be on prevention of the disease rather than on curative medication"
Sumit Chauhan
VP & GM, Embedded & Telecom
Business Unit, Symphony Teleca Corp"Ubiquitous connectivity enabled the remote interaction between doctors and patients and modern mHealth solutions even facilitate remote monitoring of critical health parameters. Technology handles sensitive personal data and requires properly architected systems to assure a trusted patient/doctor relationship"
The Second Life-based Ann Myers Medical Center in UK is run by real-life nurses and physicians and demonstrates how women can perform their own breast exams.
It also allows a selfselected computer character to receive a virtual mammogram in order to familiarise patients with the procedure.
As with anything in social media, the user's experience is what they make it. But patients can benefit from such content in very specific ways. A social-networking website functions as a support group, users share intimate details of their diagnosis and treatment,  including information about specific symptoms and medications.
Perception
As online applications become more widespread, healthcare delivery systems will need to develop methodologies that effectively integrate health information technologies with in-person care. It's a massive revolution. It altogether shifts what goes on when a patient comes in with pages of downloaded stuff and half the time the doctor looking at it has never seen it before. There's a whole new set of emotions present. Indeed, by providing access to medical information, medical advice, and online support groups, the Internet is making it possible for patients to assume much greater responsibility for their healthcare.
It is conceivable that cyber doctors will one day provide detailed assessments to Internet users who grant them access to their personal medical records. It is also believed that cyber doctors could actually be brought into the treatment loop and used as a type of consultant to the user's attending physician.
Moreover, audio and visual computer technology may move Internet medicine closer to telemedicine, further merging the  distinctions between user and patient. Economists believe that the healthcare system of the future will be completely consumer-centric and consumer-focused, a revolution triggered in part by unfettered consumer access to information via the Internet.