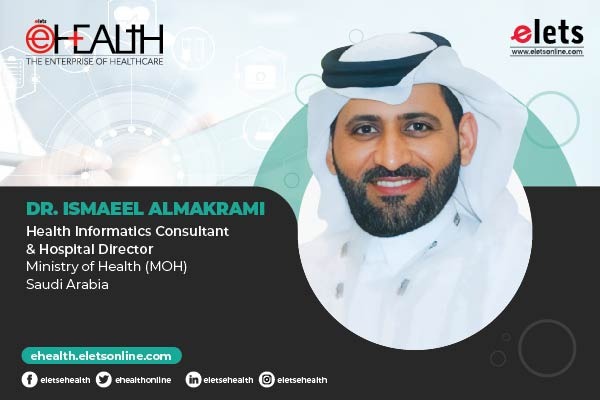 India, with its rich history and advanced technology and medical fields, has much to offer, stated Dr. Ismaeel Almakrami, Health Informatics Consultant & Hospital Director, Ministry of Health, Saudi Arabia while delivering his Keynote Address at the 11th Elets Healthcare Innovation Summit & Awards in Delhi.
He discussed about the digital disruptions and their profound impact on our lives. He said, "From a project management perspective, digital disruptions are not merely trials of how technology might assist us. They are a necessity, a high demand. In project management, it is said that unless a project starts from people's demand, from stakeholder beliefs, it will fail. Digital disruptions today are a win-win contract between us as healthcare providers and our main stakeholders, the patients."

Unless patients believe that digital solutions will make healthcare more accessible, easier, and cost-effective, they will not accept it. But today, digital disruptions are making a difference. They are the game changers in healthcare.
He further averred, "In countries like India, where about 70 per cent of the population live in rural areas, telemedicine is the solution as it can provide high-quality health services. It enables people to contact their healthcare providers securely and immediately, eliminating the need for difficult and costly travel. Patients can get their results, prescriptions, and understand their health conditions at the same moment."
"Another example is the electronic health record. In Saudi Arabia, we have a vision for 2030 that every citizen should have their electronic health record. This means no need to remember your medical history or carry bulky folders with you. Your healthcare providers can see all your history and make the correct decisions at the right time", he further added.
There are also various devices that help us take care of our health, monitor our pulse, breathing, and more. They help us as healthcare providers to be proactive and assist us before a situation becomes complicated.
He said, "Artificial intelligence is another tool that enables us to make more accurate decisions, reduce medical and human errors. Data storage is another area where technology is making a significant impact."
Concluding his address he stated, "Whether it's Saudi Arabia or India, we share the same concepts, demands, and needs to use technology to manage our health and our relatives' health properly. By sharing knowledge and expertise and collaborating together, we can make a significant difference in the healthcare sector."

Follow and connect with us on Facebook, Twitter, LinkedIn, Elets video