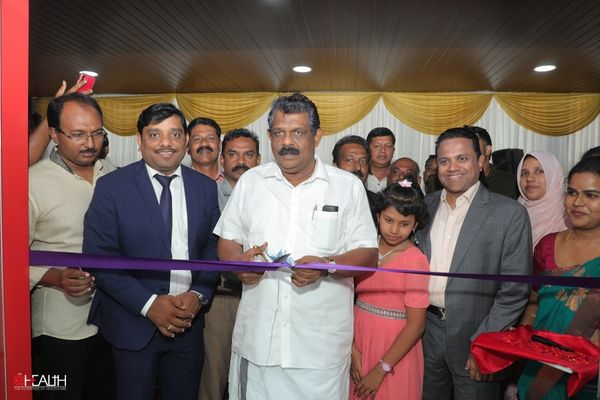 Neuberg Diagnostics and MDC Scans and Lab join hands to launch Neuberg MDC Scans and Labs today. The lab was inaugurated by Adv. Antony Raju, Hon. Minister for Transport, Government of Kerala, Dr GSK Velu, Chairman and Managing Director, Neuberg Diagnostics, and MN Shibhu, Managing Director, MDC Scans & Labs.
Neuberg MDC Scans and Lab brings with it Neuberg Diagnostic's extensive network and clinical expertise, enabling the center to offer high-end testing and genomics to the people and clinicians of Trivandrum. The state-of-the-art center has the latest technology and equipment to ensure accurate and timely results. Moreover, the center will provide a complete routine for high-end diagnostic services under one roof –covering both pathology and radiology as an integrated model. Maintaining the highest quality standards by having the best doctors onboard and ensuring regular quality checks, the lab will conduct over 1000 pathological investigations in 4 integrated high diagnostic centres and six pathology processing lab with basic radiology diagnostics such as MRI, CT, Ultrasound, X-Ray, ECG, 2D ECHO, TMT and Mammography along with wellness centre. Neuberg MDC Scans has 14 collection centres with total touch points of 20 in the district of Trivandrum.
Additionally, with this joint venture, Neuberg MDC Scans & Lab will have access to the entire lab medicine test menu of over 6000 investigations covering routine investigations, & advanced investigations including genomics, proteomics, metabolomics, proteomics, oncopathology, transplant immunology, newborn screening, etc benefiting the population of Trivandrum & adjoining districts.
Speaking during the launch Adv. Antony Raju, Hon. Minister for Transport, Government of Kerala said, "I am glad to be present on this occasion to inaugurate the high-end laboratory Neuberg MDC Scans and Labs. This will help this region get the best diagnostic services for better medical care."
Speaking during the launch Dr GSK Velu, Chairman, and Managing Director, Neuberg Diagnostics said, "MDC Scans and Lab is one of the oldest and best in the quality lab in Trivandrum and Neuberg is extremely happy to join hands with MDC Scans to serve the people of Trivandrum and the adjoining district of Kerala. This integrated center of excellence is a step toward providing high-standard diagnostics to enable doctors to diagnose health disorders accurately and make safer interventions while adopting technology for the quality of life. Amongst the 14 districts of Kerala Neuberg has a presence in 12 districts. With a network of 26 catchment points inclusive of Centralized Processing standalone labs, Hospital Labs (HLMs), Partnership Labs (LMMs) Collection centres, and also two ICMR Approved Covid testing labs at Cochin & Calicut and now it's 3 inclusive of Neuberg MDC."
Speaking about the joint venture, MN Shibhu, Managing Director, MDC Scans & Labs, said, "We have been serving the people of Trivandrum since 1996. We have come a long way by adopting new technologies, installing innovative instruments, and professing highly qualified technicians and experienced diagnostic experts and consultants. With this joint venture, we will bring Neuberg's expert knowledge and new generation techniques to serve the people of Trivandrum in a better way towards quality healthcare."

Follow and connect with us on Facebook, Twitter, LinkedIn, Elets video