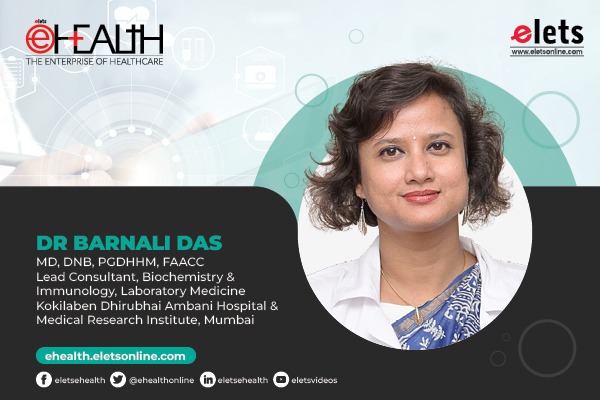 The implementation of Total Lab Automation (TLA), Artificial Intelligence (AI), Cloud Computing, Machine Learning, and the adoption of paperless workflows are instrumental in transforming the laboratory, specifically influencing clinical validation, procedure efficiency, data handling, data analysis, and much more. AI helps in computing the risk stratification score of laboratory and clinical data using expert systems and evidence-based guidelines. Increasing cost-containment pressures make the application of this technology highly approachable.
Rapid changes in the diagnostic sector coupled with parallel advances in TLA and digital transformation technology in diagnostic platforms have stimulated the evolution of approaches for Artificial Intelligence (AI) and robotic elements in the routine laboratory process flow. Laboratory processes need to be streamlined to ensure the provision of reliable and timely test results and an appropriate alliance with the brain-to-brain loop, thus enhancing the quality of care and patient safety.

The new laboratory strategy combines revenue generation with quality health care, through automation and artificial intelligence. The concept of the Lundberg loop, commonly known as the brain-to-brain loop, for laboratory testing originates from the brain of the primary care physician who is involved in selecting the laboratory tests and ends in the final reporting of the test result to the ordering physician. Basically, there are prepre-examination, pre-examination, examination, post-examination, and post-post-examination steps involved in the total process. Total lab automation and digitisation of the total testing process brings process excellence to laboratory workflows.
There is a strong need to create a sustained technology policy and supply chain policy framework through a thrust on innovation and the allocation of resources for fast-pacing the development of the IVD sector. A strong diagnosis technology model needs to be formulated which will ensure that technologically advanced healthcare is available to all sections of the population.
We also need to bridge the supply-demand gap through digitisation. The challenges during the first and second waves of the Covid pandemic suggest focusing on the opportunities and bridging the supply-demand gap. Involvements require different levels of investment, both short-term and long-term, for incremental improvements in the diagnostic care domain.
Diagnosticians, laboratory staff, and other key stakeholder groups in the lab, like administrators, supply-chain professionals, distributors, and the IVD industry, have responded to the challenge with initiatives to standardise and harmonise inventory management, resource allocation, cost of ownership, and codification with the help of digital technology to drive supply chain efficiency during this pandemic time.
Mainly three key points, like Codification, Standardisation and Global Harmonisation helped in efficiency building, regarding supply chain. Efficiency depends on commercial excellence, demand management, and compliance management systems to mitigate the impact of supply chain shortages. Digitisation helped us plug in many parts that were leaking in the supply chain, and finally, it helped build trust with our patients.
The digital and technology transformation journey with total lab automation in diagnostic platforms helped us achieve the following:
Reduction of time traps
Elimination of staff motion
Elimination of unnecessary transportation
Elimination of Non-Value-Added (NVA) steps
Verifying the Business Value Added (BVA) steps
Focusing on Value-Added (VA) steps
Reduction of complexity in workflow process
Decrease in error rates
Reduce the number of reruns
Enhancement of Turn Around Time (TAT)
Cost saving
Enhanced operational productivity and confidence, resulting in the satisfaction of customers
Efficiently managing these intensifying pressures is critical to the sustainability of laboratory management, and requires new strategies to reduce the cost burden, while maintaining quality. Increasing cost-containment pressures make this technology highly approachable.
Hospitals can benefit from a digital and technology transformation journey both operationally and clinically. Lab automation and digitisation can help hospitals and laboratories deliver greater outcomes, increase stakeholder collaboration, and enhance communication between the lab and administration. Timely reporting of diagnostic test results to clinicians and all stakeholders is essential for effective disease and public health management.
Artificial Intelligence (AI) helps in computing the risk stratification score of laboratory data and clinical data using expert systems and evidence-based guidelines. The unique Clinical Decision Support Solution will help one standardise care in hospitals with a combination of informatics and change management.
For example, I am collaborating with the Koita Centre for Digital Health (KCDH) of IIT Bombay on two digital health projects for clinical decision support:
I) Implementation of an alert system for early diagnosis of Acute Kidney Injury
II) Machine learning-based models and web-based tools to predict the mild, moderate, and severe cases of Covid-19 based on routine laboratory biomarkers.
Thus, implementation of digital transformation with TLA in the laboratory improves revenues, suggests patient-specific next steps, tests utilisation, improves quality, standardises treatment protocols as per local and international guidelines, improves patient satisfaction, provides patient-specific interpretation and next steps, improves standardised care by flagging patients, applies risk algorithms, and provides better interpretation.
Views expressed by Dr Barnali Das, MD, DNB, PGDHHM, FAACC Lead Consultant, Biochemistry & Immunology, Laboratory Medicine Kokilaben Dhirubhai Ambani Hospital & Medical Research Institute, Mumbai

Follow and connect with us on Facebook, Twitter, LinkedIn, Elets video