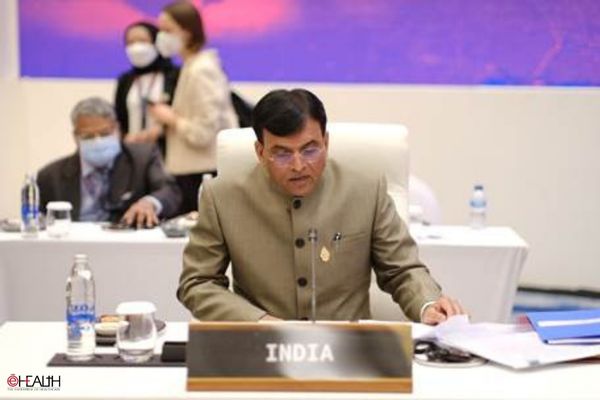 "For the creation of a 'fit-for-purpose' global healthcare ecosystem, it is necessary to secure sustainable financing, IHR reforms, and seamless conversations among international negotiating bodies in the WHO (SETA), GAVI, G7, and G20," stated Dr Mansukh Mandaviya, Union Minister for Health and Family Welfare during his concluding remarks at the Second G20 Health Ministerial Meeting, in Bali, Indonesia yesterday.
The Union Minister began his speech by pledging support for his Indonesian counterpart's appeal for the globe to prioritise developing, manufacturing, and research centres for medical countermeasures to make sure that it is ready to face any future medical difficulties. The necessity to "consolidate efforts done by the G20 towards managing the COVID-19 pandemic by building a permanent medical countermeasure platform and assuring availability of safe, quality, and cheap diagnostic vaccines and medicines" was also emphasised in that context.
The Union Health Minister noted that India's priorities include "health emergency prevention, preparedness and response; strengthening cooperation in the pharmaceutical sector with a focus on availability and access to safe, effective, quality, and affordable medical countermeasures; and digital health innovation and solutions to aid universal health coverage and improve healthcare." He also expressed his gratitude to Indonesia, Italy, Saudi Arabia, and previous G20 Presidency holders.
Additionally, Dr. Mandaviya suggested hosting site events like the Digital Health Workshop on cooperative research to increase access to medical countermeasures, medical value travel, and holistic healthcare using traditional medicines that are supported by evidence to complement, augment, and enrich G20 conversations.
Dr. Mandaviya concluded by cordially welcoming and inviting the G20 Health Ministers and other attendees to the upcoming G20 Health Ministerial Meeting that India will be hosting. Additionally, he asked for their help and collaboration in developing a fair global health architecture for everyone.

Follow and connect with us on Facebook, Twitter, LinkedIn, Elets video