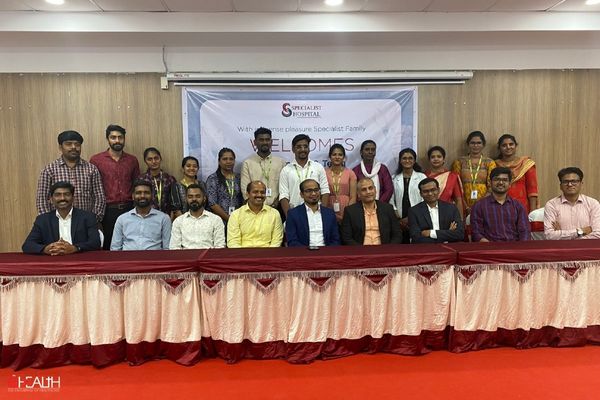 In keeping with the theme of World Heart Day 2022, 'Use Heart for Every Heart', Specialist Hospital has announced the launch of a fully integrated Cardiac Sciences Department. For the first time in Bengaluru, a complete heart team, cardiology, and cardiovascular sciences are being offered under one roof. The eight-member strong heart team is headed by Dr. Tameem Ahmed (MS. Mch AIIMS), Director, Cardiac Sciences, Specialist Hospital, and alumnus of All India Institute of Medical Sciences. Other key members of the team include Dr. Prashanth, Dr. Vijay, Dr. Suresh, Dr. Amit Lal, and Mr. John Patrick from premier institutions of the country, having worked in high-volume centres. As part of the launch, Specialist Hospital has announced a 75-point heart check until 30 September 2022, at a special price of Rs. 999/- including complete hemogram, lipid profile, liver function tests, among others. An additional 50 per cent off is also being offered on ECG, ECHO, and TMT procedures.
Commenting on the new department, Dr. A M Shafiq, Director, and CEO, Specialist Hospital, said, "We found that there was a lack of cardiac care in this region of Bengaluru, as the closest emergency care was around 10 to 12 kilo metres away, which could prove detrimental in an emergency. This is therefore one of the most required services in this region and this is what triggered the formation of the first cardiac sciences team – cardiologists, cardiothoracic surgeons, and their support staff in one heart team, in one hospital in Bengaluru.
Heart problems among Indians have almost doubled over the last ten years, and are now affecting even younger people. Available data suggest that over 30 per cent of people below 40 with no history of cardiac diseases have suffered heart problems.
Speaking at the launch, Dr. Tameem Ahmed, Director Cardiac Sciences, Specialist Hospital said, "More than 80 per cent of cardiac-related deaths can either be avoided or delayed through timely intervention. With this heart team, Specialist is one of the best hospitals equipped to treat any kind of cardiac condition. The team is highly skilled, with many having executed complicated cardiac procedures. The department is fully equipped with an advanced cathlab and operation theatre. Our goal is to provide the highest quality of patient-centric care, using advanced technology, an interdisciplinary approach, and multiskilled resources. The entire team including physicians, technicians, and nursing staff also come with vast experience in cardiac care."


Follow and connect with us on Facebook, Twitter, LinkedIn, Elets video