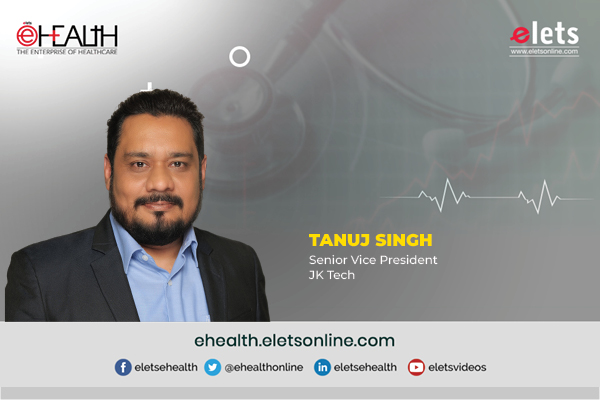 Digitisation in healthcare is revolutionising the way health problems are prevented, treated, and managed. Healthcare has always been change-driven, but in recent years, it is changing at a rapid pace. The scale of digital health technology adoption is transforming in ways that are unimaginable under normal circumstances. As patients' expectations for easy access to booking appointments, getting medical records, prescriptions, and digital connections with doctors grow, new features are needed to empower the healthcare market. Patients now expect individualised solutions to their health problems. Proper digital infrastructure is required for the transition from an organisation-based model to a patient-based model. Advances such as telemedicine and chatbots designed to limit face-to-face contact, and data models that improve ventilators, hospital beds, and staff assignments are being rolled out globally today.
New technologies not only accelerate the development of new drugs but also introduce a whole new class of services. New emerging technologies in healthcare such as Hyper automation help in digitally transforming the healthcare sector. These technologies empower existing solutions such as Revenue Cycle Management (RCM) in healthcare, Lab automation, etc, which are increasingly influencing the industry and offer the opportunity to unleash the next frontier of healthcare by shifting its focus from treatment to prevention.
Hyperautomation in the Healthcare Sector
Automation of complex and time-consuming work processes has become possible because of Robotic Process Automation, Artificial Intelligence, and Machine Learning. According to Gartner's list, Hyper automation is on its list of top ten strategic technology trends for the year ahead. This is so because it saves your time, increases productivity, and reduces cost.
A rapidly accelerating fundamental digital revolution in healthcare has been sparked by the ongoing public health emergency. In addition, to helping healthcare organisations respond rapidly to patient needs, hyper automation enables the implementation of lab automation, revenue cycle management, claims processing, and analytics across the value chain of healthcare, saving both time and money.
Hyper automation not only expedites procedures in the healthcare sector but also frees up resources so that businesses can concentrate on giving patients value-based care. The potential for offering re-invented healthcare solutions through hyper-automation is huge. Two of the most distinct applications of hyperautomation in the healthcare sector are Revenue Cycle Management (RCM) and Lab Automation.
Revenue Cycle Management (RCM)
Revenue Cycle Management is a crucial financial process in the healthcare industry that uses customisable billing software to track patient care journeys, from registration and scheduling to final payment of balances.
Hospitals and healthcare systems of all sizes are constantly forced to manage large amounts of data to ensure quality patient care. Therefore, healthcare providers use Revenue Cycle Management to ensure that services are properly and quickly reimbursed. This is certainly beneficial for healthcare providers, but it is also beneficial for patients. A healthy and successful healthcare RCM process helps ensure timely revenue, regular collection, and financial viability of the organisation and focuses on providing quality care to patients.
RCM simplifies the process of booking appointments, hospitalisation forms, billing, etc., creating a more satisfying experience for both patients and administrative staff. In addition, the RCM emphasizes thorough insurance reviews in advance, giving patients a better understanding of insurance eligibility from the beginning. When Revenue Cycle Management is implemented, healthcare providers don't have to spend time and money fixing errors or filing complaints. Thus, they can invest their precious time and money in providing the best care to the patients.
Through the introduction of a Revenue Cycle Management system, front-end tasks are easily streamlined and managed to enable staff to focus on more productive work that can be more efficient.
Lab Automation
Clinical laboratories must regularly overcome obstacles like increasing test volumes, increased demand for faster test results, professional shortages in the laboratory, and enhancing clinical and financial results.
Automation is an effective way to meet these objectives since it boosts lab productivity, lowers expenses, and enhances test result quality. For both patients and medical staff, an automated laboratory system promises a shorter response time and more efficient processing. Clinical, operational, and financial performance are all improved by lab automation.
Numerous benefits come from laboratory automation. The first benefit is that it relieves lab personnel of a lot of repetitive work, improving laboratory efficiency by upholding constant levels of output and quality and accurate results in a shorter time. Manual errors are reduced, and labor cost is saved while increasing the standardisation of lab both within and throughout several labs in the same health network. Automated lab systems have a faster response time for patients.
The short conclusion is that as laboratories become more and more automated, with less response time and the ability to provide much faster patient care, there will be benefits for all patients.
The road ahead for Hyperautomation
The process of transforming healthcare through hyperautomation has already begun and by 2024, more than 70 per cent of large worldwide companies would be running more than 70 hyperautomation activities at once. Gartner also forecasts that by 2024, enterprises will reduce their operational costs by 30 per cent. Organisations must utilise endto-end automation to its greatest capacity if they want to remain competitive.
Indeed, hyper-automation technology has immense potential that can transform various industries. Leveraging hyperautomation to fulfill the required business objectives holds the key to desired results.
Views expressed by Tanuj Singh, Senior Vice President, JK Tech


Follow and connect with us on Facebook, Twitter, LinkedIn, Elets video