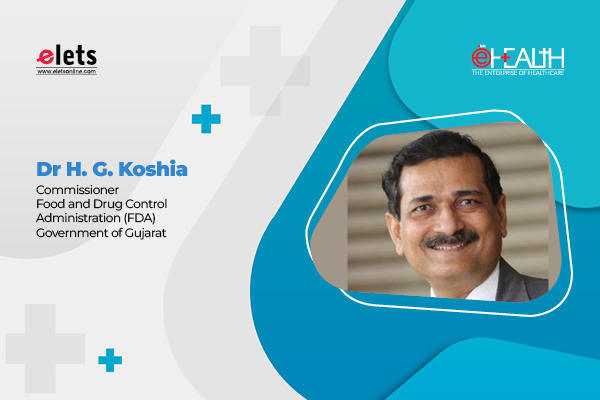 With ever-growing technologies, the Pharma sector has undergone a complete transformation in recent years. Apart from pharma manufacturers, licensing authorities and regulators needed a technological upgrade to pace up approvals, especially during the COVID pandemic. Dr H. G. Koshia, Commissioner – Food and Drug Control Administration (FDCA), Government of Gujarat, addressed the Elets Pharma Leadership Summit on how FDCA adopted digital upgrades to cater to the changing demands.
The pandemic period was a time of recurring transformation and disruption. The digital transformation has completely reshaped the way we work. The pandemic has also been the reason for disruptions in supply chains across the globe. The lockdowns imposed to control the spread of the disease further weighed on the slumping economy. This also impacted medical and chemical supplies that were imported from foreign countries. The situation raised concerns about the treatment of people who have been diagnosed with diabetes, cardiac diseases, and more. Also, many doctors shut down their clinics; pharma production was reduced, medical supplies were limited, and more. However, with technology-driven solutions and effective measures from the government, the industry managed to sail through troubled waters, said Dr Koshia.

Also read: Super Technologies Changing Pharma Industry
He further added "The entire process from the conceptualisation of a vaccine to its manufacturing, testing, and sales, is nearly a decade-long process. Thanks to our visionary leadership, scientists, and experts who managed to come up with the vaccines in less than a year's time and provided doses of the same to countries across the globe. Also, during this time, we witnessed the term 'immense use authorisation' that enabled the administration of the vaccines to the masses in time."
He stated that the pharma industry is a technology-based industry and every day innovations are coming up. To match the pace, it is needed for pharma professionals to adapt to the changes, learn to innovate, re-learn the basics and disrupt outdated methods.
"Previously, we used to distribute physical licenses in-person but post-pandemic we took the digital route. Today, 80 per cent of our services are available online and most of our operations have been digitised, " said Dr Koshia. The FDCA has expanded its scope with the help of digital tools. Also, the Authority is now using online licensing software for manufacturers. The software came in handy during the first wave of the pandemic. Besides this, there have been other areas including transportation, for the movement of the labour force, suppliers, etc.
where the FDCA has helped the industry to stay afloat during the pandemic, he added.
During the second wave, demand for oxygen rose dramatically not only from Gujarat but from neighbouring states as well. Answering the call of duty, we managed to supply oxygen to other states as well.

Follow and connect with us on Facebook, Twitter, LinkedIn, Elets video