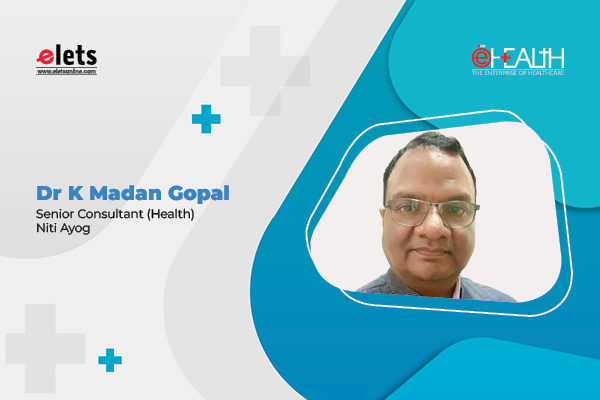 The National health policy 2017 envisions a Digital Health Technology Ecosystem. Recognising the integral role of technology (eHealth, mHealth, Cloud, Internet of things, wearables, etc.) in the healthcare delivery, a National Digital Health Authority (NDHA) has to be set up to regulate, develop and deploy digital health across the continuum of care. The policy advocates the extensive deployment of digital tools for improving the efficiency and outcome of the healthcare system. The policy aims at an integrated health information system that serves the needs of all stakeholders and enhances efficiency, transparency, and citizen experience. The goal is to deliver better health outcomes regarding access, quality, affordability, lowering of disease burden, and efficient monitoring of health entitlements to citizens.
Efforts towards having a National Digital Health Platform started in 2018, with the concept of National Health Stack, which eventually evolved to National Digital health blueprint and now launched as National Digital Health Mission, by the Hon'ble Prime Minister, on 15th August 2020.

Parallel efforts were going on in the form of Integrated Health Information Platform (IHIP). The primary objective is the introduction of EHR into the medical system, focusing on the continuum of care. PMJAY 2.0 IT platform aims to integrate insurances and other provider-level media. Eventually, both of these are combined to complete the loop.
National Digital Health Mission (NDHM) is a technological leapfrog in ensuring equitable healthcare services delivery in India. The NDHM launch has ushered India into a new era of technology enabled health care delivery.
A unique health id will be created for each individual and will provide access to integrated services across different tiers of healthcare delivery which are critical to realizing universal healthcare. The current focus is on Health ID, Health facility registry, Personal Health records, Telemedicine, Digi Doctor, and E- pharmacy.
For the last two years, the country has been facing an unprecedented public health crisis in the form of COVID-19. Since the onset of the pandemic, our state governments have responded with various innovative measures to contain the spread of the virus. The unprecedented challenges caused by COVID-19 were managed collectively by governmental and non-governmental support. The changing dynamics of the COVID-19 infection called for early identification, remote monitoring, and appropriate referral mechanism to reduce the number of severe cases and deaths.
National Teleconsultation Service of the Ministry of Health and Family Welfare is the first telemedicine OPD service offered by the Government. These services aim to provide healthcare services to patients in their homes. Safe & structured video-based clinical consultations between a doctor in a hospital and a patient at his home are enabled.
eSanjeevani – a doctor to doctor telemedicine system deployed nationally for the Ministry of Health & Family Welfare at 155,000 Health and Wellness Centres under Ayushman Bharat Scheme of Government of India. AB-HWCs is envisaged to be the platform for delivering an expanded range of primary health care services closer to the communities. The digital public good created during the pandemic continues to gain traction and has achieved more than 5 million cumulative teleconsultations till December 2021. This e-health service has enabled a two-way interaction and has made it convenient for people to avail themselves of health services without traveling. Such platforms will be a gamechanger for people in rural areas who do not have easy access to medical specialists located in cities. Telemedicine saves time and cost. Further, these platforms align with the Government's vision of 'Digital India' and are necessary to tackle situations created by a pandemic like Covid-19.
In healthcare, digital technology is creating a quantum shift that could transform healthcare in India almost beyond imagination. India could have 1 billion digital health users by 2030, enjoying an inclusive health system where healthcare keeps expanding. Still, costs keep falling, a system that efficiently prevents and treats diseases and responds to individual lifestyles and disease profiles with tailored treatments, all at an affordable price. The future that the digitization of healthcare can achieve, only if the stakeholders involved step up to the challenge.
The demand already exists. India already has 400 million digital health users, using available telehealth, home health, home testing, e-pharmacies, and other digitally powered offerings, even without much innovation by large healthcare providers. 65% of today's e-commerce users would also use digital health solutions. Significantly higher adoption of digital health tools was reported by patients who had long-term disorders such as cardiovascular disease, diabetes, and hypertension. The pandemic forced people to use digital channels for care needs. Having experienced the benefits of digitally enabled healthcare delivery, consumers now consider them necessary.
However, as too often in India, supply lags well behind demand. The underpinnings are already there—India now has a sturdy digital backbone via Ayushman Bharat Digital Health Mission (ABDM). Aiming to capture health data across physicians, providers, and patients, the platform promises interoperability, flexibility, security, scalability, and complete access.
It is now up to healthcare providers, start-ups, technology providers, investors, and other stakeholders to develop digital health offerings that meet and stimulate demand. Like nature, the economy abhors a vacuum—those who tarry could find that others have already captured the opportunities.
At the moment, opportunities abound. India needs compelling, accessible healthcare solutions that provide equitable access and can be rapidly deployed and scaled up. Conventional healthcare capacity is doubtful to catch up with the demand and supply gaps the country suffers now. Digital solutions are the answer, building on the deep penetration of smart devices and increased connectivity that the Government has invested in over the past decades.
The pandemic catalyzed the adoption of telehealth, home health, home testing, e-pharmacies, and other digital offerings, but still a lot to be done. Meanwhile, some solutions remain largely unexplored, including e-diagnosis, tech-enabled home health, and more mature e-pharmacy solutions.
This is the time to enter and build a hard-to-beat position for conventional healthcare players, health technology start-ups, and investors.
Views expressed by Dr K Madan Gopal, Senior Consultant, Niti Ayog and Dr K S Uplabdh Gopal, Intern

Follow and connect with us on Facebook, Twitter, LinkedIn, Elets video