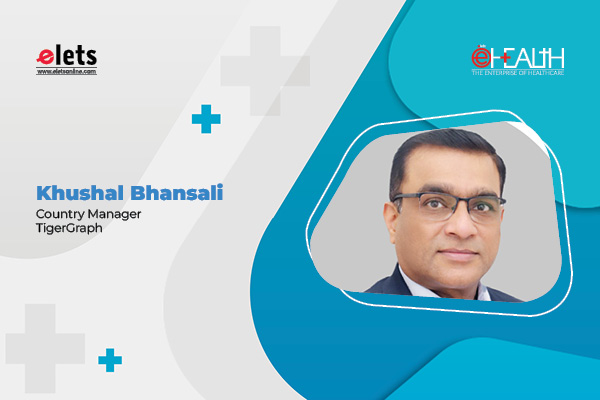 Khushal Bhansali, Country Manager, TigerGraph shared his views on 'Improving Customer Experience With Connected Data' at the 4th Elets Diagnostic Leadership Summit. Edited excerpts:
Connecting data can assist us in bettering customer experience by using graph technology, stated Khushal Bhansali, Country Manager, TigerGraph, which is a California-based graph analytics software company that specializes in connecting data assets to deliver enterprise-level knowledge and insights.
Articulating about graph technology, he conveyed that it helps organizations get insights from their data with three key capabilities- Connect, Analyze and Learn. He detailed connecting all internal and external datasets and pipelines with a distributed Graph database; analyzing connected data with advanced analytics, and learning from connected data with In-database machine learning. He added that the technology is used for our benefit and then passed on to the customer for a better experience.
Sharing that "The world is a graph, and everything is connected.", he further added that graph analytics is a set of analytic techniques that shows how entities such as people, places, and things are related to each other. At the most abstract level, graph analytics is applied to forecast behavior and prescribe actions for dynamic groups.
He added that this technique is essential because business is growing and the market is becoming more challenging. Digitization has happened, and covid has changed all the parameters. He added, "By 2025, graph technologies will be used in 80% of data and analytics innovations, up from 10% in 2021, facilitating rapid decision making across the enterprise."
He further averred that when we combine graphs and Artificial intelligence, it delivers more value and offers better results. It furnishes richer and smarter data, deeper, smarter questions, more computational options, and explainable results. He shared, "Graphs are suited for environments where the connection between data points are just as important as the data points themselves." He further added that we are 40 to 300 times faster than other technologies while looking at connecting data and getting insights.
Concluding the presentation he said, there are some typical customer related challenges that we face in Customer Acquisition, which could be B2B or B2C, Customer Experience-Communication/Offers, Sample Collection, Result Delivery, Reference/Repeat Business, Service Locations, Lab Maintenance/Audit, Supply Chain Optimization. We can improve customer experience and improve operational efficiency with the help of graph functionality and can get outcomes


Follow and connect with us on Facebook, Twitter, LinkedIn, Elets video