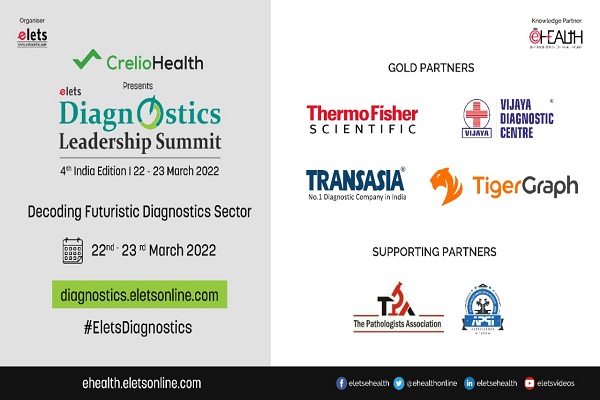 The global pandemic has drastically altered the perception of the diagnostics sector, placing it on the centre stage. As preventive testing, at-home care and diagnostics results forming the core of decision making, the diagnostics sector is poised for incremental growth. With this at the core, Elets Technomedia and eHealth Magazine is organizing the '4th Diagnostics Leadership Summit (DLS)' on 22-23 March, 2022 through a virtual platform on the theme 'Decoding Futuristic Diagnostics Sector'.
The 4th edition is being organized after the successful execution of the first three editions of the Elets Diagnostics Leadership Summit, which witnessed 1500+ Delegates, 120+ speakers, and 30 thought-provoking sessions & panel discussions. The two-day virtual summit will be a networking & knowledge-sharing platform for the Indian Diagnostics community to deliberate on digital technologies & innovations, investment opportunities, and best practices for transforming the diagnostics industry.

Participants for the aforesaid virtual summit will be Policy Makers from Government Departments; MDs, CEOs, Promoters of Diagnostic Centre (Single Centre & Multiple Chain); MDs & CEOs of Genomics Test Labs; HoDs of Clinical Laboratories of Hospitals; Scientists, Technician & Technologists of Labs; Technology Providers; and Academicians.
Diagnostic leaders will be sharing their views on Rapid Diagnostic Kits Market, Pandemic Inducing Lab Accreditation, Future of digitization of supply chain and many other relevant topics. Join more than 60 thought leaders from across the country and the globe share their in-depth insights over two days and 11 invigorating sessions at the 4th Elets Diagnostics Leadership Summit.
Register Now: https://avtaar.eletsonline.com/dls/registrationsnew
Agenda Link: https://diagnostics.eletsonline.com/images/DLS-Agenda-2022.pdf

Follow and connect with us on Facebook, Twitter, LinkedIn, Elets video