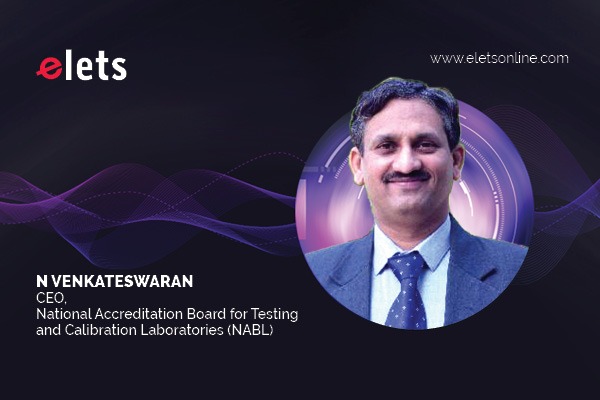 N Venkateswaran, CEO, National Accreditation Board for Testing and Calibration Laboratories (NABL) during his address at the third Elets Diagnostics Leadership Summit talked of the various initiatives undertaken by NABL to ease the process of accreditation. Edited excerpts:
Resonating with the collective thought, N Venkateswaran, CEO, National Accreditation Board for Testing and Calibration Laboratories (NABL) elaborated on the role of accreditation in the futuristic diagnostic sector. He stated that big labs like Dr Lal Path Lab & SRL can be mentor labs for the small & upcoming labs for the diagnostic sector to evolve in a big way. He mentioned that for supporting industries & labs, NABL is trying to expedite the accreditation process. He talked about the portal where the process of application submission has been simplified, with all the information getting captured in its database and storing it for future reference.

Mr. Venkateswaran also spoke about the self-declaration model NABL is working on and the subsequent visits being carried out to ensure the quality standards of the infrastructure of the labs. "This is to ensure that the confidence in NABL's accreditation remains and also the entire process is expedited," he averred. Dousing concerns about the right quality of labs being established, Mr. Venkateswaran talked about the unknown assessments being carried out to do a check on the infrastructure committed to NABL. He further mentioned that during the covid, NABL granted accreditation to over 1600 labs for RT PCR tests.
He stated that they get inputs from the market that the quality assessments done and it should give confidence to the customers and satisfaction that NABL has been serving up to the expectations. Another focus area for NABL is training programs because there are a lot of technical training programs needed into this sector by association with a skill development agency.
He further mentioned that the third sector NABL is looking at is point of care testing, medical imaging accreditation and bio banking. He mentioned that they are in touch with big labs for reference material as well and seeking support from all stakeholders to work for the betterment of the diagnostic sector.


Follow and connect with us on Facebook, Twitter, LinkedIn, Elets video