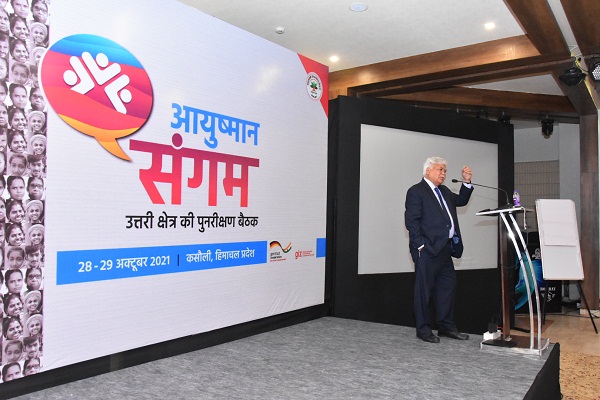 "Ayushman Sangam" a two-day event to appraise the progress of Ayushman Bharat Pradhan Mantri – Jan Arogya Yojana and Ayushman Bharat Digital Mission (ABDM) and draw up a future roadmap for the implementation of both the schemes was organized in Kasauli from 28th to 29th October 2021 under the Chairpersonship of Dr. Ram Sewak Sharma, Chief Executive Officer (National Health Authority). It was the first regional review meeting organized by National Health Authority in the current financial year. NHA has been regularly organizing such Regional Reviews across all the five geographical zones, into which the States and Union Territories implementing AB PM-JAY have been categorized.
As AB PM-JAY enters its fourth year of operation, delegates from the North Zone which includes the following States and Union Territories – Haryana, Himachal Pradesh, Punjab, Uttarakhand, Chandigarh, Jammu & Kashmir, and Ladakh convened to take stock of the progress of the scheme. The review meeting also included discussions on establishing an institutional structure and implementation structure for the expeditious and seamless rollout of ABDM.
Ayushman Sangam is a strategic initiative of NHA as it provides a common platform for a wide range of stakeholders across the Ayushman Bharat ecosystem to share ideas, reflect on previous experiences, showcase best practices, and thereby engage in a constructive dialogue. Ayushman Sangam is therefore a knowledge exchange platform whereby State / UTs become aware of innovative concepts that can be further replicated in their respective jurisdictions.
During this Sangam, "Ayushman Bharat Digital Mission" and the way forward to implement this mission was discussed. ABDM envisages to provide a digital platform for healthcare ecosystem. Dr. R. S. Sharma, CEO, National Health Authority highlighted that India has the potential to implement this mission given the availability of communication network and digital public goods infrastructure like UPI, eSign, digital locker. He explained that any IT infrastructure being developed needs to be robust, scalable, frugal, inclusive and must address diversity and innovation. For ABDM, apart from these factors, privacy by design is integrated as principle. While addressing the gathering, he mentioned "If we work together to achieve a common goal, it is going to transform Indian healthcare system." He explained that verified and unique IDs are being created for citizens, healthcare professionals and facilities to build a digital trust among the healthcare ecosystem.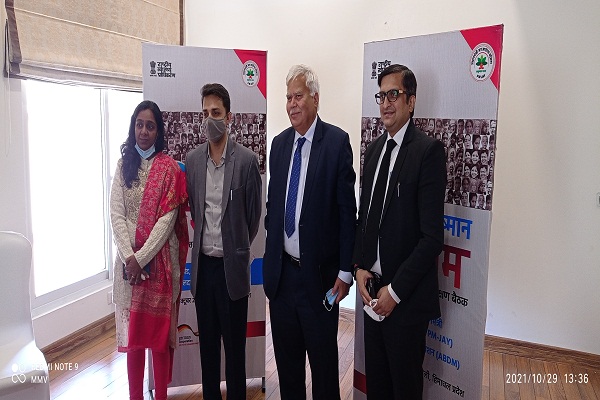 Dr. Praveen Gedam, Mission Director, ABDM and Addl. CEO, NHA described the support NHA is providing and the expectations from States. During the pilot phase, Chandigarh and Ladakh has worked extensively and were able to register most of the facilities under Healthcare Facilities Registry. On the similar lines, other States are expected to work on Health ID creation and registration of Healthcare Facilities and Healthcare Professionals. With these registries and state-wide Hospital Management Information System integration with ABDM, ABDM will be able to provide an interoperable and accessible healthcare ecosystem to every citizen of the country.
The regional states were motivated to promote and spread awareness about ABDM adoption considering it as future of healthcare ecosystem. The methods of addressing the challenges of IT infrastructure and behavioral change among healthcare professionals and facilities were also suggested.
Dr. Vipul Aggarwal, the Dy. CEO, NHA made a presentation on the progress of the implementation of Ayushman Bharat PM-JAY and highlighted the key achievements of the State / UTs in the Northern Zone. He informed that as of date, more than 20 Lakh hospital admissions worth over Rs. 2,467 Crores have been authorized in the State / UTs of the Northern Zone. This translates into nearly 4,200 hospital admissions per lakh beneficiaries. North Zone is therefore leading in the implementation of AB PM-JAY. States/UTs in the zone have taken many key initiatives to ensure delivery of quality healthcare services to the beneficiaries. These States/UTs have provided many best practices to implementation of AB PM-JAY. Uttarakhand, J&K, Ladakh are implementing near Universal coverage. He also commended State Health Agency Punjab for having declared the launch of universal healthcare in the State.
Shri. Rohit Deo Jha, Dy. Director NHA and other officials of NHA made presentations on the key initiatives being undertaken by NHA. These initiatives included launch of Beneficiary Facilitation agency, Joint Review Mission, e-RUPI, launch of Health Benefit Package 2.2, launch of BIS 2.0, etc. Beneficiary facilitation agency (BFA) is an innovative example of private public partnership, whereby private sector entities are being enlisted towards essaying a crucial role in improving the functioning of Ayushman Bharat PM-JAY at public sector hospitals.
Speaking at the event, Dr. R.S. Sharma, CEO, National Health Authority said, "Ayushman Sangam has become an annual exercise to review AB PM-JAY and provide an effective platform for key stakeholders to brainstorm on critical aspects of the scheme in a transparent and objective manner. At NHA, we have always believed in free flow of ideas between the implementing State / UTs so that we can improve the overall implementation of the scheme. For instance, Punjab was the inspiration behind the idea of a beneficiary facilitation agency which is now being scaled up by NHA across the country in collaboration with State Health Agencies. Uttarakhand, Jammu and Kashmir and Ladakh have boldly gone ahead and implemented universal healthcare. In a similar vein, both Punjab and Haryana have taken decisive strides towards the goal of Universal Health Coverage. Equally praiseworthy is the example set by Uttarakhand, which has instituted a special mechanism to address instances of fraud and abuse whilst ensuring claim adjudication in a time-bound manner thereby ensuring near 0% claim pendency."
Dr. Sharma further added, "NHA has come up with several initiatives for better operationalization of AB PM-JAY such as the Joint Review Mission (JRM), process to streamline claim reimbursement to the empanelled hospitals and realignment of the beneficiary identification system and – as I referred to earlier – the beneficiary facilitation agency etc. Each of these initiatives is expected to transform the way AB PM-JAY functions. JRM is an initiative inspired by best practices adopted by other Central Government programs such as the National Health Mission. Under the JRM, we will constitute a cross-functional inter-State taskforce that will visit the implementing State / UTs to meet with stakeholders and beneficiaries at the grassroots under the leadership of the JRM Chairperson.
More than 16.88 Crores beneficiaries have been verified under the scheme and provided with Ayushman cards as on 27th October 2021. Further, more than 2.3 crore hospital admissions worth INR. 27,500 crores have been authorized through a pan-India network of more than 24,000 empanelled hospitals. It is also worth mentioning that, as part of a continuous process to streamline the treatment packages' rates under AB PM-JAY, NHA has recently revised its existing Health Benefit Package (HBP 2.2) – which currently includes 1,669 treatment procedures. Under HBP 2.2, the rates for around 400 procedures have been effectively revised. An additional package for the treatment of Black Fungus has been incorporated into HBP 2.2. HBP 2.2 is expected to be rolled out across the country from November, 2021.


Follow and connect with us on Facebook, Twitter, LinkedIn, Elets video