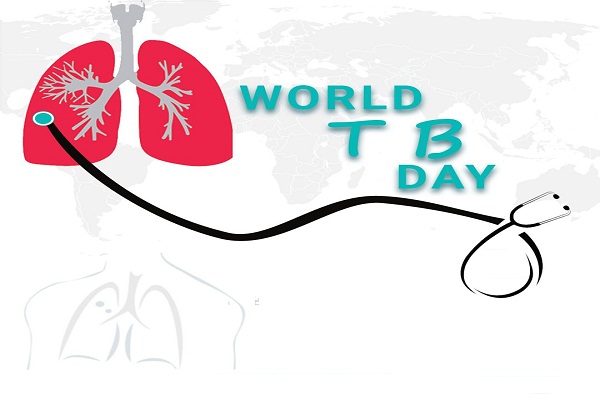 World TB Day is celebrated every year in commemoration of discovery of TB Bacilli by Sir Robert Koch on 24th March 1882. The theme of World TB Day for the year 2021 is "The Clock is Ticking".
Members of the United Nations joined for a meeting to act against the Tuberculosis on 26th Sep 2018 (UNHLM: United Nations High level Meeting) Meeting Theme: United to End Tuberculosis: An Urgent Global Response to a Global Epidemic.

Resolutions made during UNHLM:
Accelerate the End TB Response to reach the targets set in Sustainable Development Goals, WHO End TB Strategy, the Moscow Declaration to End TB and the political declaration of the United Nations High-Level Meeting on TB.
Diagnose and treat 40 million people with TB by 2022 including 3.5 million children and 1.5 million people with drug-resistant TB. This is in line with WHO's overall drive towards Universal Health Coverage and the WHO Director General's flagship initiative "Find. Treat. All. #EndTB" jointly with the Global Fund and Stop TB Partnership.
Reach 30 million people with TB preventive treatment by 2022 so that those people most at risk receive TB preventive treatment, including 4 million children under 5 years of age, 20 million other household contacts and 6 million people living with HIV.
Mobilize sufficient and sustainable financing to reach USD 13 billion a year to support efforts to end TB; for every USD 1 invested to end TB, USD 43 is returned as the benefits of a healthy functioning society (Economist/ Copenhagen Consensus).
Also read: World TB Day: Tuberculosis one of the biggest health challenges in India
Invest in TB research to reach at least USD 2 billion a year for better science, better tools and better delivery.
The theme of World TB Day 2021 – 'The Clock is Ticking' –conveys the sense that the world is running out of time to act on the commitments to end TB made by global leaders. This is especially critical in the context of the COVID-19 pandemic that has put End TB progress at risk, and to ensure equitable access to prevention and care in line with WHO's drive towards achieving Universal Health Coverage
Andhra Pradesh is implementing End TB Strategy with a goal of achieving Elimination of TB by 2025 on the appeal of Hon'ble Prime Minister. To achieve the Noble goal of Elimination of TB, the cooperation of all health care providers either Private sector or Medical Colleges is required.
National TB Elimination Program (NTEP), Andhra Pradesh:
TB is a Communicable Disease spreads through (Air borne) Droplets Infection.
In India, in 2019, 177/Lakh (2.4 Million) cases are Notified against expected 217/Lakh.
In Andhra Pradesh, In 2019, 187/Lakh (99294) cases are reported and in the year 2020 64,787 (35% loss in notifications).
To Decrease the Incidence and Mortality due to TB, GoI and GoAP have been Implementing National Tuberculosis Elimination Program with a goal of Elimination of TB by 2025.
The Diagnosis & Treatment are provided free of cost to all the TB Patients by Government:
The Strategies of NTEP:
1. Active Case Finding:
All the Persons suffering from Cough & Fever for more than 2 weeks are tested for TB.
All the Patients suffering from Diabetes and HIV and Contacts of TB Patients suffering from Cough are also tested for TB.
All TB Patients Diagnosed in Private Sector information is also taken by Notification and TB is declared as Notifiable disease.
2. Latest Diagnosis Methods for TB implemented in NTEP:
Sputum Smear Examination by Microscopy both by ZN staining and Fluorescence staining.
Established Rapid, Specific and Highly Sensitive Molecular Diagnostic Tests (PCR) like CBNAAT, TrueNat & Line Probe Assay (LPA) which detect not only TB but also Drug Resistant TB in 2 hours. All these centers are established at Primary, Secondary and Tertiary Care Hospitals. In Andhra Pradesh there are 45 CBNAAT sites at identified Medical Colleges, ART Centres, District TB Centres, etc. and 240 Truenat Centres at CHCs, Area Hospitals, District Hospitals and high load PHCs.
Chest X-Ray.
Culture & Drug Susceptibility Test at identified Culture DST Labs along with LPA facility at Visakhapatnam, Vijayawada, Nellore and Anantapur.
3. Treatment:
All the Diagnosed TB Patients are categorized into Drug Sensitive and Drug Resistant TB Patients and the Treatment is given in their respective villages through Treatment Supporters(ASHAs, ANMs, Community Volunteers & Family Members). The treatment for Drug Sensitive TB Patients is 6 months Daily Regimen with INH, Rifampicin, Pyrazinamide and Ethambutol in the form of Fixed Dose combinations based on weight bands. For Drug Resistant TB cases the treatment is given in two regimens 1. 9 months shorter MDR regimen 2. 18 to 20 months All oral long regimen which contains new drugs like Bedaquiline, Delaminid, etc. and the new drug included regimen costs Rs.38,000 for each patient.
4. Nutrition Support:
All the TB Patients are provided with an Incentive of @ Rs.500/- per month during the entire period of Treatment by Direct Benefit Transfer. This program started since April 2018.
In the year 2020, out of 59195 eligible TB patients, 58,630 (99%) received the benefit of DBT for nutrition support.
5. IT Application in NTEP:
1. NIKSHAY – A Web based and App based portal maintaining all the Recording and Reporting system.
2. 99 DOTS – IT Tool used in NTEP to monitor adherence of Treatment of all the Drug sensitive TB Patients in Andhra Pradesh.
3. MERM (Medication Event Reminder Module) boxes : It is used for monitoring Drug Resistant TB patients in Andhra Pradesh.
(Written by: Dr T. Ramarao, State Tuberculosis Officer, Government of Andhra Pradesh)

Follow and connect with us on Facebook, Twitter, LinkedIn, Elets video