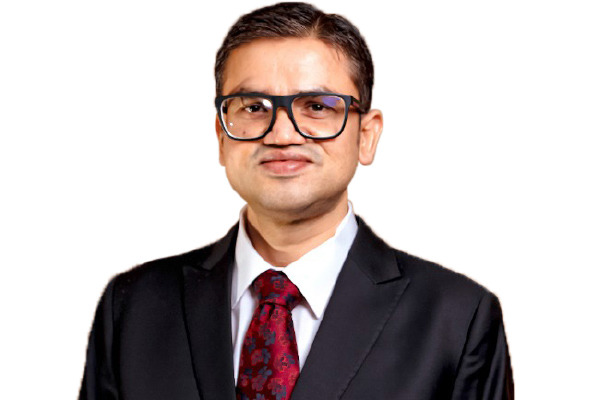 The country's diagnostics landscape is poised to grow phenomenally riding on the wave of heightened health awareness as well as the government's flagship national health programmes, observes Jatin Mahajan, who is a corporate author, business leader, the IVD segment transformer and a patent holder.
The Indian diagnostics market has never had it so well, and if the trends are any indication, then we are going to have a catalytic growth in this industry segment. Affordable quality diagnostics for all and especially in semi-urban and rural areas will drive India's vision of 'Swasth Bharat, Shrestha Bharat'.
The country's $9 billion diagnostic industry is witnessing a strong growth (even with the Coronavirus pandemic) driven by increased awareness on preventive health, changing lifestyle and insurances fuelling the preventive healthcare segment. People now are opting for early wellness testing and diagnostics as it increases the chances of a positive outcome, saving lives and cost of further treatment. The overall diagnostics market was approximately 6% in 2018 and expected to grow at 20-25%.
The silent transformation being catalysed by the diagnostics segment makes affordable and quality healthcare for all Indians is a truly inclusive movement. It brings rural India into the mainstream with the introduction of affordable and accessible preventive healthcare and diagnostics solutions at their disposal. Quality diagnostics services are no longer the prerogative of the urban folks – various developments have taken place to ensure that the distance between patients and point-of-care (POC) declines.
The biggest policy development that has taken shape in recent times has been WHO's new Essential Medicines and Diagnostics Lists in July 2019. The list is a core guidance document that helps prioritize critical health products that should be widely available and affordable throughout health systems. The first List of Essential Diagnostics was published in 2018, concentrating on a limited number of priority diseases – HIV, malaria, tuberculosis, and hepatitis. Last year this list was expanded to include more non-communicable and communicable diseases.
Recognising the urgent need to improve the availability of accessible and quality diagnostics in public health facilities, the Government of India under the aegis of National Health Mission (NHM) launched the Free Diagnostics Service Initiative (FDI) in July 2015. Under this initiative, the NHM supports all states to provide essential diagnostics – laboratory and radiology at their public health facilities, free of cost.
In August 2019, the Indian government also introduced the National Essential Diagnostics List (NEDL) which aims to bridge the regulatory gap that does not cover all the medical devices and in-vitro diagnostic device (IVD). With this, India has become the first country to compile such a list that would guide the government in deciding the kind of diagnostic tests that different healthcare facilities in villages and remote areas require, from the village up to district level..
The list has been prepared as per landscape of India's health care priorities. NEDL builds upon the Free Diagnostics Service Initiative and other diagnostics initiatives of the Health Ministry to provide an expanded basket of tests at different levels of the public health system. NEDL would enable improved health care services delivery through evidence-based care, improved patient outcomes and reduction in out-of-pocket expenditure; effective utilisation of public health facilities; effective assessment of disease burden, disease trends, surveillance, and outbreak identification; and address antimicrobial resistance crisis. Under the government's National Health Mission (NHM), the government does provide a limited set of free drugs and diagnostics to public health facilities. In the Union Budget 2020, Rs 759 crore was approved for free diagnostic service initiative for all 29 states in India.
Diagnostics serve a key role in improving the health and quality of life. Equitable accessibility, affordability and appropriate use of good quality diagnostics are integral to high-quality health care. Accurate diagnostics are indispensable for effective management of diseases, leading to better patient care and clinical outcomes, increase affordability by reducing overall therapy cost and also reduce antimicrobial resistance.
Indian diagnostics solutions are one of the best in the world, in terms of quality, precision and affordability. And the Indian diagnostics manufacturers are making more and more efforts to make them more and more cost-effective, as well as accessible even in the remotest corners of the country. Diagnostics are the first line of defence towards better health and fitness. It is the backbone for ascertaining the ailments and deciding on the correct course of treatment, surgery, and medication. 70% of the medical decisions are based on diagnostics. The diagnostics segment has witnessed tremendous changes in the past 20 years. There has been a movement of sorts with digital & technology innovations driving growth in the diagnostics industry.
The Indian Government is talking about 'Aatmanirbhar Bharat' – exalting all to focus more on domestic production & services. The government has taken various steps to encourage home-grown companies to set up new ventures or enhance their existing setups. Some of the positive steps taken by the Central government include:
• Domestic medical devices industry is set to receive a booster dose as the central government lays out a plan to incentivise Indian players with at least Rs 3,420 crores, over a period of five years. This incentive would be provided if they were to invest in their set-ups to produce key medical devices
• Consensus on a separate regulatory mechanism for medical devices
• Niti Aayog, the think tank body of the Government of India, has started working out a roadmap for the promotion of medical equipment manufacturers in the country
• The Government has also allowed 100% foreign direct investments (FDI) in companies manufacturing medical devices through the automatic route. The Indian Government has already chalked out plans intending to remove all roadblocks and offer tailor-made solutions to attract investment to make India a manufacturing hub for medical devices
• Under initiatives like Make in India, several state governments have taken up the onus of setting up medical device manufacturing parks in their respective states and have got the approval from the Government of India to do so. There would be six medical devices manufacturing clusters in the country in states like Andhra Pradesh, Kerala, Telangana, Tamil Nadu, Maharashtra, and Sikkim. These clusters would provide a huge boost to domestic manufacturing of high end medical devices at a lower cost and significantly enhance job creation
The Future Outlook
The outlook for the diagnostics industry in India is favourable for growth driven by rapid technological advancements in the healthcare industry, and doctors increasingly relying on evidence based treatment.
Increased awareness of preventive and curative healthcare driven by marketing communication aspects of various diagnostics companies is pumping up the demand for diagnostic services. Health tracking applications, online services such as preventive healthcare packages online, booking a path lab test, online reports and consultations will further augment growth in this industry.
The diagnostic sector in India is highly fragmented – standalone centres account for 45-50% market-share; organised ones have less than 35%; and the rest are hospital-based diagnostic centres. Major diagnostic chains are slowly disrupting the market by acquiring smaller local labs. The diagnostic industry is very slowly moving towards consolidation and the consumers and doctors are also getting more quality conscious, which benefits the organised players.


Follow and connect with us on Facebook, Twitter, LinkedIn, Elets video